How George Bush broke the Post Office
If Trump really wants to fix USPS, he should look at how the Republican government of 2006 destroyed it in the first place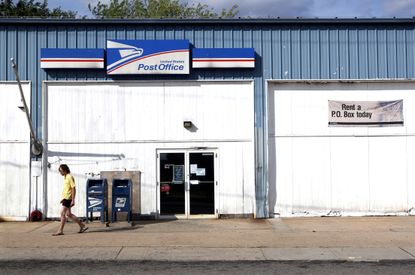 (Image credit: AP Photo/Mel Evans)
President Trump wants to repair the United States Postal Service. And no doubt, it needs help: The USPS has reported net losses for 11 years running.
Unfortunately, the president is obsessed with some relatively minor problems and ignoring what really needs fixing.
Late last week, Trump created a task force to audit the Postal Service. "The USPS is on an unsustainable financial path and must be restructured to prevent a taxpayer-funded bailout," the executive order stated. The task force is supposed to deliver recommendations within 120 days, and to look into "the expansion and pricing of the package delivery market and the USPS's role in competitive markets."
Subscribe to The Week
Escape your echo chamber. Get the facts behind the news, plus analysis from multiple perspectives.
SUBSCRIBE & SAVE
Sign up for The Week's Free Newsletters
From our morning news briefing to a weekly Good News Newsletter, get the best of The Week delivered directly to your inbox.
From our morning news briefing to a weekly Good News Newsletter, get the best of The Week delivered directly to your inbox.
The order didn't mention Amazon by name. But many observers assume the online retail giant is the target of the inquiry — and for good reason. Trump has been on a tear recently, claiming the USPS gives Amazon discounted rates for delivering its packages, and gets fleeced in the process.
Amazon relies on around 230,000 USPS workers to deliver many of its packages. As my colleague Ryan Cooper explained, the Postal Service is definitely giving the company some sort of deal, though the details are secret. Defenders point out the Postal Service is forbidden by law from charging less than the cost of delivery, though it could still be charging below-market rates.
Yet that means the real victims of this arrangement are other private businesses. The Postal Service is basically helping Amazon under-price its competitors and secure monopoly market power. But for the USPS itself, e-commerce deliveries have actually been a recent source of revenue growth. While the Postal Service can and should get a better deal from Amazon, the one it's got is working out pretty well.
So why is the USPS struggling financially?
A lot of people point to the rise of email, as well as private competitors like FedEx. Certainly, all those things contribute to USPS's problems. But what's really dragging down the Postal Service is something else entirely.
Namely, the Postal Accountability and Enhancement Act of 2006.
Passed by a Republican-led Congress and signed into law by President George W. Bush, the PAEA gave the Postal Service new accounting and funding rules for its retiree pension and health benefits. Up until 2006, the USPS funded those obligations on a pay-as-you-go-basis, pulling out of its pension fund and adding to it as retirees' costs came in. But the PAEA required the Postal Service to calculate all of its likely pension costs over the next 75 years, and then sock away enough money between 2007 and 2016 to cover most of them.
This is one of those ideas that sounds responsible on the surface but is actually pretty nuts.
Consider your average 30-year mortgage. What if you had to set aside a few hundred thousand dollars right now, enough to pay the whole thing, even if you were still going to make payments over 30 years? No one would ever take out a mortgage. That's the whole point: the costs only come in over time, and the income you use to pay them comes in over time as well. It works exactly the same for retiree pensions and benefit funds. Which is why, as economist Dean Baker pointed out to Congress, pretty much no one else does what the PAEA demanded of the Postal Service.
Meeting Congress' arbitrary mandate required putting away an extra $5.6 billion per year. "It is equivalent to imposing a tax of 8 percent on the Postal Service's revenue," Baker said. "There are few businesses that would be able to survive if they were suddenly required to pay an 8 percent tax from which their competitors were exempted."
Eventually, the burden became too great, and the USPS began defaulting on the PAEA payments in 2012. But the damage was done. The Postal Service lost $62.4 billion between 2007 and 2016, and its own Inspector General attributed $54.8 billion of that to prefunding retiree benefits. Without the PAEA, the Postal Service wouldn't be doing stellar. (Though you could plausibly blame many of its remaining struggles on the Great Recession.) But it probably would've spent at least part of the last decade making comfortable profits.
"The Postal Service's $15 billion debt is a direct result of the mandate," the Inspector General wrote in 2015. "This requirement has deprived the Postal Service of the opportunity to invest in capital projects and research and development."
In fact, it gets worse. The PAEA also required the Postal Service to invest its retiree funds exclusively in government bonds. Once again, this is a rather unusual practice. While it mitigates risk, it's also a great way to earn really low returns. Then the USPS has to set aside even more money to achieve the same benefit level. Baker calculated that just getting rid of this requirement could make the Postal Service profitable again.
Now, in a sane world, the USPS would be treated as a universal public good: Everyone would understand that it provides the bedrock delivery service to poorer and farflung areas that private carriers won't bother with because doing so isn't profitable. Instead, the Postal Service is expected to compete with the private market, and fund all of its costs out of its own revenue, without subsidies from the rest of government.
That's bad enough. But it's downright perverse to add extra handicaps that a private competitor like FedEx would never impose on itself.
Maybe that was just dumb politics. But it looks an awful lot like deliberate sabotage of a perfectly good public institution. It turns out Trump's task force will include Treasury Secretary Steven Mnuchin and White House budget director Mick Mulvaney. The latter in particular is a conservative small-government ideologue. It doesn't seem too crazy to think they'll recommend privatizing the USPS and selling it off for parts. And that they'll justify this recommendation by claiming the Postal Service just can't seem to compete.
But if Trump really wants to to fix the Post Office, he should tell Congress to fix the PAEA.

Continue reading for free
We hope you're enjoying The Week's refreshingly open-minded journalism.
Subscribed to The Week? Register your account with the same email as your subscription.