How Rand Paul made Trump his BFF
The Senator from Kentucky wants to nurture the president's non-interventionist inclinations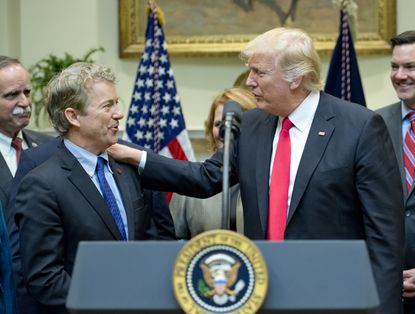 (Image credit: Ron Sachs-Pool/Getty Images)
Sign up to our 10 Things You Need to Know Today newsletter
A free daily digest of the biggest news stories of the day - and the best features from our website
Thank you for signing up to TheWeek. You will receive a verification email shortly.
There was a problem. Please refresh the page and try again.
Sen. Rand Paul's trip to Moscow this week amid heightened concerns about Russian interference in U.S. elections was one of the most audacious gambits of his political career. The Kentucky Republican's rivals in his own party are certain to accuse him of cozying up to Russian President Vladimir Putin, but the real objective of the trip was to get closer to President Trump.
Paul was practically the only major figure in Washington to defend Trump in the aftermath of his disastrous joint press conference with Putin, praising the president as a man of peace. "Trump Derangement Syndrome has officially come to the Senate," he said in response to new sanctions against Russia proposed in July. "The hatred for the president is so intense, that partisans would rather risk war than give diplomacy a chance."
Why is Paul hugging Trump so tightly? I can give you at least one reason: The president has loosened the grip of the party's almost uniformly hawkish foreign-policy elite. Paul is hoping that, by forging a relationship with Trump, he can give the president the confidence to heed his own — less interventionist — impulses rather than those of the hawks advising him.
Subscribe to The Week
Escape your echo chamber. Get the facts behind the news, plus analysis from multiple perspectives.
SUBSCRIBE & SAVE
Sign up for The Week's Free Newsletters
From our morning news briefing to a weekly Good News Newsletter, get the best of The Week delivered directly to your inbox.
From our morning news briefing to a weekly Good News Newsletter, get the best of The Week delivered directly to your inbox.
This approach might be starting to pay off.
"While Trump tolerates his hawkish advisers ... he shares a real bond with Paul," Politico reported, quoting a White House aide as saying, "He actually at gut level has the same instincts as Rand Paul."
The paradox of Trump is that on the stump, he inveighs against nearly two decades of nation-building and fruitless wars, but in the Oval Office, he has mostly maintained the status quo. He has twice bombed Syria, continued American support for the catastrophic war in Yemen, and torn up the nuclear deal with Iran in a potential escalation of our conflict with the ayatollahs. He has drawn his national security team from the hawks and neoconservatives who largely populate the Republican foreign policy talent pool, allowing them to frequently override his instincts. He quarreled with — and ultimately gave in to — his generals and advisers when they resisted his demands to pull out of Syria. He acknowledged in his speech announcing an increase in troops in Afghanistan that his own inclination had been to withdraw from the 17-year-old war.
Yet Trump has also stopped short of calling for regime change in Syria. Politico reports this is also now his position on Iran. More importantly, Trump has balanced his "Little Rocket Man" taunts and all-caps tweets with a palpable desire to make diplomatic breakthroughs. He talked about meeting with Iran's leaders "without preconditions" and has already held a summit with North Korean leader Kim Jong Un. He stresses the importance of friendship with old adversaries at rallies.
Even if Trump's "Art of the Deal" mentality is wholly inadequate to accomplish what he's setting out to do on the world stage, politically getting Republicans to cheer talks with Russia, North Korea, and Iran — all things they jeered when former President Barack Obama or even Paul's father proposed them — has the potential to change the terms of the debate. Frequently dismissed as "isolationist," Trump has shown Republican war skeptics that it is possible, under the right circumstances, to isolate the neoconservatives.
But getting all buddy-buddy with Trump is no doubt risky for Paul. From the midterm elections to Special Counsel Robert Mueller's Russia investigation, there are many things that could discredit Trump and discourage others from attempting his brand of Republicanism. Alliances with Trump are often a one-way street. And at some point, it needs to become clear that making overtures to Trump are worth the cost of alienating some of the younger voters Paul's father's "liberty movement" uniquely reached. So far, Trump's concessions are nothing more than words.
One of Paul's closest allies on Capitol Hill, Congressman Justin Amash (R-Mich.), put it best: "Are we still droning people? Yeah," he told The Washington Post. "Are we still running covert operations that weren't authorized by Congress? Yeah. Is the government still spying on Americans without warrants? Without due process. Yeah. When some libertarians talk about the great accomplishments we're seeing on foreign policy, I don't know what they're talking about. Reaching out to these guys is one thing, but you have to move down the court. [Trump] actually made it harder for us to have a good relationship with Russia."
This is all true. But Trump has also appealed to a much wider swathe of the party than any libertarian or principled anti-war conservative ever has. Whatever doubts Trump privately entertains about endless war, it is good to have at least one public figure reinforcing them.
Continue reading for free
We hope you're enjoying The Week's refreshingly open-minded journalism.
Subscribed to The Week? Register your account with the same email as your subscription.
Sign up to our 10 Things You Need to Know Today newsletter
A free daily digest of the biggest news stories of the day - and the best features from our website