The most disastrous 2018 campaign ads, ranked
From "Cocaine Mitch" to wondering about Robert Mueller while looking at a sonogram ...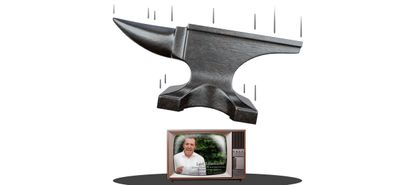 Sign up to our 10 Things You Need to Know Today newsletter
A free daily digest of the biggest news stories of the day - and the best features from our website
Thank you for signing up to TheWeek. You will receive a verification email shortly.
There was a problem. Please refresh the page and try again.
Is there anything better than a bad campaign ad?
With so much at stake on Nov. 6, this election season has seen plenty of inspiring, powerful, even philosophical campaign ads — but we aren't interested in those. This is an appreciation of the terrible ideas of 2018 — of ill-conceived gimmicks, low production values, and really, really bad line reading.
Welcome to the 2018 Hall of Fame of disastrous ads.
Subscribe to The Week
Escape your echo chamber. Get the facts behind the news, plus analysis from multiple perspectives.
SUBSCRIBE & SAVE
Sign up for The Week's Free Newsletters
From our morning news briefing to a weekly Good News Newsletter, get the best of The Week delivered directly to your inbox.
From our morning news briefing to a weekly Good News Newsletter, get the best of The Week delivered directly to your inbox.
13. Zephyr Teachout's unborn child makes her think about, uh, Robert Mueller?
Law professor and activist Zephyr Teachout ran an incredible campaign for attorney general of New York while eight months pregnant. Although she ultimately lost the Democratic primary in September, earning only about a third of the vote, it wasn't before putting out this rather goofy ad in which she wonders dramatically if we will "save our democracy" or if Robert Mueller will "indict Trump" in her yet-to-be-born child's lifetime. While the ad is a twist on the tried and true "future for our children" campaign ad, Teachout's is just trying way too hard. Come on, who really looks at their baby's sonogram and thinks of Robert Mueller?
12. Joe Manchin is shooting things ... again.
Another election year, another opportunity for West Virginia Sen. Joe Manchin (D) to shoot something. After all, nothing says election season quite like politicians finding excuses to squeeze target practice into their campaign ads. To make matters worse, this isn't even the first time Manchin has fired off this cliché. "Hey, I haven't changed," he says, as the same music from his famous cap-and-trade shootout ad plays in the background. But you can't say waving a gun around doesn't work: In the latest aggregate of polls, Manchin is up 12 points against Patrick Morrisey (R).
11. Brian Kemp threatens a high schooler with a shotgun.
Here's the premise of this ad, as I understand it: Georgia gubernatorial candidate Brian Kemp has taken his daughter's high school suitor hostage and forced him to memorize Republican talking points and recite them on cue for the camera. I can't say I quite understand how vaguely threatening a kid with a rifle is good politics in 2018, but Kemp won the GOP primary and is now neck-and-neck with Democrat Stacey Abrams.
10. Nate McMurray likens voting to a very uncomfortable pool shot.
Democrat Nate McMurray is running against Rep. Chris Collins (R) in a bad ad war of attrition in New York's 27th Congressional District. Because the race is so tight, McMurray wants to encourage his district to go to the polls, an exercise of civic duty that he likens to ... hitting someone in the crotch with a pool ball? It's weird in a kind of mesmerizing way. But still: Since Collins has been indicted for insider trading, maybe McMurray should try hitting him where it actually hurts.
9. "Say ya wanna win/ya gotta play the game."
I never had the privilege of seeing this insane ad on a television in Indiana, where Democrat Yatish Joshi ran for Congress but ultimately failed to advance past the primary, so I can only imagine what it would have been like to be hit unsuspectingly with it. But the first time I saw it, I was so entranced, I thought the rapper was the candidate (he's not — that's 22-year-old Blu Casey). Even after watching it a few times now, I'm not exactly sure what the takeaway is, other than the fact that Joshi has a super catchy name. The magical thing about this ad, though, is that the more you watch it, the more you become convinced it might actually the best ad of 2018. Together America works, haaaa!
8. Richard Painter wants to rain on your dumpster fire.
It is a testament to the utter humorlessness of ethics lawyer Richard Painter that this ad, featuring a literalized dumpster fire, is on a "worst of" list and not a "best of" list. What's so hilarious is that the Minnesota Republican-turned-Democrat seems completely unaware that no one was talking about actual flaming trash receptacles when they were calling things "dumpster fires," even as he somehow extends the metaphor to involving the Great Lakes (?). Painter might not be on the ballot Tuesday — he lost the Democratic Senate primary — but Minnesotans can rest assured that with him around the state, there will be fewer dumpster fires, both literal and imaginary.
7. An unidentified Republican fires a gun at nothing.
Republican Doug Robinson was only briefly a candidate in the Colorado gubernatorial race, and part of the reason why might be because he forgot to even say his own name in this ad. He introduces himself instead by firing a gun at an off-screen target, which made me spend the rest of the ad wondering what exactly he was firing at. He also never actually introduces himself, which seems like an important thing to do in a literal advertisement for yourself. Instead, Robinson speaks about as fast as the side-effects part of a medicine commercial and concludes: "That's what we need to do. That's my plan." Well, okay!
6. Collins is furious that McMurray speaks Korean.
The entire premise of this attack ad on New York Democrat Nate McMurray appears to be ... his bilingualism? In the "actual Nate McMurray video," the opponent of indicted incumbent Rep. Chris Collins (R) is pleading for peace on the Korean peninsula, although the Republican paints McMurray's comments as being about, uhh, sending American jobs to China? McMurray is married to a Korean woman, and the language is also spoken by his son. "They're bigots," McMurray said in comments about the misleading ad.
5. Is this the worst radio ad of 2018? Yes.
Someone is always going to take things way, way too far and this year it's allies of Arkansas Rep. French Hill (R). In this radio spot, two women claim that a victory by Democrat Clarke Tucker in the congressional race would result in "the presumption of guilt, especially for black men." In a completely natural and normal line of dialogue, one of the voice actresses says, "Girl, white Democrats will be lynching black folk again" while another insists that "we can't afford to let white Democrats take us back to the bad old days of race verdicts, life sentences, and lynchings when a white girl screams rape." Hill has insisted he does not endorse the ads, which were paid for by a PAC called Black Americans for the President's Agenda.
4. Stop! It's Helmer Time!
The most devastating thing about Dan Helmer getting crushed in a Virginia Democratic congressional primary this summer was that it meant we never got a second installment of "Helmer Zone." In this one-and-done mash-up between Cheers and Top Gun, Helmer confronts a Rep. Barbara Comstock (R) look-alike in a bar by singing a reinvented karaoke version of "You've Lost that Loving Feeling" — a very bad song even before Helmer ever decided to butcher it in the name of politics. Still, you have to admit this ad does do something to unite us: We are all Helmer's friend going, "No, Dan."
3. A doctor, a veteran, and a sportsman walk into a hot dog restaurant.
Things are going down at Simone's World Famous Hot Dogs. The crowded restaurant is apparently the premiere spot in Maine for OB/GYNs, veterans, and "sportsmen" to gather to trash Jared Golden, the Democratic opponent of Rep. Bruce Poliquin (R-Maine). The super low production values in this ad give it the feel of a local car dealer commercial you might stumble upon half-asleep at 2 a.m. (well, either that or "Too Many Cooks"). Poliquin is obviously trying to win over voters by showing he's a small town, mom-and-pop kind of guy, while Jared Golden is probably a Yankees fan. But Mainers aren't so sure; the race is still a toss-up.
2. "It's incredibly painful."
I don't know about you, but watching a candidate literally pepper spray himself in the face is not really the sign of good judgment and stability that I tend to look for in my political representatives. By the time Levi Tillemann is holding open his eye to rinse it with a garden hose, I've completely forgotten whatever point he was trying to make about gun control and sent this video to everyone in my address book with the text "THIS GUY JUST PEPPER SPRAYED HIMSELF IN THE FACE." Alas, Tillemann burned his eyes out for nothing — he ultimately lost the Democratic primary in Colorado's 6th Congressional District.
1. Don Blankenship disastrously coins "Cocaine Mitch."
If you had "Swamp Captain Mitch McConnell has created millions of jobs for China people" on your 2018 midterm Bingo card, congratulations, collect your prize. Somehow, though, this Republican primary ad only gets weirder after that line, with the image toggling back and forth between a close-up and middle distance shot of candidate Don Blankenship standing in front of a distractingly green house. While the coal baron-turned-ex-con ended up losing the Republican Senate primary, it was not before he gave us these 30 excruciating seconds, which conclude with two children magically appearing in his arms as he says, "I will beat Joe Manchin and ditch Cocaine Mitch for the sake of the kids." But perhaps the most incredible part of all is that the ad backfired so badly, Republicans now say "Cocaine Mitch" with affection.
Continue reading for free
We hope you're enjoying The Week's refreshingly open-minded journalism.
Subscribed to The Week? Register your account with the same email as your subscription.
Sign up to our 10 Things You Need to Know Today newsletter
A free daily digest of the biggest news stories of the day - and the best features from our website
Jeva Lange was the executive editor at TheWeek.com. She formerly served as The Week's deputy editor and culture critic. She is also a contributor to Screen Slate, and her writing has appeared in The New York Daily News, The Awl, Vice, and Gothamist, among other publications. Jeva lives in New York City. Follow her on Twitter.