Steve King's struggle
Will the neo-Nazi-retweeting congressman lose his seat?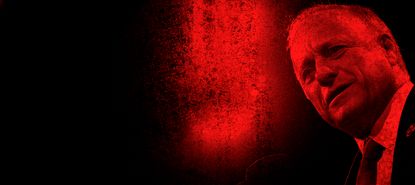 (Image credit: Illustrated | Netflix, -slav-/iStock)
It's hilariously fitting that Rep. Louie Gohmert (R-Texas) — who occasionally raves about secret "terror baby" Muslim plots on the floor of the House — should come to the defense of his embattled colleague, Steve King of Iowa. Their fellow Republicans hate both of them. But with King up for re-election against a former professional baseball player in the most conservative district of a state under almost complete Republican control, the two dumbest people in Congress are looking out for each other. Steve contra mundum! It's touching, really.
King certainly needs all the help he can get. That's because he has a problem. Steven Arnold King is obsessed with the taste of his own feet.
It sounds gross when you put it that way, but it's the most generous thing you can say about the way he unburdens himself of opinions like "The Western civilization and the American civilization are a superior culture." In 2012, he compared immigrants to dogs: "You want a good bird dog? You want one that's going to be aggressive? Pick the one that's the friskiest ... not the one that's over there sleeping in the corner." The next year he offered a fascinating theory about exercise: "For every one [immigrant] who's a valedictorian, there's another 100 out there who weigh 130 pounds — and they've got calves the size of cantaloupes because they're hauling 75 pounds of marijuana across the desert." Somebody sounds jealous.
Subscribe to The Week
Escape your echo chamber. Get the facts behind the news, plus analysis from multiple perspectives.
SUBSCRIBE & SAVE
Sign up for The Week's Free Newsletters
From our morning news briefing to a weekly Good News Newsletter, get the best of The Week delivered directly to your inbox.
From our morning news briefing to a weekly Good News Newsletter, get the best of The Week delivered directly to your inbox.
Some politicians have resorted to variations on the "some of my best friends are black and/or Hispanic" line. Please. King is Hispanic. Just ask him: "What does Julian Castro know?" tweeted the man of German-Welsh-Irish ancestry after being criticized by Barack Obama's HUD secretary. "Does he know that I'm as Hispanic and Latino as he?" Last year in March he wrote, "Culture and demographics are our destiny. We can't restore our civilization with somebody else's babies." David Duke loved it.
King is probably the only living American politician who still uses phrases like "the inter-marriage" with a straight face, who can say without blinking, "I'd like to see an America that is just so homogenous that we look a lot [sic] the same." He is the kind of person who can argue that we should spend more than $5 billion on a border wall but voted against disaster relief funding for victims of Hurricane Katrina on the grounds that the money would just be "wasted." King retweets neo-Nazis. For years he kept the Confederate flag on his desk. "[President Obama] has demonstrated that he has a default mechanism in him that breaks down the side of race," he told a radio host in 2010, "on the side that favors the black person." Any guesses where King's default mechanism breaks down?
The understandable priority afforded to King's views about genetic purity elide his cringe-inducing pronouncements on subjects other than race. Many people are dubious about the imminent threat posed by anthropogenic global warming, but only King insists that "we don't know where sea level is even." In 2012, King owned animal rights activists by bragging about his (rejected) amendment to that year's farm bill, which would have legalized putting arsenic in chicken feed. "My language wipes out everything they've done with pork and veal." Get 'em, Steve.
King is probably not going to lose. While it's true that one recent poll shows his Democratic opponent, J.D. Scholten, coming within a single percentage point, analysts are giving King an 80 percent shot at winning this month.
This is a shame. People in Iowa do not talk like Steve King. People throughout rural America, including farmers and Republicans, do not talk like Steve King. Proponents of immigration restriction do not talk like Steve King. The serious argument in favor of reducing immigration is that it has depressed the wages of American workers while creating a permanent exploited underclass in major metropolitan areas. King doesn't care about any of that. He has actually argued in favor of closing up the border so that poor teenagers and senior citizens "could be put to work and we could invent machines to replace the rest."
This man does not deserve a seat in Congress. He does not deserve a role in our national conversation about immigration or anything else. His face belongs not on cable television screens throughout the United States but under a white hood on a lonely street corner in Sioux City shouting gibberish at strangers who ignore him.

Continue reading for free
We hope you're enjoying The Week's refreshingly open-minded journalism.
Subscribed to The Week? Register your account with the same email as your subscription.