Can moderate Democrats learn from recent history?
The Blue Dogs killed themselves with austerity and deregulation. The new moderate Democrats should learn from their fate.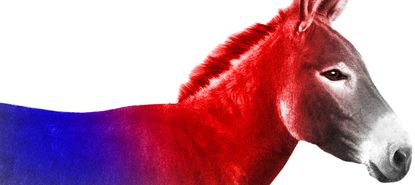 (Image credit: Dana Summers, Copyright 2019 Tribune Content Agency)
In the 2018 midterms a lot of new Democratic moderates won seats in the House of Representatives.
What this means is an open question. They are clearly moderate in the sense of not belonging to the party's small but growing socialist wing, but they are also considerably different than the traditional Blue Dog conservative Democrats, who are all but extinguished.
Whether they can avoid the political-ideological mistakes that killed the Blue Dogs under the Obama presidency will be a key question for the future of the party.
Subscribe to The Week
Escape your echo chamber. Get the facts behind the news, plus analysis from multiple perspectives.
SUBSCRIBE & SAVE
Sign up for The Week's Free Newsletters
From our morning news briefing to a weekly Good News Newsletter, get the best of The Week delivered directly to your inbox.
From our morning news briefing to a weekly Good News Newsletter, get the best of The Week delivered directly to your inbox.
Many of these new moderate Democrats are in the South, helped into office with the strong showing of Beto O'Rourke in Texas, Stacey Abrams in Georgia, and Andrew Gillum in Florida — though there are many outside the South, like Abigail Spanberger in Virginia or Jeff Van Drew in New Jersey. They typically don't support things like Medicare-for-all — though interestingly, they were routinely accused of doing so by Republicans, and that line of attack didn't seem to cause any damage.
As Ed Kilgore (a close observer of Southern politics for many years) notes, the old Blue Dog voters were mostly white conservatives with a lingering cultural attachment to the Democratic Party, plus African-Americans. Blue Dog politicians were therefore generally moderate to conservative on both economic and social questions, and made ferociously criticizing the Democratic leadership a key part of their political appeal.
The new moderates largely aren't like that, either in the South or out. New moderate Democratic voters are the same minorities, but with better educated (and sometimes wealthier) white liberals. They are near-universally socially liberal, with an (at least) rhetorical commitment to LGBT rights, equal pay, anti-racism, and so forth. They aren't the traditional jowly, backslapping white good old boys either, and don't try to make hay out of criticizing Nancy Pelosi's "California values."
Nevertheless, some of the old economic ideology survives, and it is every bit as out of date as the rest of the 1998 Blue Dog platform would be in 2018. Take the New Democrat Coalition, a centrist congressional caucus (ironically) dating from Bill Clinton's day, which says it supported some 23 of the 37 (and counting) Democratic victories. On its website it proclaims support for trade and tax reform policies that would promote growth and argues the budget deficit must be cut on similar grounds, because "budget deficits become more and more unsustainable further squeezing the important investments that will help create good-paying jobs [and] make the economy work better for everyone."
The theory here is that high budget deficits cut into growth by "crowding out" private investment — thus we should have tax hikes and spending cuts to balance the budget. This is an idea that can be examined empirically, and the last 10 years have provided a clear natural experiment in which austerity has been profoundly discredited, having been shown to cost around $3 trillion in lost output annually.
But Barack Obama believed it worked, as did the Blue Dogs, who were members of the party's moderate wing that demanded a turn to austerity in early 2010. As a direct consequence, unemployment was at 10 percent on Election Day that year, and thus nearly every one of the vulnerable Blue Dogs was wiped out.
Let's also not forget what caused the 2008 crisis in the first place: a financial crisis, badly exacerbated by Clinton- and Bush-era deregulation. Yet the New Democrats are notorious for still pushing bank deregulation. Most of the recent Democratic votes in the House to gut Dodd-Frank came from them. The New Dem chair Jim Himes expects to place a lot of freshman Democrats on the Financial Services Committee, because they "come from districts where by and large they're purple districts, where you need to listen to everybody. And that tends to give you a slightly more open-minded approach to policy."
This is absolute rot. Forget about socialism, unions, or Medicare-for-all for a moment. If you are an instinctively moderate type of person, who doesn't want to rock the boat too much, and who wants to help out workers a bit but also business at the same time, austerity and deregulation are the absolute last things you should want. The policy record of those policies has been titanic disaster, with the 2008-2016 reign of austerity resulting in the worst economic growth since the end of the Second World War. Being "open-minded" on this issue is intellectually bankrupt (or corrupt). The only reason this isn't obvious is the hundreds of millions of dollars spent by Big Finance on pro-austerity agitprop and campaign contributions.
It would be quite easy to imagine a "moderate" Democratic ideology that was blasé about the budget deficit and viewed Wall Street as the acid bath dissolving the bone marrow of the American economy that it in fact is. It would be substantively correct and political popular. But to get there either these newly elected members of Congress, or someone who they listen to, will have to convince them of this obvious truth.

Continue reading for free
We hope you're enjoying The Week's refreshingly open-minded journalism.
Subscribed to The Week? Register your account with the same email as your subscription.