The hopeless folly of schoolmarming Trump
Here is an inconvenient truth: The GOP base likes Trump's rudeness and rabble-rousing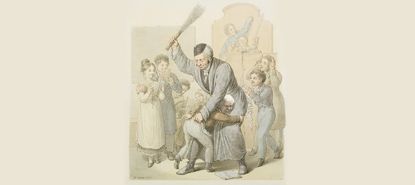 (Image credit: Illustrated | Heritage Image Partnership Ltd / Alamy Stock Photo, JIM WATSON/AFP/Getty Images)
It's time, once again, to talk about President Trump's tweets.
Trump's online rudeness and rabble-rousing, amplified by real-life boorishness and combativeness at everything from press conferences to campaign rallies, contributed to his party's midterm shellacking in the suburbs despite a booming economy. Affluent, college-educated voters who have been open to GOP candidates before don't find Trump presidential or personally admirable — especially women.
Never Trumpers inside the Republican Party — those who are still conservative, at any rate — feel much the same way. Their problems with the president have less to do with policy (though on issues ranging from immigration to trade to deficit spending, they may have their beefs) than his rhetoric and temperament.
Subscribe to The Week
Escape your echo chamber. Get the facts behind the news, plus analysis from multiple perspectives.
SUBSCRIBE & SAVE
Sign up for The Week's Free Newsletters
From our morning news briefing to a weekly Good News Newsletter, get the best of The Week delivered directly to your inbox.
From our morning news briefing to a weekly Good News Newsletter, get the best of The Week delivered directly to your inbox.
Retiring Sen. Jeff Flake (R-Ariz.) recently said that someone should challenge Trump in the 2020 primaries "to remind Republicans what it means to be conservative, what being a conservative really means and what it means to be decent" — even as he has voted with Trump more than 80 percent of the time.
If nominated, such a candidate could in theory win back the suburban voters who just reduced Republicans to a minority in the House for the first time in a decade. There's just one problem: A candidate who ran on anti-Trump finger-wagging has no chance of winning the nomination for the foreseeable future. Much of the GOP base likes Trump's rudeness and pugilism. It's a feature, not a bug.
Flake himself is a case in point. He did not run for re-election in large part because he did not think he could win a Republican primary criticizing, though only occasionally voting against, Trump. If he somehow pulled off a rapprochement with Trump in time for the late primary, he would not have been able to adjust for the general election in time.
Flake's judgment was more or less vindicated by Rep. Martha McSally (R-Ariz.), who ran to replace him and narrowly lost to Rep. Kyrsten Sinema (D-Ariz.) under those circumstances. And McSally was never as vocal in her Trump criticisms (Flake once gave a speech comparing the president's view of the media to Joseph Stalin), so she did not have to do as much to compensate in the primary.
What a lot of voters hate about Trump is what much of the Republican base loves about him: the brashness, the insults, the food fights with CNN's Jim Acosta. They feel the party has been dominated by people who want to be good losers. And even in defeat, they are not tired of winning yet.
McSally was never so widely praised as when she accepted defeat in Arizona and refused to join Trump in speculating about unsubstantiated claims of Democratic fraud. That may be honorable, but it is not what beleaguered Republican base voters want.
Barring a massive shift between now and 2020, a Flake or outgoing Ohio Gov. John Kasich or Nebraska Sen. Ben Sasse would be dismissed by most Republican primary voters as an obnoxious schoolmarm.
These Republican lawmakers are seen as bashing Trump to suck up to voters who would never pull the lever for them anyway. Maybe some of the alienated suburbanites would have, but good luck getting Flake or Kasich out of the primaries.
"What I have resented and disliked about the president is instead of being a unifier and someone who can dig deep into people's problems and say 'yes those are problems, but together we can fix them,' he has played a blame game," Kasich said in New Hampshire.
A lot of people may share that sentiment, but it is hard to see that trumping "the caravan and the Kavanaughs," or Trump himself, with the GOP base.

Continue reading for free
We hope you're enjoying The Week's refreshingly open-minded journalism.
Subscribed to The Week? Register your account with the same email as your subscription.