Ivanka Trump's folly
The president's children were once seen as his greatest asset. Not anymore.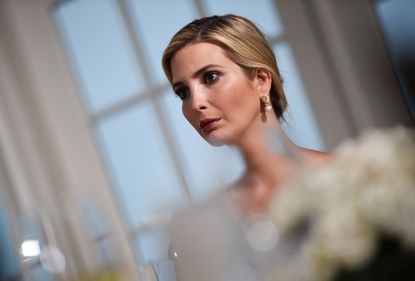 (Image credit: BRENDAN SMIALOWSKI/AFP/Getty Images)
Sign up to our 10 Things You Need to Know Today newsletter
A free daily digest of the biggest news stories of the day - and the best features from our website
Thank you for signing up to TheWeek. You will receive a verification email shortly.
There was a problem. Please refresh the page and try again.
Should we lock up Ivanka Trump?
President Trump's daughter and adviser used a personal email account to send hundreds of messages about government business in 2017, The Washington Post reported. This is a likely violation of federal records laws — and, maybe more to the point, a source of great irony, since her father spent much of the 2016 presidential campaign making hay of Hillary Clinton's own email practices while in government service.
The immediate reaction of Trump's critics was to indulge in a bit of schadenfreude; shouts of "lock her up" echoed across the internet. But there is another point to be considered: Donald Trump's presidency might be awful for the country, but there's a good chance it is turning out to be a disaster for his immediate family, as well.
Subscribe to The Week
Escape your echo chamber. Get the facts behind the news, plus analysis from multiple perspectives.
SUBSCRIBE & SAVE
Sign up for The Week's Free Newsletters
From our morning news briefing to a weekly Good News Newsletter, get the best of The Week delivered directly to your inbox.
From our morning news briefing to a weekly Good News Newsletter, get the best of The Week delivered directly to your inbox.
Admittedly, this is low on the list of things for the country to worry about. The president's policies have proven harmful to the federal budget, to press freedom, to immigrants, to America's standing in the world, to people affected by global warming — which is to say, everybody — and to the very workers whose jobs he vowed to save. A minor scandal involving the president's daughter is pretty meaningless by comparison, right?
Maybe. But it's worth considering. Back in 2016, Donald Trump — infamous for his multiple marriages, a New York Post cover boasting of his sexual prowess, and the Access Hollywood tape — was sold to wavering "values voters" as having a very important redeeming quality: He was a good dad.
"Trump did a lot of things right as a divorced dad," conservative activist Maggie Gallagher declared in National Review, adding that his kids were "the best part of Donald J. Trump: educated, hardworking, productive, and (in the case of Ivana's kids, at least) all married with children themselves."
A month later, Vanity Fair extolled Trump's children: "For all of Trump's nonsense and inanity, his kids do seem surprisingly, almost alarmingly, well adjusted," Emily Jane Fox wrote. "The cries of 'Ivanka for president' and 'they're just so normal' break out every time they are on live television."
Fox added: "They are, it seems, indefatigable workers, teetotalers, and generally responsible people."
Ivanka, the supermodel-turned-mom-slash-businesswoman, was the star of the effort to normalize her father. She went to the Republican National Convention to laud her father's virtues, then decided to join him in Washington when he won the presidency.
"My father taught my siblings and me the importance of positive values and a strong ethical compass," Ivanka told the convention. She was a hit, hailed by Republicans as her father's "greatest asset."
That's probably no longer the case.
Criticizing a politician's family might be one of the last taboos in American politics. Donald Trump, as ever, is the exception to this rule, not just because he has violated it so egregiously, but because his children are enmeshed in his political and public life to a surprising degree. You cannot properly consider some of the scandals that surround his administration without understanding the involvement of his children.
It was Donald Trump Jr., after all, who so enthusiastically took the campaign meeting with the Russians that helped prompt Special Counsel Robert Mueller's scrutiny of his father, and he has done little to soften his father's reputation for going easy on white supremacists. Ivanka, meanwhile, keeps winning unusually timed approvals from the Chinese government for her business interests — and has earned a reputation as a particularly prolific infighter in a White House that sometimes seems to be paralyzed by drama. Business, politics, family: It's hard to untangle one from the other in Trumpworld.
Now, the email scandal.
It turns out that President Trump's adult children — those who chose to join him on his foray into politics — don't really serve as great character witnesses for him. Instead, the apples apparently don't fall far from the tree: Rules are for other people. Self-dealing is in. The line between business and governance is easily ignored. And if you get caught, well, the news cycle moves so fast that people will have forgotten to be angry in another 36 hours or so if you can figure out how to bury the drama under some other drama.
So, no, Ivanka won't go to jail for her use of a private email account.
But she no longer gets to serve as the public face of her father's hidden virtue, either. Trump's presidency appears to be ruining the reputations — and maybe the futures — of his own children. The president's one redeeming quality was that he was a decent dad. Like so many of his supposed accomplishments, this was an illusion.
Continue reading for free
We hope you're enjoying The Week's refreshingly open-minded journalism.
Subscribed to The Week? Register your account with the same email as your subscription.
Sign up to our 10 Things You Need to Know Today newsletter
A free daily digest of the biggest news stories of the day - and the best features from our website
Joel Mathis is a freelance writer who lives in Lawrence, Kansas with his wife and son. He spent nine years as a syndicated columnist, co-writing the RedBlueAmerica column as the liberal half of a point-counterpoint duo. His honors include awards for best online commentary from the Online News Association and (twice) from the City and Regional Magazine Association.