Hey, Mike Lee: Climate change is going to fry your state
Turns out climate disasters are not cheap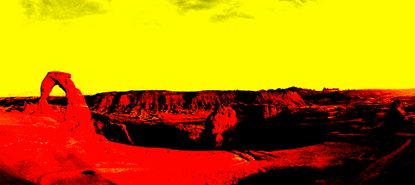 (Image credit: Illustrated | Z-lex/iStock)
Congress legally requires the executive branch to release periodical studies of climate change and how it will affect the United States. Thus the National Climate Assessment, which the top scientists from across the federal government collaborate to produce every four years. Naturally, the Trump administration attempted to bury the latest one by releasing it just before a holiday weekend.
Luckily, the report (which is quite good) has been getting wide attention anyway. On Meet the Press — perhaps because it is more biased towards conservatives than Fox News Sunday — Chuck Todd had Sen. Mike Lee (R-Utah) on to spout the latest in conservative anti-climate policy propaganda. When Todd asked him about the report, and whether he supports a carbon tax, Lee replied: "all the proposals I've seen so far that would address any of these issues would devastate the U.S. economy and have little or no benefit that is demonstrable from our standpoint."
This is a good opportunity to demonstrate how grossly harmful Republican leadership is for the party's constituents. Sen. Lee, if we don't do something about climate change, Utah is going to get creamed.
Subscribe to The Week
Escape your echo chamber. Get the facts behind the news, plus analysis from multiple perspectives.
SUBSCRIBE & SAVE
Sign up for The Week's Free Newsletters
From our morning news briefing to a weekly Good News Newsletter, get the best of The Week delivered directly to your inbox.
From our morning news briefing to a weekly Good News Newsletter, get the best of The Week delivered directly to your inbox.
Let's examine this economy Lee pretends to be so concerned about. Now, Utah's economy is fairly prosperous and well-diversified, especially for such a red state. Mormon-style conservatism, with its quasi-theocratic welfare state, low inequality, and open embrace of government policy to serve the public good, contrasts sharply with born-again American evangelical conservatism. It's more like Germany than Mississippi.
But that economy still has several obvious vulnerabilities, tourism likely first among them. Utah is blessed with extreme natural beauty, preserved in five national parks, 11 national monuments, and 43 state parks. It also has arguably the best snow in the continental U.S., with 14 ski resorts, most of which are near Salt Lake City. The Utah state government has built up its reputation with a substantial advertising fund, enticing visitors to come to the "Mighty Five" and the "Greatest Snow on Earth," which has paid off handsomely. In 2016, about 10 million people came to Utah parks and ski resorts, where they spent $8.5 billion, which supported about 146,500 jobs — or about 10 percent of the total. All told, tourism and associated industries accounts for about 10 percent of the state's economy directly, plus another maybe 10 percent indirectly (serving tourism workers, building homes in retirement communities, and so forth).
Climate change threatens all aspects of this. Most obviously, winter sports will die if it gets too warm for snow, or if drought strangles precipitation (or both). Snowpacks have already declined virtually everywhere across the Utah mountain ranges, and much worse is predicted if warming is not checked. Under a business-as-usual projection, a recent study predicted that by 2090 nine-tenths of all ski resorts in the U.S. will not be able to open by Christmas, effectively putting them out of business.
Wildfires have also increased greatly due to climate change. The climate report estimates that in Western states from 1980, the cumulative acreage burned is about double what it would have been without any human-caused warming. And nobody wants to go see a national park that is on fire or choked with smoke.
Then there is heat and drought. Arches, Zion, and Bryce Canyon are already very hot during the peak summer travel season. Chronic heatwaves will make such places often mortally risky at such times for weaker people and possibly make them all but uninhabitable for weeks or months every year.
Or take Lake Powell, which drowned Glen Canyon (arguably one of the five most beautiful places in the continental U.S., but that's another story). When it was first filled up, Lake Powell itself was still quite lovely, with blue water lapping at sheer sandstone cliffs, and the water allowing easy exploration of innumerable side canyons, bringing in several million visitors a year. But as the climate report demonstrates, increasing water demands have badly overstretched the Colorado River, leading to chronically low lake levels:
This has already badly harmed Lake Powell's recreation potential. As the water level has fallen so chronically low, it has exposed an enormous, ugly bathtub ring where water has eroded the desert varnish, forced a few access points to be closed indefinitely, and revealed a vast, grim delta of mud and tumbleweeds in the former upper lake.
Of course, the Colorado River is not just a place for recreation, it's also a key water source for tens of millions of people across the entire Southwest, including Utah — which is already the second-driest state in the country. And that's the sort of possibility where the damage of climate change could go from severe to apocalyptic. Wiping out most or all of Utah's recreation economy would be a huge blow to the state, but it would be possible to recover. But a collapse in water supply — exacerbated by chronic extreme heat and other climate disasters — might push it beyond its ability to adapt. Instead of growing, it might hemorrhage citizens and become a sort of internal American Sahara Desert, largely bereft of people.
It may not be likely, but it's certainly possible — and even scenarios well short of a Max Max dystopia would be worth a Herculean effort to avoid. Instead, Utah has Mike Lee, twiddling his thumbs. It's a vile betrayal of his fellow citizens.

Continue reading for free
We hope you're enjoying The Week's refreshingly open-minded journalism.
Subscribed to The Week? Register your account with the same email as your subscription.