The reported Manafort-Assange meeting is a disaster for Trump
Does Mueller finally have his smoking gun?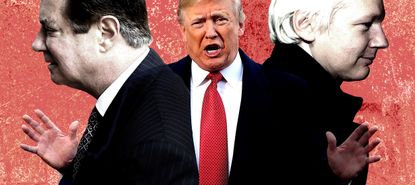 (Image credit: Illustrated | CARL COURT/AFP/Getty Images, MANDEL NGAN/AFP/Getty Images, Mark Wilson/Getty Images, alexxx1981/iStock)
A bombshell report from The Guardian this week says that former Trump campaign manager Paul Manafort met repeatedly with Julian Assange, founder of Russian espionage conduit WikiLeaks, prior to joining the campaign. Just months later, WikiLeaks began releasing tranches of emails stolen from the Democratic National Committee and Democratic nominee Hillary Clinton's campaign chairman John Podesta, revelations that added to the drumbeat of negative coverage of Clinton, and led the media to focus relentlessly on emails of varying kinds.
If true, this story is obviously terrible news for a reeling Trump administration, and for President Trump himself. If corroborated by sources and other news organizations, the Assange-Manafort meetings might finally prove even to island cave dead-enders that the Trump campaign colluded with Russian intelligence to affect the outcome of the 2016 presidential election.
The explosive allegations were vehemently denied by whoever operates the WikiLeaks Twitter feed. Manafort's camp released a strongly-worded denial, calling the allegations "totally false and deliberately libelous." And Trump, who has spent most of his post-midterm time truculently railing against the investigation of Special Counsel Robert Mueller and claiming preposterously that Republicans scored a huge victory on election night, again called the investigation a "Witch Hunt."
Subscribe to The Week
Escape your echo chamber. Get the facts behind the news, plus analysis from multiple perspectives.
SUBSCRIBE & SAVE
Sign up for The Week's Free Newsletters
From our morning news briefing to a weekly Good News Newsletter, get the best of The Week delivered directly to your inbox.
From our morning news briefing to a weekly Good News Newsletter, get the best of The Week delivered directly to your inbox.
But the Assange connection would help answer one of the mysteries of the 2016 election: Why was Paul Manafort ever put in charge of Trump's campaign in the first place? Surely even Trump's grift-and-a-prayer operation could have convinced a more credible GOP figure to lead the campaign, especially since Manafort was hired just as it was becoming mathematically improbable for any other Republican to prevent the former host of Celebrity Apprentice from claiming the Grand Old Party's presidential nomination. It doesn't matter how loopy of a candidate you are — once you're the presumptive nominee of one of the two major parties, you have some personnel options that you might not have had earlier.
In fairness, Manafort ran the "delegate operations" at the convention for Republicans Gerald Ford in 1976 and Bob Dole in 1996. But since then he had fallen almost totally off the map of normal American politics, instead serving as a lobbyist and influence-peddler for a string of odious dictators and criminals, including Ferdinand Marcos of the Philippines and Jonas Savimbi of Angola. He went so far as to help pro-Russian poltician Viktor Yanukovych get elected in Ukraine, which eventually triggered the crisis that led to Russia's annexation of Crimea in 2014. Manafort was widely regarded in Washington as sleazy and corrupt, and toted with him into the campaign a long series of accusations of bribery, corruption and malfeasance. You would have to be literally insane to recommend this guy for the top job on a serious presidential campaign.
I think we can now safely dispense with the argument that Manafort was hired despite this history, rather than precisely because of it. Indeed, it appears that his connections to the Russian-Ukrainian netherworld, and his previously undisclosed visits with Assange, may have been at the heart of the quid pro quo. With Yanukovych's 2014 ouster in Ukraine, and Moscow on the outs with Washington, Manafort's primary grift was coming to an end. His finances were in shambles, and he was reportedly despondent and suicidal. And here was a Republican presidential campaign that was openly, almost comically, embracing Russian strongman Vladimir Putin. So Manafort reached out to Trump via his ally Tom Barrack in late February 2016, just before he allegedly met Assange in March.
From there things appeared to come together very quickly. As behavioral scientist Caroline Orr noted, in March, Manafort met again with Assange in London, and foreign policy adviser/coffee boy George Papadopolous offered to meet with Putin in an email to the campaign. On March 9, WikiLeaks offered a reward for hacking Clinton's emails to obtain her speeches to Goldman Sachs. Remember, this was a huge point of contention in the Democratic primary, during which Bernie Sanders successfully hammered away at Clinton's popularity by claiming she was too close to Wall Street. The following week, Russian hackers Fancy Bear sent the phishing email that succeeded in penetrating Podesta's emails. On March 28, as Seth Hettena tells it in Trump/Russia: A Definitive History, Manafort and Trump dined together at Mar-a-Lago, and Manafort talked him into giving him the job. "Wow, you're a good looking guy," the ever-absurd Trump reportedly remarked when Manafort showed up.
That good looking guy may turn out to be the source of Trump's downfall. Manafort's meetings with Assange simply cannot be a coincidence. The Assange connection also explains Trump's own July 27, 2016 plea for Russians to hack Hillary Clinton's emails — it wasn't some off-the-cuff remark but rather an established playbook, except Trump, as always, was dumb enough to say it out loud and too daft to understand that he was inviting unwelcome attention to the whole caper. Russian hackers launched a renewed campaign to break into the email accounts of Clinton staffers that very same day.
The Guardian's report also puts to rest the argument, commonly made by conservative pundits, that Manafort is some kind of diversion, and his prosecution merely an attempt by the Mueller investigation to make sure that indictments — any indictments — come out of the probe. Mueller has most likely had Manafort dead to rights on this since the beginning, and may have been trying to trap Trump, when he submitted his written answers to Mueller's questions last week, into repeating whatever lies Manafort told.
So, it now seems more likely than not that Mueller has evidence that senior figures from the Trump campaign actively colluded with Russian intelligence and WikiLeaks to steal and distribute emails, with the ultimate purpose of damaging Hillary Clinton's presidential bid.
What if it went like this: Assange told Manafort he could get the Russians to hack Hillary's emails. A desperate Manafort offered his services for free to the Trump campaign in return for his personal rehabilitation and a presidency that would let lobbyists resume their Russia-related grifting. Trump consigliere Roger Stone, also aware of this plot, recommended Manafort to the president because he could deliver a Russian espionage campaign whose results would be a steady drip-drip-drip of news fiascos for the Clinton campaign at key moments, including the dump of John Podesta's emails shortly after the infamous Access Hollywood tape was released. It's not just that the Trump campaign was aware of all of this, but rather that senior associates of then-candidate Trump helped orchestrate it from the start.
But this theory raises even more questions. Most importantly, why did WikiLeaks and the Russians need the Trump campaign at all? Why take the risk of the infamous Trump Tower meeting from July 2016? If their only interest was, as some have claimed, simply sowing chaos on the way to Hillary's eventual election, why bother with Trump functionaries? In fact, why not keep them in the dark for plausible deniability? The only explanation that makes sense here is that the Russians were promised something — sanctions relief most likely, or perhaps repeal of the Magnitsky Act, which had a deleterious effect on Russian oligarchs and criminals worldwide — in return for their efforts. When you connect all the dots it looks even uglier: a conspiracy involving senior Trump campaign officials to commit crimes designed to influence the outcome of a presidential election on behalf of a hostile foreign power and its nefarious interests.
It doesn't matter, legally, whether we believe that those interventions are what put Trump's long-shot campaign over the top. If officials of the Trump campaign, up to and possibly including the future president himself, knowingly violated the law to assist in the Russian campaign, they are in a world of trouble. The remainder of President Trump's time in office is likely to be consumed with questions about how far up the campaign hierarchy this effort went, what other crimes were committed and by whom, and whether the president should resign his office or be impeached. And if Trump manages to survive this maelstrom and get re-nominated to run in 2020, the whole affair is likely to be an anchor around the neck of an already toxically unpopular president.

Continue reading for free
We hope you're enjoying The Week's refreshingly open-minded journalism.
Subscribed to The Week? Register your account with the same email as your subscription.