This government shutdown won't sting
The government shutdown is probably going to happen — but it's probably not going to hurt the economy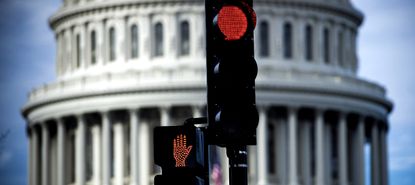 (Image credit: SAUL LOEB/AFP/Getty Images)
Sign up to our 10 Things You Need to Know Today newsletter
A free daily digest of the biggest news stories of the day - and the best features from our website
Thank you for signing up to TheWeek. You will receive a verification email shortly.
There was a problem. Please refresh the page and try again.
The bad news is that chances are very high the federal government will shut down on Friday. The good news is that this should have a minimal impact on the economy. And the weird news is that the good news is probably making the bad news more likely.
At the heart of the looming shutdown is the eternal MacGuffin of Donald Trump's presidency: a border wall. Trump wants $5 billion for the project, and says he'll veto any spending deal that doesn't deliver. Democrats have negotiated a set of spending packages with Republicans that include $1.3-to-$1.6 billion for border security in general. But those bills are in limbo, precisely because the White House wouldn't sign off on them. Democrats are refusing to fork over more money, and no one has any idea what the White House position is, beyond "give us everything we want or else."
Granted, Trump's been threatening to shut down the government over his border wall pretty much his entire time in office. But on all previous occasions, the circumstances and potential consequences of a shutdown — especially their likely political costs for Republicans — were great enough that Trump's own party boxed him in.
Subscribe to The Week
Escape your echo chamber. Get the facts behind the news, plus analysis from multiple perspectives.
SUBSCRIBE & SAVE
Sign up for The Week's Free Newsletters
From our morning news briefing to a weekly Good News Newsletter, get the best of The Week delivered directly to your inbox.
From our morning news briefing to a weekly Good News Newsletter, get the best of The Week delivered directly to your inbox.
Now the stars have aligned in Trump's favor. The midterms are over, so a shutdown won't threaten the GOP's fortunes in any looming election. And the Democrats will take over the House of Representatives in January, after which it will be much harder for Trump or the GOP to pass what they want. The pressure is on to get any last minute wins in now.
Finally, if the government does shut down, it will actually be a much smaller shutdown than any in recent history.
Recall that the federal budget is divided into "mandatory" and "discretionary" spending. Mandatory spending is about two-thirds of the federal budget, and happens automatically every year without Congress or the president having to pass anything. It includes a bunch of welfare programs, interest payments on the debt, and the big entitlement programs like Medicare, Medicaid, and Social Security. Discretionary spending is the stuff that Congress and the president have to actually authorize anew every year. It includes the military, the daily operations of most federal agencies, and a bunch of small bore programs and public investments.
Shutdowns only affect the discretionary part of the budget, which runs about $1.2 trillion these days. More to the point, shutdowns only affect the parts of the discretionary budget that the government can't agree on. In this case, spending for 75 percent of the discretionary budget has already been authorized through September 2019, thanks to previous budget deals. If the shutdown does happen, it will only knock out 25 percent of the discretionary budget — around $300 billion.
That's just 1.5 percent of the American economy. Not quite peanuts, but pretty close to it.
Furthermore, it's not like a shutdown would permanently chip off 1.5 percent of economic output this year. It would just delay it until a budget deal is finally hammered out.
Temporarily removing that demand from the economy certainly isn't good. And the stock market, which has been having a tough time of it already, may well freak out. But with unemployment at 3.7 percent and wage growth ticking upward at an increased clip, the fundamentals of the economy look stronger than they have at any point since the Great Recession. In all likelihood, the vast majority of Americans won't notice the shutdown at all.
As a result, Trump and his supporters feel like they have much more room this time to play chicken with the rest of the government over immigration. "If you look at what the real-world consequences would be, I think this shutdown would be different because we have funded most of the government, because President Trump has said he will make sure essential services continue," Rep. Richard Hudson (R-N.C.) told The Washington Post. "I don't think the American people will feel an impact from this like they may have in the past. I also think that the most important thing is we've got to secure our southern border because we have a national security crisis down there."
Of course, around 800,000 federal employees will still be affected: 420,000 who are deemed essential to government functioning and national security will continue to work without pay, and another 380,000 will be furloughed. (In every previous shutdown, both groups got their backpay once a budget deal was reached.) Everything from the Departments of Urban Development, Interior, State, Agriculture, Treasury, Commerce, and Homeland Security to national parks and the Peace Corps will see their operations temporarily squeezed or shuttered completely. It would still be a huge headache and embarrassment.
But the fact is, Republicans don't want to get rolled in negotiations either, and they don't want to pick a fight with Trump and his base. The incentive to get a deal done anyway would normally be significant economic disruption from a shutdown. And that just isn't in the cards this time.
A normal politician would view his own interests as aligned with his party's. But Trump is not a normal politician. As the aftermath of the midterms amply demonstrated, Trump's less concerned with the GOP's fortunes and more concerned with maintaining his personal brand with his core voters. He views pushing through with a shutdown over the border wall as good for that brand. "I am proud to shut down the government for border security," Trump boasted to Democratic leadership, in a testy and (remarkably enough) televised meeting earlier this month. "I will take the mantle. I will be the one to shut it down."
Basically, circumstances have conspired to make for an unusually low-stakes shutdown this time around. That makes the comparative drama of a shutdown more attractive to Trump, and less trying for everyone else. Which makes it all the more likely the president will actually go ahead with it this time.
Unfortunately, it also means it's unclear how a deal could ultimately get done, before the shutdown or after it's commenced. And the longer the shutdown goes on, the more damaging it will be.
Continue reading for free
We hope you're enjoying The Week's refreshingly open-minded journalism.
Subscribed to The Week? Register your account with the same email as your subscription.
Sign up to our 10 Things You Need to Know Today newsletter
A free daily digest of the biggest news stories of the day - and the best features from our website
Jeff Spross was the economics and business correspondent at TheWeek.com. He was previously a reporter at ThinkProgress.