The loneliest man in Washington
Increasingly isolated and embattled, President Trump is making policy by fiat, in places he barely understands, with consequences he knows he will likely not be around to deal with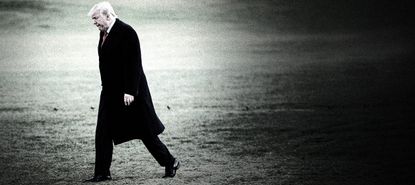 (Image credit: Illustrated | BRENDAN SMIALOWSKI/AFP/Getty Images)
When Defense Secretary James Mattis resigned last week, he took with him one of the last bastions of D.C.-as-usual foreign policymaking in the Trump administration. With the president determined to abruptly pull the United States out of Syria and sharply reduce our troop presence in Afghanistan, the stage is set for a radical reorientation of American Middle East policy, and perhaps a lurch toward the broader and more disruptive moves elsewhere that the president has longed to make. The combination of sudden, impulsive foreign policy shifts, Mattis' almost poignant resignation letter, and a capital city already in Christmas chaos from the president's decision to shut down the government has created fresh jitters in the markets and new fears of an unmoored, out-of-control presidency.
But what should really worry everyone isn't the departure of a single advisor, no matter how valued, nor a long-overdue reassessment of America's expensive, ruinous, decades-long regional fiasco in the Middle East and Central Asia. It's that there seems to be no one in place to fill out the details of the president's vision, let alone implement it.
This is a dangerous situation. Increasingly isolated and embattled, President Trump will be left making policy by fiat, in places he barely understands, with consequences he knows he will likely not be around to deal with. The foreign policy hands available over the counter in D.C. right now are mostly Bush-era holdovers and hawks likely to be just as poor a fit for the president's style.
Subscribe to The Week
Escape your echo chamber. Get the facts behind the news, plus analysis from multiple perspectives.
SUBSCRIBE & SAVE
Sign up for The Week's Free Newsletters
From our morning news briefing to a weekly Good News Newsletter, get the best of The Week delivered directly to your inbox.
From our morning news briefing to a weekly Good News Newsletter, get the best of The Week delivered directly to your inbox.
Elected Republicans who rationalized their capitulation to Trump by pretending that Mattis or Kelly or McMaster or the Adult of the Month can prevent Armageddon have little left beyond Mike Pompeo at the State Department to justify their blasé attitude now. If anything, Mattis' departure might be a welcome wake-up call for a GOP elite that has grown far too comfortable with the president's hourly provocations, assaults on the rule of law, impetuous policy shifts, and personnel mayhem. It's like someone falling peacefully asleep next to a caged tiger, only to wake up and realize that the door is open and the animal is hungry.
Mattis was always in an unenviable position. Unlike former Chief of Staff John Kelly, who the press similarly hailed as an adult making terrible sacrifices to prevent our deranged, would-be god king from destroying us, Mattis did not share any kind of ideological affinity with the president. His job was largely to help assure traditional allies in Europe, Asia, and the Middle East that despite the theatrics, America's post-World War II foreign policy — the one that exists in the real world and not in the president's daily social media maelstroms and rally tirades — remained largely unchanged. His motto was: Do as I say, not as the president tweets. This steadiness helped smooth over the president's incessant grandstanding about NATO with our European allies and may have avoided a more serious rupture with China.
On the other hand, Mattis was largely aligned with a D.C. policy consensus about America's role in the Middle East that has been one of the country's worst foreign policy disasters. The strange and hysterical media reaction to his departure is driven not just by fear of what an unstable and now deeply unhappy man like President Trump might do without seasoned advisors, but also by all of the unaccountable foreign policy elites whose lifetime investments in America's Forever Wars are now looking as shaky as the stock market.
They are right to be worried, because President Trump at this point has little to do domestically. His incompetence, laziness, and refusal to master policy details contributed to two years of domestic policy failure and ugly political rancor, and he is increasingly boxed in at home. With Democrats set to take over the House next month, thanks in large part to the president's relentless divisiveness and his inability to steward compromises through the legislative process, he faces not only a series of potentially presidency-ending revelations from the Mueller report and new House investigations, but the total paralysis of what remains of his stateside agenda. And so it is not surprising that he has now looked to Syria and Afghanistan — two wars he resented inheriting in the first place — for the kind of news-cycle dominating headlines he so craves. Unlike with immigration, or even trade, he has a free hand here, with no court able to strike down his impulsive maneuvers and no adversary with which to negotiate. The president can end wars and no one can stop him.
Even if you think his decisions to withdraw from Syria and Afghanistan were the correct ones, it's still hard not to worry about the president's capriciousness, his failure to match his feebly-informed instincts with coherent plans, and his inability to staff his administration with talented people who share his goals, or at least understand them. Just months ago, he let National Security Advisor John Bolton blab his way into a preposterous revision of U.S. goals in Syria — we would not leave, he said, until there were no more Iranian troops, including militia forces, outside of Iranian borders. Such laughable, unachievable goal-setting is about exactly what Trump should have expected when he hired one of the most loathsome architects of the Iraq War to be his chief security advisor.
But it's been this way with the weird, ill-fitting staff decisions since the very beginning, the populist firebrand and protector of Medicare hiring House Freedom Caucus zealots to advise him on economic policy, the Wall Street critic filling out his cabinet with Goldman Sachs executives.
That's why even critics of American foreign policy and proponents of what scholars call "offshore balancing" will have a hard time being happy about the simultaneous withdrawals from Afghanistan and Syria — these moves are not based on clear-eyed appraisal of America's many failures married to well-conceived plans for a gradual change in direction, but rather the result of a temper tantrum, with the president in the throes of a weeks-long anger bender driven by his repudiation in the midterms and his clear distaste for the actual job of being president.
Taken as a whole, President Trump's actions in the region over the past year really make no sense at all. Why blow up the Iran Deal only to deliver Damascus to Tehran? Why provoke the Russians by canceling the INF Treaty only to reward them for their violent meddling in Syria's civil war? Why move the U.S. away from blowback-inducing militarism only to endorse the Saudis' genocidal siege of Yemen?
For those of us who have long been recommending a strategic retreat from the Middle East, it is hard to see the long-term upside here — the withdrawals, even if they represent the outlines of a better policy in a vacuum, will now be widely condemned, will surely be ineptly executed, and, of course, might be reversed at a moment's notice by the captain of caprice in the Oval Office.
As Mattis finally understood, there is no meaning underneath all of this mayhem, no theory of a better foreign policy that maybe, possibly you can help the president turn into something concrete. President Trump doesn't have a master plan, or any plan at all. He is unteachable and unadvisable.
He is also president for two more long, unsettling, dangerous years — unless Republicans can finally bring themselves to join the project of removing him from office.

Continue reading for free
We hope you're enjoying The Week's refreshingly open-minded journalism.
Subscribed to The Week? Register your account with the same email as your subscription.