The irrelevance of Trump
How lawmakers are bypassing the president to make a deal on border security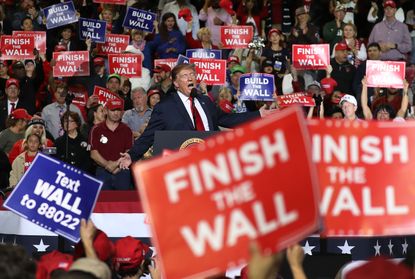 (Image credit: Joe Raedle/Getty Images)
President Trump went to El Paso, Texas on Monday to once again make the case for a border wall, headlining yet another rally filled with boasting about crowd size, ugly hyperbole about immigrants, invective against Democrats, and the usual dollop of irrelevant presidential preening. It was all familiar and, by now, even kind of tedious.
Meanwhile, back in Washington, lawmakers made an agreement on border security.
"I think everyone will say 'Good work,'" said Congresswoman Kay Granger, a Texas Republican who was part of the negotiations.
Subscribe to The Week
Escape your echo chamber. Get the facts behind the news, plus analysis from multiple perspectives.
SUBSCRIBE & SAVE
Sign up for The Week's Free Newsletters
From our morning news briefing to a weekly Good News Newsletter, get the best of The Week delivered directly to your inbox.
From our morning news briefing to a weekly Good News Newsletter, get the best of The Week delivered directly to your inbox.
Was it a coincidence that progress was made on the most intractable issue of the Trump Era as soon as the president left town? It didn't seem that way. The symbolism of the moment was unmistakable: Without Trump around to gum up the works — to approve an agreement, say, then backtrack in the face of conservative criticism — bipartisan action became a lot easier to achieve.
In other words, Trump suddenly appeared to be the thing he hates most: irrelevant.
But he brushed off the news so that he could take the stage. It seemed putting on a show in El Paso was much more important to him than whatever was going on in Washington.
"They say that progress is being made. Just so you know. Just now, just now," Trump said as news of the agreement emerged. "I said wait a minute, I gotta take care of my people from Texas, I got to go, I don't even want to hear about it, I don't want to hear about it."
Now that a deal is on the table, it's pretty easy to see why lawmakers attempted to work things out among themselves after the last shutdown. Progress was impossible as long as Trump was central to negotiations: Recall his televised meeting with House Speaker Nancy Pelosi and Senate Minority Leader Chuck Schumer, in which he proclaimed he would be "proud" to take responsibility for a shutdown. It was no better when cameras were absent: Trump stormed out of another so-called negotiating session. It seems Trump himself is an obstruction on the road to progress.
Surely, we can expect Trump to attempt to reassert his own importance. As President Bill Clinton famously growled in a low moment: "The Constitution gives me relevance." Trump likes to portray himself as much more than merely relevant, but indispensable. "I alone can fix it," he said of the nation's problems during the 2016 campaign; he followed that up during last week's State of the Union address with another assertion of unilateral will: "I will get it built," he said of the wall.
We don't know yet what exactly is in the new agreement. According to The Washington Post, the deal funds the government through the fall, and includes just $1.375 billion to install barriers along the southern border, rather than the $5.7 billion the president has demanded. Trump could veto the agreement, shut down the government again, and force everybody back to the drawing board. Or he could accept the agreement, declare a national emergency, and try to appropriate funds for the wall on his own authority.
The problem for Trump is that such efforts to prove his standing could actually make him look weak. He ended the recent record-breaking shutdown, after all, because a growing number of Republicans in Congress were signalling their readiness to jump ship rather than be dragged down by the issue. It's not likely that those same members of Congress have developed a new appetite for government closure. So if Trump uses his veto, he faces a real possibility that the legislative branch will humiliate him with an override.
Similarly, Republicans in Congress don't sound very enthusiastic about the possibility of a national emergency. If Trump proceeds with the declaration anyway, the whole matter will be thrown to the courts, which aren't known for their speedy action. Declaring an emergency only to wait for years for a court's approval probably doesn't create the picture the president desires.
If only the president could learn the value of teamwork, he might change his fortunes a bit.
The Founders created the American government as a collaborative effort. Each branch of government has its own areas of specialty, of course, but because it's so easy for each branch to block the other, cooperation is necessary to advance the public good in most cases. Trump's assertions of individual will are Constitutionally ignorant; the more he has tried to act unilaterally, the more he has encountered roadblocks.
Unless he finds a way to collaborate, it's likely Trump will find more impediments to action. Democrats and Republicans in Congress are both increasingly angry about his use of temporary appointments to bypass confirmation hearings for Cabinet-level positions; they're also cranky about his foreign policy and his refusal to make mandated reports to Congress. The more Congress asserts itself on these issues, the less room Trump will have to maneuver on his own.
Collaboration doesn't seem to be in Trump's nature, but it's not clear he has much choice. It's difficult to believe he prefers to be sidelined on the big issues, even if only for the purpose of serving his own ego. He wants to be relevant. But a president who loves the spotlight might find attention more difficult to attract if he's out of town while the grownups on Capitol Hill are getting the real work done.

Continue reading for free
We hope you're enjoying The Week's refreshingly open-minded journalism.
Subscribed to The Week? Register your account with the same email as your subscription.