How a heartland governor could be Democrats' route to victory in 2020
Trump won't lose to a Washington insider, so a purple state governor like Colorado's John Hickenlooper could be just the ticket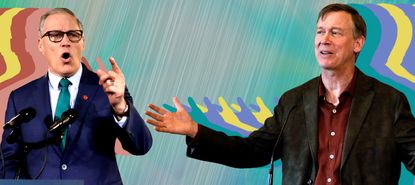 (Image credit: Illustrated | AP Photo/David Zalubowski, DickDuerrstein/iStock)
Democrats have 11 months to jump into the 2020 presidential sweepstakes before the first votes are cast in their primaries and caucuses — but that doesn't mean the window for viability will stay open much longer.
The field has already grown to gargantuan size, with more entrants expected and former Vice President Joe Biden still doing his best Hamlet impersonation after three years of indecision. By the time the line-up is finally set, Democrats may have even more trouble with debate stage management than the GOP did in its free-for-all 2016 cycle.
That means it's a little early for handicapping the field, but two developments this week still deserve attention, one as a dead end and one as a valuable guidepost for a plausible route to defeating President Trump in 2020.
Subscribe to The Week
Escape your echo chamber. Get the facts behind the news, plus analysis from multiple perspectives.
SUBSCRIBE & SAVE
Sign up for The Week's Free Newsletters
From our morning news briefing to a weekly Good News Newsletter, get the best of The Week delivered directly to your inbox.
From our morning news briefing to a weekly Good News Newsletter, get the best of The Week delivered directly to your inbox.
First, in one of the few limiting events seen in this season, a Senate Democrat took the time to announce he wouldn't seek the nomination. Oregon's Jeff Merkley drew far less attention as a potential candidate than did his Tuesday demurral, which was the first time a Democrat from the upper chamber definitively ruled out a 2020 run.
That decision didn't stop Merkley from producing a campaign video to document his non-campaign. He slammed the "broken and dysfunctional Senate" to which he has belonged for a decade, promising to seek re-election "so it isn't just a graveyard for good ideas." Left unspoken: what Merkley has been doing for the past 10 years as a senator, and what he thinks of the half-dozen or more of his colleagues who have abandoned this dysfunction for the 2020 sweepstakes.
The other notable development came from Colorado's former Gov. John Hickenlooper (D), who announced his presidential candidacy Monday. Hickenlooper is the only governor in the race apart from Washington's Jay Inslee (D) and one of the few serious contenders to come from outside Congress.
The reaction to Hickenlooper's news was mixed between launch fatigue and light mockery over his lack of name recognition and campaign infrastructure. Politico's report on his announcement included an anecdote from a recent appearance in Iowa, where "Hickenlooper was the only presidential candidate who wore a name tag." His own short campaign trailer didn't offer much distinction from his primary opponents' platitudes. Declaring "we need dreamers in Washington, but we also need to get things done," is hardly groundbreaking stuff.
Still, Hickenlooper, like Inslee, brings something new to the 2020 race: significant executive experience in a field dominated by legislators. Even Biden has little operational executive experience outside of his eight years as former President Barack Obama's VP; he spent nearly 40 years in the Senate before landing in the lower spot on the 2008 ticket.
More importantly, Hickenlooper and Inslee bring an outsider's perspective into a race that will likely be fueled by populist dissatisfaction with Washington in the primaries and the general election alike. The 2016 campaign produced populist pressure in both parties, with Trump defeating an armada of Washington-connected Republicans while Hillary Clinton barely held off Sen. Bernie Sanders (I-Vt.). Trump trounced Clinton by casting her as the candidate of "the swamp," a connotation her insider-focused campaign did little to rebut.
If Democrats want to beat Trump in 2020, they need to either win the insider-outsider battle or at least neutralize it. Four years into office, it's still tough to paint Trump as an insider, especially given the disdain and hostility directed at him by the Washington establishment on both sides of the aisle. A heartland governor like Hickenlooper carrying the Democratic banner would at least make that calculation a stalemate.
In contrast with Inslee, who hales from deep-blue Washington, Hickenlooper boasts a track record that might appeal to some of the very disaffected voters Trump won in 2016. Republicans in Colorado might not be thrilled with their governor, but he won two statewide elections while Cory Gardner took a Senate seat for the GOP.
Granted, Hickenlooper may not be the best option for Democrats hoping to seize the middle ground in American politics. John Bel Edwards (D), the first-term governor of Louisiana, arguably makes for a better candidate on paper: Edwards won in a deep-red state and could potentially pave the way to victory in GOP strongholds like Georgia and Arizona. But his positions on gun rights and abortion probably make him anathema in a party swinging hard toward the progressive left. Hickenlooper's views are less estranged from the Democratic grassroots, and anyway, Edwards thus far has given no sign of interest in a presidential run.
Hickenlooper still has to prove himself on the campaign trail, as plenty of candidates stumble despite strong credentials. (Former Wisconsin Gov. Scott Walker [R] and former Maryland Gov. Martin O'Malley [D] are two examples of this from 2016.) But even if Hickenlooper specifically can't compete, he's still the kind of nominee Democrats should be recruiting — and the kind they won't find inside the Beltway.
Editor's note: A previous version of this article misidentified John Hickenlooper as the current governor of Colorado. It's been corrected. We regret the error.

Continue reading for free
We hope you're enjoying The Week's refreshingly open-minded journalism.
Subscribed to The Week? Register your account with the same email as your subscription.