What Jeanine Pirro's comments about llhan Omar reveal about public religion in America
The right only sees religion in terms of Christianity. The left only sees it in terms of the disadvantaged.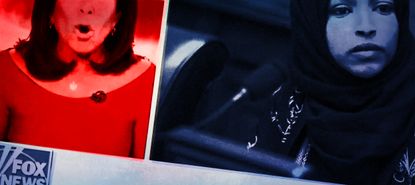 (Image credit: Illustrated | Screenshot/Twitter, jessicahyde/iStock)
Sign up to our 10 Things You Need to Know Today newsletter
A free daily digest of the biggest news stories of the day - and the best features from our website
Thank you for signing up to TheWeek. You will receive a verification email shortly.
There was a problem. Please refresh the page and try again.
"Think about it," Fox News host Jeanine Pirro asked viewers of her Saturday night show: Rep. Ilhan Omar (D-Minn.) "wears a hijab, which, according to the Quran, 33:59, tells women to cover so they won't get molested. Is her adherence to this Islamic doctrine indicative of her adherence to Sharia law, which in itself is antithetical to the United States Constitution?"
Pirro's remarks drew prompt uproar, including among her colleagues at Fox. The network issued a statement of emphatic condemnation, and Pirro herself shared a weaselly non-apology. "I've seen a lot of comments about my opening statement from Saturday night's show and I did not call Rep. Omar un-American," she said. "My intention was to ask a question and start a debate, but of course because one is Muslim does not mean you don't support the Constitution."
The implication of conflict between Islam and the Constitution was indisputably part of Pirro's original rant, but she's right she never made the claim explicit. Her suggestion was a little narrower: Anyone who is devoutly Muslim enough to wear a hijab probably isn't a good American. Be Muslim, sure, Pirro's words allow, but keep it out of sight. If you're bringing it into the public square — if you're making us remember it every time we look at you — well, that's a little much.
Subscribe to The Week
Escape your echo chamber. Get the facts behind the news, plus analysis from multiple perspectives.
SUBSCRIBE & SAVE
Sign up for The Week's Free Newsletters
From our morning news briefing to a weekly Good News Newsletter, get the best of The Week delivered directly to your inbox.
From our morning news briefing to a weekly Good News Newsletter, get the best of The Week delivered directly to your inbox.
It's a strange point from a pundit who works the front lines of the "war on Christmas," bemoaning a "growing anti-Christian bias in America" and noting the First Amendment "doesn't give you freedom from religion," even in public life. But perhaps that contradiction shouldn't be surprising, as Pirro's comments exemplify the difficulty Americans have with religion in public discourse. She's not alone in failing to negotiate this relationship well — we are bad at this across the political spectrum — though her particular brand of failure is distinctive to the right.
Religion in public did not always present such a problem in American politics. Ours has never been a religiously homogenous nation, and our history of religious tolerance for minority faiths is far from consistent. But past eras were marked by a shared religious vocabulary among the majority (or rather, the majority of those allowed to participate in politics) that no longer exists.
Christendom is done. The public sphere is increasingly secularized and fragmented. Our civil religion is as poisonous and pervasive as ever, but in official contexts it is increasingly nonsectarian. Religion is daily at the forefront of political discourse — and polling suggests most of us want to talk about religion publicly — but it navigates that position awkwardly, grappling with what Charles Taylor in A Secular Age terms an "expressivist dispensation," where we can no longer assume our public conversation partners generally believe and value the same things we do.
We cannot talk the way we used to, and we don't know how we should talk instead. Be religious, sure, but should you keep it out of sight?
The right has tended to answer that question with an energetic "no." On Fox, this looks like Pirro and her fellow talking heads raising endless alarm about the looming threat of godless, progressive Philistines who want to smash up your nativity set and force American Christians to privatize their faith and sublimate its dictates to meet the ruthless standards of political correctness. Off Fox, the answer takes more thoughtful forms, as in Rod Dreher's Benedict Option, which proposes for Christians a "strategic withdrawal" from an increasingly hostile public, "to regain focus and clarity, and strengthen ourselves so that when we go back into the public square, we know who we are, what we stand for, and what we must endure for the sake of the true faith."
But while Dreher specifically has considered that American Jews and Muslims may need a similar strategy to stay visibly faithful in the face of public disdain, too many on the right take Pirro's course instead, adamantly defending public faith only for themselves. In theory, as Pirro protested, they have no problem with the public expression of unfamiliar types of faithfulness. But in practice, there is little comfort with adherents of any non-Christian religion (Judaism possibly excepted) actually availing themselves of the invitation to open religiosity in public life. This discomfort is not universal, but it is real.
The left's failings are of a different sort. Some do seek an American laïcité to exclude religious reasoning and conviction from public discourse. At its crudest, this is the cry of, "Keep your rosaries off my ovaries." In a more sophisticated form, it's philosopher Richard Rorty's argument that religious ideas have no place in public because "in political discussion outside the relevant religious community they are a conversation-stopper." For those not part of any given faith, faith-based claims are inherently irrelevant, Rorty says, and we should excise them from the public sphere so universally accessible debate can more quickly produce secular consensus and legislation.
Others on the left take a different tack, wanting to respect and include religion in public conversation because it is part of many people's identities. But this respect and inclusion often seems more willingly offered when the recipient religion has no real political power: It is easier to celebrate visible religiosity from Rep. Omar than, say, from a white, male, Republican Southern Baptist. Even if Pirro's calumny were true, Omar would have no way to substitute Islamic law for the Constitution. Our Southern Baptist, however, might successfully install a 10 Commandments statue at the courthouse or a creche on the town lawn.
None of these approaches are terribly functional, but they are especially bad in clashing combination. Religious conversationalists rightly feel it unfair to be asked to conceal their faith for public debate, while the nonreligious or otherly religious cannot fathom why they are supposed to give ear to the reasoning of a faith they do not share. Layering on hypocrisy, whether in the form of defending open religiosity only for one's own or lauding it only when it poses no real challenge to secularity, makes the dysfunction worse.
Far better would be something like what philosopher Jurgen Habermas proposes, in which religious expression is welcomed in the public sphere — but with the knowledge that it will be unpersuasive for many audiences, and that any decisions it helps inspire will be "translated to a generally accessible language before they can find their way" into law. As Habermas concludes, this approach ensures "all legally enforceable and publicly sanctioned decisions can be formulated and justified in a universally accessible language without having to restrict the polyphonic diversity of public voices at its very source."
Pirro should not succeed in her ostensible goal to "ask a question and start a debate" about whether hijabi women can support the Constitution. But her comments should start a different debate, spurring us to a search for better ways of dealing with religion when we talk in public.
Continue reading for free
We hope you're enjoying The Week's refreshingly open-minded journalism.
Subscribed to The Week? Register your account with the same email as your subscription.
Sign up to our 10 Things You Need to Know Today newsletter
A free daily digest of the biggest news stories of the day - and the best features from our website
Bonnie Kristian was a deputy editor and acting editor-in-chief of TheWeek.com. She is a columnist at Christianity Today and author of Untrustworthy: The Knowledge Crisis Breaking Our Brains, Polluting Our Politics, and Corrupting Christian Community (forthcoming 2022) and A Flexible Faith: Rethinking What It Means to Follow Jesus Today (2018). Her writing has also appeared at Time Magazine, CNN, USA Today, Newsweek, the Los Angeles Times, and The American Conservative, among other outlets.