Is impeaching Trump worth the risk?
Why Nancy Pelosi is right to be cautious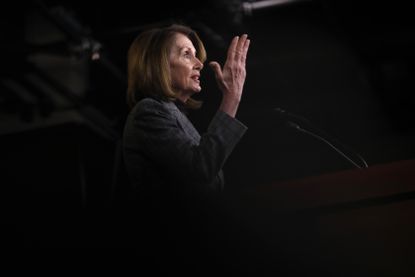 (Image credit: Win McNamee/Getty Images)
Sign up to our 10 Things You Need to Know Today newsletter
A free daily digest of the biggest news stories of the day - and the best features from our website
Thank you for signing up to TheWeek. You will receive a verification email shortly.
There was a problem. Please refresh the page and try again.
Donald Trump might well be the worst president in U.S. history. He is corrupt, vain, petty, and unwise, and somehow manages to combine those awful characteristics into a toxic stew of bad policy choices and worse policy implementation.
Trump should be impeached. But what if doing so makes everything worse?
That question seems to be at the heart of House Speaker Nancy Pelosi's (D-Calif.) reluctance to impeach Trump. In an interview with The Washington Post published Monday, Pelosi said that Trump is "unfit" for the presidency — but that impeaching him is "not worth it."
Subscribe to The Week
Escape your echo chamber. Get the facts behind the news, plus analysis from multiple perspectives.
SUBSCRIBE & SAVE
Sign up for The Week's Free Newsletters
From our morning news briefing to a weekly Good News Newsletter, get the best of The Week delivered directly to your inbox.
From our morning news briefing to a weekly Good News Newsletter, get the best of The Week delivered directly to your inbox.
"Impeachment is so divisive to the country that unless there's something so compelling and overwhelming and bipartisan, I don't think we should go down that path, because it divides the country," she said. "And he's just not worth it."
Among Twitter pundits, the reaction was swift and negative. Impeaching Trump isn't worth it? Pelosi's critics asked. Yes, it absolutely is!
But maybe it's not. It's worth at least contemplating why Pelosi might be right.
Consider the last time a president was impeached. The House speaker who led the effort — Newt Gingrich — consequently lost his job. The party that controlled the House — Republicans — suffered massive losses in the midterm elections. And President Bill Clinton was strengthened politically: His approval rating reached 73 percent after impeachment, higher than Ronald Reagan's highest rating.
Consider, too, simple math and the Constitution: It takes two-thirds of the Senate to vote to convict a president on impeachment charges and remove him from office. Democrats not only do not have two-thirds of the Senate on their side, they don't even have a majority. As it stands now, the impeachment of Trump would do nothing to cast him from office. What would be the point? As the saying goes: "If you come at the king, you best not miss."
All of this adds up to a potential worst-case scenario for Democrats — and maybe even for the country. To inadvertently strengthen Trump and be weakened politically on the eve of the 2020 presidential election might do more to keep a bad president in office for the long term than any amount of plotting by Republican politicos.
Put another way: Are Trump critics ready to let him appoint judges for another four years because Democrats in Congress couldn't make impeachment stick? Are they ready to find out what happens if this country's divisions are magnified even more? Are they completely certain that impeachment will make things better?
There are plenty of good, smart counterarguments to all of this: Trump's corruption vastly outweighs Clinton's; the GOP Congress under Gingrich badly overreached; Trump has never had the personal popularity to make him resilient through the impeachment process the way Clinton was 20 years ago, so that potential backlash against Democrats doesn't loom as large. These are all good points.
But the truth is that nobody really knows what will happen. Impeachment is like war: You can make plans, but once it's set in motion, anything is possible — and the unanticipated consequences of impeaching Trump can be pretty scary indeed. Pelosi would be unwise to abandon the idea of impeachment entirely, but she hasn't done that. She is wise to be cautious, however.
Such caution may not be popular among Democratic partisans, given the "impeach the mofo" zeal that swept into Congress during the midterms. But Pelosi isn't a rank-and-file partisan. She's the leader. It's her job to win now, yes — but it's also her job to take the long view.
This is not to say that Pelosi won't preside over the impeachment of Donald J. Trump — eventually. She probably will, and this would be the right thing to do considering the president's proclivity for rule-breaking. Even without a final report from Special Counsel Robert Mueller, there is plenty of information available to the public that warrants impeachment. Pick your reason: Did Trump obstruct justice by firing former FBI Director James Comey? Does he profit from his office in violation of the Emoluments Clause? Did he publicly invite Russian interference in America's election in 2016? There's lots of evidence to answer "yes" to each question.
This list is already so long that even if Mueller's final report adds nothing new to the conversation, one thing remains true: If this president — with his aversion to facts, his thuggish habits, and his clear disrespect for the Constitution he has sworn to uphold — cannot be impeached, then no one can. And if this president is indeed immune to accountability from the people and Congress, then the president is functionally a king and the Constitution is a failure.
So, Pelosi has a tricky decision on her hands. She is smart to be cautious about the future, but she may have no choice but to pursue the impeachment fight eventually. The House members she leads will demand it — and the evidence of Trump's crimes will be too great to ignore. Trump is worth it. But the cost for Democrats — and the nation — might be higher than we think.
Continue reading for free
We hope you're enjoying The Week's refreshingly open-minded journalism.
Subscribed to The Week? Register your account with the same email as your subscription.
Sign up to our 10 Things You Need to Know Today newsletter
A free daily digest of the biggest news stories of the day - and the best features from our website
Joel Mathis is a freelance writer who lives in Lawrence, Kansas with his wife and son. He spent nine years as a syndicated columnist, co-writing the RedBlueAmerica column as the liberal half of a point-counterpoint duo. His honors include awards for best online commentary from the Online News Association and (twice) from the City and Regional Magazine Association.