Will every living Democrat run for president?
On the endless multiplication of 2020 Democrats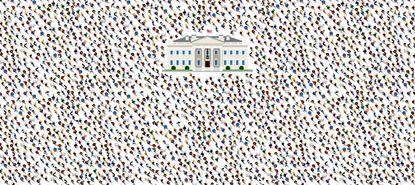 (Image credit: Illustrated | Tidarat Tiemjai/iStock, -slav-/iStock, Ekaterina_Vitchenko/iStock)
"So Marianne Willamson?" I say to my wife. "She's a New Age guru from California, 66 years old. Has written books on how to use magic to lose weight. Announced last year in November. Is she real?"
"You couldn't make this up, so yes."
This is a game we have started playing. One of us gives a name and a brief C.V. and says how long he or she has purportedly been seeking the Democratic presidential nomination in 2020. Sometimes the names and credentials are indeed real. Other times we make up people — e.g. "Mark Randall, former one-term governor of Pennsylvania, declared in February, says he is focused on the environment but rejects the Green New Deal as 'the wrong fit for the American people.'" My wife believed in his existence for all of five minutes this morning.
Subscribe to The Week
Escape your echo chamber. Get the facts behind the news, plus analysis from multiple perspectives.
SUBSCRIBE & SAVE
Sign up for The Week's Free Newsletters
From our morning news briefing to a weekly Good News Newsletter, get the best of The Week delivered directly to your inbox.
From our morning news briefing to a weekly Good News Newsletter, get the best of The Week delivered directly to your inbox.
For now I have a built-in advantage as someone who is paid to know about all of these people. But for how long? If somebody had asked me last week whether "Seth Moulton, congressman from Massachusetts, a moderate New Democrat, enthusiastic about public transportation and veterans' affairs," was a real presidential candidate I would have said absolutely not. There are already four obscure white male current or former members of the House running for president. Then Moulton announced on Monday morning.
The 2020 election might end up being memorable for any number of reasons: record fundraising by the DNC, the first live on-air use of the F-word in a presidential debate, the re-election of arguably the least popular incumbent president in American history. But it is definitely going to be remembered as the time that every living American older than 34 and younger than 110 sought to be the Democratic nominee.
This is a problem. How are ordinary voters, the kind of people who take politics seriously enough to participate in primary elections but don't spend 40 hours a week reading Axios and watching MSNBC supposed to keep them all straight? Everyone knows who Bernie Sanders is. Ditto Elizabeth Warren. Otherwise, though? Amy Klobuchar is a senator from somewhere. So is Kamala Harris. At least one of them is mean, I think? Cory Booker, the Stanford tight end, is also tight with the financial services industry in his home state of New Jersey. Kirsten Gillibrand used to be a moderate on guns. Tulsi Gabbard used to be socially conservative, like Tim Ryan, and wishes we would be nicer to Bashar al-Assad. Jay Inslee is allegedly the governor of Washington state. Pete Buttigieg is the mayor of a small Midwestern city who claims to speak eight languages.
Who else? Beto O'Rourke, of course, is the guy who tried to feed his wife poop as a joke and was on magazine covers for a while. John Hickenlooper used to be governor of Colorado. Most of the people running for president weren't around to have voted for or against the war, but Mike Gravel said no — to the one in Vietnam. John Delaney is probably a minor character in season four of The Wire. Julian Castro was a mayor who was in the Obama administration. Poor Eric Swallwell was threatened over the weekend by a far-right loonie who would appear to be far more invested in the Democratic nominating process than the average American. Andrew Yang is the Netflix reboot of Ross Perot. Wayne Messam is — well, Google him, because I'm not so sure my wife didn't invent him last week.
Phew. That was harder than trying to summarize Ludwig von Pastor's History of the Popes. And those are only the current declared candidates. We are still waiting to learn whether Joe Biden is really running or not. There are thousands of living Democratic elected officials who are probably considering a bid as I write this. How about Karen Freeman-Wilson, the mayor of Gary, Indiana, or Casey Steinau, the leader of the Alaska Democratic Party who "enjoys life in Big Lake with her partner Tim Dickman and two very spoiled cats"? Chairman Steinau "has had a successful 20-year career in real estate sales and investing. She is proud of her contributions to her community as a small business owner and a long-time community volunteer for a variety of causes from garbage clean-up to the fight against homelessness." That sounds like a candidate bio to me. Let's also not discount the last-minute possibility that Hillary Clinton throws her hat into the ring.
Why are Democrats doing this? Do they need the money from campaign book deals? Or is there something secretly enjoyable about hiring consultants to purchase donor lists and booking flights to Iowa and New Hampshire in order to speak to crowds numbering in the high single digits? I had all the same questions for Republicans in 2016. Remember when Jim Gilmore was excluded from both the main-stage and kids' table GOP debates and decided to live-tweet the events instead? This is going to end up happening to at least three or four Democrats this year.
There is a good argument to be made that the endless multiplication of Democratic candidates plays into the hand of someone like Sanders, who can stand apart from the crowd. But it also undermines the seriousness of the 2020 election. If defeating Trump really is a matter of existential importance to the American people, something upon which the future of the republic itself depends, why are Democrats taking it about as seriously as an AYSO youth soccer game, where "Everyone Plays®"?
Not everyone should.

Continue reading for free
We hope you're enjoying The Week's refreshingly open-minded journalism.
Subscribed to The Week? Register your account with the same email as your subscription.