Trump's asylum rules will make a bad situation worse
They're an imprecise tool that will punish people fleeing legitimate persecution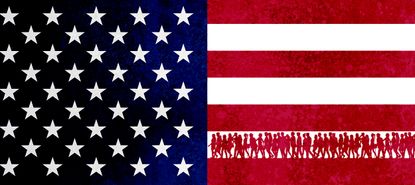 (Image credit: Illustrated | DickDuerrstein/iStock, RSfotography/iStock, syntika/iStock)
Sign up to our 10 Things You Need to Know Today newsletter
A free daily digest of the biggest news stories of the day - and the best features from our website
Thank you for signing up to TheWeek. You will receive a verification email shortly.
There was a problem. Please refresh the page and try again.
America's asylum system is far from perfect. For all President Trump's counterfactual caterwauling about the nature of the crisis at the border and what we should do to fix it, he is not wrong that a problem exists. Why and how that problem ought to be addressed is something reasonable, well-intentioned people can debate.
Much less debatable is the merit of Trump's Monday night directive asking for new asylum rules to be implemented within 90 days. Particularly notable — and appalling — among Trump's requests were the demands for "a fee for an asylum application," "a fee for an initial application for employment authorization for the period an asylum claim is pending," and a ban on work authorization for migrants who "entered or attempted to enter the United States unlawfully ... before any applicable application for relief or protection from removal has been granted."
It remains to be seen whether these proposals will ever take effect. They may be blocked in court — and so they should. This order does nothing to distinguish between those with and without legitimate asylum claims; makes obtaining asylum substantially harder for legitimate claimants; makes reliance on public assistance programs more likely; and, by forcing desperate, unemployed people to spend money they don't have, could incentivize some of the very behavior Trump says he wants to stop at the border.
Subscribe to The Week
Escape your echo chamber. Get the facts behind the news, plus analysis from multiple perspectives.
SUBSCRIBE & SAVE
Sign up for The Week's Free Newsletters
From our morning news briefing to a weekly Good News Newsletter, get the best of The Week delivered directly to your inbox.
From our morning news briefing to a weekly Good News Newsletter, get the best of The Week delivered directly to your inbox.
The asylum process as it stands is messy in execution but simple enough to describe. Asylum applicants are asked to demonstrate that they have been persecuted or are at risk of persecution in their home countries because of their "race, religion, nationality, membership in a particular social group, or political opinion." Application may be made proactively, within a year of arriving in the U.S. by any means (including illegal entry), or "defensively," as an effort to avoid deportation.
The rationales for this system are easy to grasp, and so is its potential for misuse by those who know they do not meet the requirements but are determined to stay in the United States anyway. Perhaps, like me, you'd respond to that dynamic by making other types of entry easier. Or perhaps you think we should reform the asylum process to make it less attractive to those other migrants. Either way, Trump's fees and work limits program doesn't help.
One critique immigration restrictionists often make is that, in the words of Rep. Dan Crenshaw (R-Texas), the asylum system is "unfair ... for migrants with real asylum claims." But Trump's order will affect all asylum applicants equally. Those with claims fitting that list of risks for persecution will be required to pay the application and work permit fees right alongside those facing no such dangers.
Illegal entry is no indication of an asylum claim's validity both in practice and under current law, which means some asylum seekers whose claims will ultimately and rightly be approved will be banned from working in the months if not years it takes to adjudicate their cases. (Already, even asylum seekers who made a proactive application after legal entry to the U.S. are arbitrarily prohibited from working for at least 150 days after their application is submitted.)
Thus, though Trump's rules may be intended as a deterrent to illegitimate claims, they are an imprecise tool that will make an already difficult process substantially more arduous for people fleeing true persecution.
First there's the upfront financial expense, and it is plausible that an application fee "not to exceed the costs of adjudicating the application" could be hefty, especially for someone coming from a nation like Honduras, which has a per capita GDP of $5,500 and 20 percent of the population making less than $2 a day. Even if the fee is duly paid, the work ban while the application is reviewed requires asylum seekers who entered the country illegally — as they may have done, understandably, to get around the Trump administration's reported practice of turning them away from legal ports of entry — to rely on others while they wait to learn their fate.
Because not every migrant will be fortunate enough to have family, friends, or a charitable organization to support them during that time, the work ban makes asylum applicants' reliance on public assistance programs more likely. Generally asylum seekers are not eligible for federally funded benefits, but some state-run programs are available, and desperation may motivate fraud. Immigration restrictionists regularly raise the specter of "lazy" immigrants leeching off public programs to which they do not contribute via income taxes — so why throw up a new barrier to honest work?
Some asylum seekers, kept from working by the 150-day rule, have become homeless because they had no way to support themselves. Trump's new regulations would make that and other undesirable outcomes, including drug trafficking and prostitution, more likely. Trump uses the drug and sex trades as fallacious arguments for border wall construction, but here he has shifted from advocating something that will not prevent these vices to actively incentivizing them. If licit work is banned, illicit work will begin to appeal. Migrants who might otherwise never consider selling drugs may do so if it appears as the only option to feed themselves and their families.
However our asylum policies ought to change, Trump's order is not the way to go. It is clumsy and callous, rife with predictable unwanted consequences and sure to make a bad situation worse.
Continue reading for free
We hope you're enjoying The Week's refreshingly open-minded journalism.
Subscribed to The Week? Register your account with the same email as your subscription.
Sign up to our 10 Things You Need to Know Today newsletter
A free daily digest of the biggest news stories of the day - and the best features from our website
Bonnie Kristian was a deputy editor and acting editor-in-chief of TheWeek.com. She is a columnist at Christianity Today and author of Untrustworthy: The Knowledge Crisis Breaking Our Brains, Polluting Our Politics, and Corrupting Christian Community (forthcoming 2022) and A Flexible Faith: Rethinking What It Means to Follow Jesus Today (2018). Her writing has also appeared at Time Magazine, CNN, USA Today, Newsweek, the Los Angeles Times, and The American Conservative, among other outlets.