Daenerys' horrifying vengeance
Game of Thrones' penultimate episode featured one of the most disturbing turns in the series' history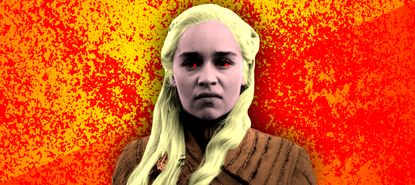 (Image credit: Illustrated | Helen Sloan/HBO, Julia_Khimich/iStock)
Sign up to our 10 Things You Need to Know Today newsletter
A free daily digest of the biggest news stories of the day - and the best features from our website
Thank you for signing up to TheWeek. You will receive a verification email shortly.
There was a problem. Please refresh the page and try again.
The dragon has finally awoken.
In Sunday night's episode of Game of Thrones, Daenerys mercilessly unleashed her wrath on the innocents of King's Landing, marking one of the most disturbing turns in the series' history. But while many fans were dismayed by Daenerys' perceived swerve in "The Bells," the flight of the Mad Queen was actually a return to the sort of complexity that has made Game of Thrones such an enduring story — a complexity it has often lost along the way.
Since Thrones' debut, Daenerys' storyline has been willfully misinterpreted as "empowering," despite warning signs that she is not the one-note heroine some people yearn for. Construing Daenerys as a stand-in for all female leaders has in fact always been a mistake. As the "previously on Game of Thrones" recap before "The Bells" reminded viewers, her turn toward tyranny has been in the making since the very first season, rooted in the echo of her brother Viserys' threat: "You don't want to wake the dragon, do you?"
Subscribe to The Week
Escape your echo chamber. Get the facts behind the news, plus analysis from multiple perspectives.
SUBSCRIBE & SAVE
Sign up for The Week's Free Newsletters
From our morning news briefing to a weekly Good News Newsletter, get the best of The Week delivered directly to your inbox.
From our morning news briefing to a weekly Good News Newsletter, get the best of The Week delivered directly to your inbox.
Even Daenerys' earliest flirtations with power were deeply unsettling. The first sign that something was off in her judgment came during season two, when Daenerys ordered her handmaiden Doreah and the merchant Xaro to be locked alive in a vault after the pair conspired to betray her to the Warlocks of Qarth. Daenerys' uncompromising sense of "justice" has remained a constant ever since, from the Sack of Astapor, when she ordered every un-enslaved man in the city killed, to shrugging off her advisers and demanding the crucifixion of the Great Masters of Meereen. The books are often even more direct in tipping the hand than the TV series:
That Daenerys is not "pure good" makes her a far more compelling character, though, just as her many positive attributes make her turn in "The Bells" all the more tragic. After all, Game of Thrones was never supposed to be a story about the battle between the so-called forces of good and evil. As creator George R.R. Martin has frequently expressed, Thrones is much more about how that conflict takes place in individual hearts: "In real life," he has insisted, "the hardest aspect of the battle between good and evil is determining which is which." Daenerys, then, represents a choice all leaders have to make: to rule by earning love or by instilling fear. With the former failing, Daenerys resorts to the latter in "The Bells," a decision we've seen her inch closer and closer toward with every season.
Game of Thrones has nevertheless struggled to produce genuinely complicated and believable antagonists, often falling on the crutch of "pure evil" characters like Euron or the Night King. Daenerys' creep toward tyranny, by contrast, has been downright subtle, and you might be forgiven for missing it at all. Yet while her flight in "The Bells" was shocking, it was also evidence of careful writing — and admittedly, "careful writing" has been something of a rarity in the otherwise clumsy scripts as of late.
Rather than signposting Daenerys' flaws in neon, her most concerning inclinations have been patiently stoked. Keep in mind that Bran's vision of a lone dragon over King's Landing and Daenerys' vision of the Red Keep's ruined throne room came way back in season four. Her arc was long-planned, not a last-minute shark-jump by the showrunners.
Unfortunately, the poor writing throughout Thrones' eighth season did nothing to help reinforce the climax in "The Bells," and I am sympathetic to frustrations with how the flip from "the Dragon Queen" to "Mad Queen Daenerys" was ultimately executed. That is to say nothing of the bad writing of the men surrounding her, who irritatingly seem to have no problems with their own moral compasses. It is indeed disappointing that Daenerys' embrace of tyranny can be written off as inevitable, the product of a "taint" (as Ser Barristan calls it) in her blood. I don't think we're supposed to see Daenerys as literally "mad," though; we've followed her descent into desperation over multiple seasons. While we are horrified by her decisions, we should at least be able to understand why she is making them.
Still, if Daenerys were to have simply defeated Cersei and won the Iron Throne in "The Bells," the show wouldn't have been worth watching. The "heroic one-dimensional woman leader" narrative thrust upon Daenerys would have been unbearably patronizing in the case of her simply becoming "the Good Queen" to Cersei's bad. But Thrones has never been about one-note characters (despite its propensity to occasionally write them), just as it has never been a show remotely interested in doing what is most expected of it.
Daenerys' story is messy and sad, complicated and also entirely understandable. It is achingly, tragically, recognizably, and horrifically human, with the death of the innocents of King's Landing a thin atom bomb allegory. In that particular historical parallel, too, we might have thought we knew who the "good guys" were supposed to be. But when the ash settles, as Game of Thrones reminds us, the truth is always far more complicated.
Continue reading for free
We hope you're enjoying The Week's refreshingly open-minded journalism.
Subscribed to The Week? Register your account with the same email as your subscription.