How the intellectual right is talking itself into tearing down American democracy
A troubling conservative argument, three decades in the making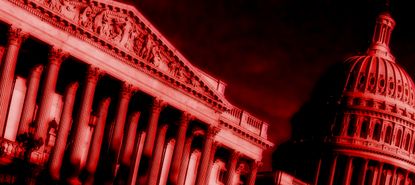 (Image credit: Illustrated | YayaErnst/iStock)
When you make a purchase through links on our site, we may earn a commission
As the American right struggles to come to terms with the presidency of Donald Trump, different factions of conservative intellectuals can be seen moving in different directions. Some have broken from the Republican Party and the conservative movement altogether. Others have remained loyal to the party while trying to engineer a counter-revolution from within that would reverse Trump's hostile takeover.
And then there are those who, inspired by their loathing of modern liberalism and Trump's full-frontal assault on liberal norms, institutions, and moral convictions, have embraced the president and see in his style of leadership a new, more potent way forward for the right. Such pro-Trump intellectuals can be found at a number of magazines, websites, and newspapers; but nowhere are they making bigger waves or drawing wider attention than at First Things, the most intellectually rigorous outlet of the religious right. (Full disclosure: First Things is also a journal where I once worked and about which I wrote a highly critical book back during the second term of the Bush administration.)
Subscribe to The Week
Escape your echo chamber. Get the facts behind the news, plus analysis from multiple perspectives.
SUBSCRIBE & SAVE
Sign up for The Week's Free Newsletters
From our morning news briefing to a weekly Good News Newsletter, get the best of The Week delivered directly to your inbox.
From our morning news briefing to a weekly Good News Newsletter, get the best of The Week delivered directly to your inbox.
Examining the history of the nearly three-decade-old magazine and its intellectual trajectory teaches a useful and illuminating lesson in the logic of political ideas — how certain intellectual premises can entail the adoption of specific political positions, like a chess match in which certain moves open up a limited number of forward paths while foreclosing others. Examining that logic can help us to understand why elements of the American right have developed in the way that they have — and to make informed predictions about where they are likely to go next. What such reflection shows us is that at least some intellectuals on the religious right are in the process of talking themselves into tearing down American democracy.
First Things was founded by Richard John Neuhaus in 1990 in order to advance the aims laid out in his seminal 1984 book The Naked Public Square. Building on Jerry Falwell's conviction that conservative Christians constituted a "moral majority" in the United States, the goal was to take back American institutions (to reclothe a public square denuded of religiously informed convictions) using democratic means.
Since the 1960s, secular liberalism had gained a foothold in the courts, the media, and the universities, but the American people dissented from its outlook and began to push back against it with the election of Ronald Reagan in 1980. Now what was a needed was an effort to push further. For Neuhaus, this would involve forming a tactical and theological alliance between conservative Catholics, evangelical Protestants, orthodox Jews, and (prior to 9/11) devout Muslims in the name of defending what might be described as "mere orthodoxy" in the public square. This would be a social conservative agenda that right-leaning members of every faith community could endorse: opposition to legalized abortion, same-sex marriage, stem-cell research, and euthanasia, as well as strong support for a robust role for religion in American public life.
Those goals were to be achieved democratically, transforming and sacralizing American liberalism from the inside: social conservatives would win elections and then appoint judges who would allow popular social-conservative sentiments to be reflected in law. That was the vision laid out in the first few years of the magazine's existence.
But such optimism didn't last. By the mid-1990s, the election of Bill Clinton and a series of defeats in the courts for the religious right brought Neuhaus and his colleagues to the edge of despair. Social conservatives were still a moral majority, but liberal institutions were standing their ground, refusing to bow to popular will. That opened up the prospect of civil disobedience and possibly even "morally justified revolution" in the name of democracy.
Neuhaus made that remarkable argument as part of the notorious "End of Democracy?" symposium that took up the bulk of the November 1996 issue of the magazine. And it made perfect logical sense. If the American people were incorrigibly conservative on social and religious questions, and if American political institutions were refusing to respond to that sentiment, then democracy demanded that something be done, even if that something involved insurrection against what one of the symposium's participants (Robert P. George of Princeton University) dubbed "the tyrant state."
This incendiary language also didn't last. Before long, George W. Bush had won the presidency, vindicating American democracy. (That Bush ultimately prevailed with a little help from the conservative majority on the Supreme Court did nothing to dampen the celebratory mood.) The moral majority was now in charge, and through the entirety of Bush's presidency First Things played the role of a handmaiden, providing theological justifications for administration policy and helping to lay the groundwork for even greater achievements after he left office. And this made perfectly logical sense as well: as long as the social-conservative convictions of the majority were reflected in government policy, then all was right as rain with the American experiment.
At least until it wasn't. Things began turning darker as soon as John McCain (never a friend to the religious right) won the Republican nomination in 2008. They got worse when McCain lost to Barack Obama by a wide margin. (Neuhaus died shortly after Obama's victory, in early 2009.) Add in Obama's defeat of Mitt Romney four years later, the Obergefell decision declaring same-sex marriage a constitutional right, and several moves by the Obama administration during its second term that signaled outright hostility to social conservatives, and the result was a rise in political despair among many intellectuals on the religious right, including those around First Things. Now some of its leading thinkers talked of social conservatives as a "moral minority," while others spoke of the need for devout believers to undertake a strategic withdrawal from liberal society (The Benedict Option).
Where once social conservatives thought of themselves as strong — a majority denied power by a minority of liberal elites — now they understood themselves as weak, a vulnerable minority facing persecution and in desperate need of protection.
In the waning years of the Obama administration, "religious freedom" was the rallying cry. The same impulse toward self-protection led some to support Donald Trump for president in 2016. The hope was that, in return for votes on Election Day and loyalty thereafter, President Trump would serve as the religious right's protector. It would be a purely transactional relationship, like the one a businessman struggling with neighborhood crime might enter into with a local mob boss.
But now, more than two years into Trump's presidency, the outlook of social conservatives is shifting again. Inspired by Trump's tireless ability to "trigger the libs" and appalled by the extremism on display in reaction to Trump (especially the treatment of Brett Kavanaugh during his Supreme Court confirmation hearings and the push to expand abortion rights in some states), some on the religious right have begun to hope again. Maybe its problem isn't that it's too weak but that it's accepted the legitimacy of liberal rules that place it at a competitive disadvantage in its battles with the left. Instead, social conservatives need to fight harder and even be willing to fight dirty, seeking to win at any cost, just as their secular liberal enemies do.
This is the backdrop to the recent conflagration between National Review's David French, a lawyer, an evangelical, and a consummate Bush-era social conservative who despises Donald Trump, and Sohrab Ahmari, a Catholic convert who is the op-ed editor of the New York Post and has come to favor Trumpian no-holds-barred combat as the only strategy with any chance of winning against the left.
Lambasting French in an essay published last week in First Things, Ahmari makes clear that he thinks filing lawsuits, seeking injunctions, and carving out narrow spaces for the religious freedom of conservative believers is insufficient. It may even be counter-productive, because it presumes the legitimacy of a system designed to keep liberals in charge. Why should conservative believers accept a system that places them in a position of having to beg for permission to live out their faith? Why not demand more — including that (in Ahmari's words) the "public square [be] re-ordered to the common good and ultimately the Highest Good"?
On one level, Ahmari's position aligns him with the magazine's founding aims. He, like the Neuhaus of 1990, wants to politically empower social conservatives, ultimately making it possible for them to play a significant, if not a dominant, part in political rule. But on another level, his outlook is very different — because he believes that social conservatives can achieve those aims despite the fact that they do not constitute anything close to a majority of the country. (Those with Ahmari's theological and political views are almost certainly a minority even within the Catholic Church in the United States, let alone in the country as a whole.)
When social conservatives thought they were the moral majority, it made sense for them to dream of exercising real political power. When they recognized that they were a minority, it made sense for them to resign themselves to adopting a defensive posture and preparing to live out their days in a country as dissenters from the reigning liberal consensus.
What makes no sense is for social conservatives to think they can be both weak and strong at the same time — a minority that wields the power of a majority.
Unless, of course, social conservatives no longer care about democracy.
So far, Ahmari and his ideological allies have directed their considerable ire at liberalism, not democracy. How likely is that to change? There's no way to know for sure. What's clear is that the available options are limited. If the religious right isn't prepared to accept its minority status and settle for availing itself of the religious-liberty protections afforded by the liberal state as an adequate fallback position in the culture war, it will end up tempted to abandon democracy.
It will be tempted, in other words, to throw its weight behind any political figure or movement, no matter how dubious its democratic legitimacy, that promises to do away with the liberalism it increasingly views as its mortal enemy.
Not all social conservatives will give in to this temptation. But some undoubtedly will. How many will do so is among the most important questions confronting the American right — and American democracy.

Continue reading for free
We hope you're enjoying The Week's refreshingly open-minded journalism.
Subscribed to The Week? Register your account with the same email as your subscription.