Julián Castro, breakout star
He stood out at the Democrats' first debate. Here's why he can capitalize.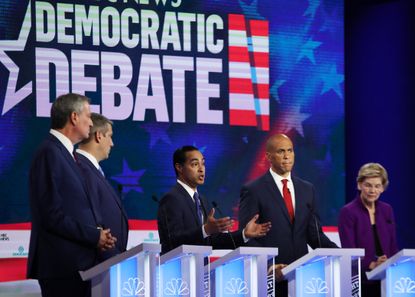 (Image credit: Joe Raedle/Getty Images)
It will take a day or two before polling reveals the "winner" of Wednesday night's first Democratic presidential debate, but if early indications — Twitter trends, Google searches — are any indication, Julián Castro was probably the night's breakout star.
That probably shouldn't be a surprise. The former mayor and head of Housing and Urban Development has made immigration policy the centerpiece of his campaign, and the debate was held on a day that the humanitarian crisis on the border dominated the day's headlines, led by pictures of a father and daughter who drowned trying to cross the Rio Grande into the United States.
Castro demonstrated a wonk's command of immigration policy details — and topped it with an unmistakable moral passion that made him stand out from the crowd.
Subscribe to The Week
Escape your echo chamber. Get the facts behind the news, plus analysis from multiple perspectives.
SUBSCRIBE & SAVE
Sign up for The Week's Free Newsletters
From our morning news briefing to a weekly Good News Newsletter, get the best of The Week delivered directly to your inbox.
From our morning news briefing to a weekly Good News Newsletter, get the best of The Week delivered directly to your inbox.
"Watching that image of Oscar and his daughter, Valeria, is heartbreaking," Castro said. "It should also piss us all off."
The audience cheered. Suddenly, searches for Castro's named jumped 2400 percent on Google.
Will that moment help his presidential prospects? He's got a long way to go to be considered a real contender for the Democratic nomination — polls routinely show him near the back of a very crowded pack.
But there are three reasons why Castro can capitalize on his sudden moment in the sun:
First, he's been preparing for this moment for a long time. The Democratic field is filled with semi-anonymous candidates who seem to be running for president on a whim, or at least the chance to grab some long-sought attention. Castro, though, is actually and seriously running to win the presidency — and he's been doing so for a long time. He was elected the mayor of San Antonio in 2009, but it was obvious even then he was aiming for bigger things.
"Julián Castro has a very good chance of becoming the first Hispanic president of the United States," a political observer told the New York Times Magazine in 2010. "It is way too early to be thinking about that," Castro said at the time, but it seems clear he's been readying himself for this race much longer than many of the other candidates on stage. That could be a difference-maker.
Second, he's willing to mix it up. Democratic strategists fretted before the debate that it might "degenerate into a two-night, bare-knuckle brawl." Castro clearly didn't share those worries — he showed up ready to throw elbows, particularly at former Texas Congressman Beto O'Rourke.
"I think that you should do your homework on this issue," he lectured O'Rourke as the two clashed on immigration law. "If you did your homework on this issue, you would know that we should repeal this section."
Party bigwigs might fear the results of direct confrontation, but politics ain't beanbag: Democrats should be seeking a brawler for the 2020 ticket. Donald Trump, after all, will be the Republican nominee, and he's never shown an inclination to back down in a political fight. Democrats will need somebody who is ready to dish some punishment back. For one night, at least, Castro showed himself ready for the challenge.
Finally, one of Castro's chief advantages in the Democratic race is that he's not just another anonymous white guy. (Seriously: If you had to pick Congressmen Tim Ryan and John Delaney out of a photo lineup today, could you do it from your memory of Wednesday's debate? No peeking.) Democrats almost certainly will have a woman or a person of color, or both, on their ticket in 2020 — given how much the party's congressional gains in 2018 were powered by women and minorities, they'd be crazy to do otherwise. "If we have two old white guys at the top of this ticket, we will lose," Howard Dean, the former Democratic National Committee chairman, said this week.
He's right. Surprisingly, it's already been nearly a generation since the Democrats last competed with an all-white-guy ticket (2004, when John Kerry ran with the since-disgraced John Edwards at his side). Even in a crowded field, the party's yearning for diversity gives Castro an edge that some other candidates lack — if not as the party's presidential nominee, then as the candidate for vice president.
It is still early, of course. As of this writing, half the Democratic candidates still have not appeared in a debate — they'll do so Thursday night. There's a good chance that lesser candidates will start dropping out this weekend, once voters and pollsters have had a chance to sift through the aftermath of these two days of clashes. Castro, for now at least, has earned the right to survive and continue campaigning.

Continue reading for free
We hope you're enjoying The Week's refreshingly open-minded journalism.
Subscribed to The Week? Register your account with the same email as your subscription.