Can a serious Democrat please run for president?
Two dozen Democrats are running for president — and not one of them is serious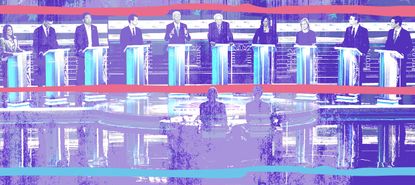 (Image credit: Illustrated | SAUL LOEB/AFP/Getty Images, BNMK0819/iStock, str33tcat/iStock)
I love those "Any Functioning Adult 2020" bumper stickers as much as any upper-middle-class suburban white liberal. But if I'm honest, it isn't really true. I will never vote for Donald Trump, but that doesn't mean I'll cast a ballot for any Democrat with a pulse. I would vote for no one rather than contribute to the victory of a candidate who fails to show minimal competence and capacity for responsible leadership.
Judged by that standard, the Democratic field isn't looking very good right now. Yes, it's early. There's plenty of time to mollify my concerns. But at the moment, none of the leading candidates seem like serious contenders.
This isn't just about me and my quirky obsessions. There's no make-or-break list of centrist policies I expect presidential nominees to embrace and advocate in order to win my support. I just want to see evidence that the person acts and speaks like a potential president. (Yes, of course, Trump failed that elementary test in 2016, and he continues to fail it nearly every day. But that doesn't mean those seeking to replace him get to play by new, vastly lower standards.)
Subscribe to The Week
Escape your echo chamber. Get the facts behind the news, plus analysis from multiple perspectives.
SUBSCRIBE & SAVE
Sign up for The Week's Free Newsletters
From our morning news briefing to a weekly Good News Newsletter, get the best of The Week delivered directly to your inbox.
From our morning news briefing to a weekly Good News Newsletter, get the best of The Week delivered directly to your inbox.
Let's begin with Sen. Kamala Harris, who received a lot of attention for her debate performance on June 27. As an act of political theatrics, her confrontation with former Vice President Joe Biden over the latter's opposition to federally mandated busing of students to desegregate school districts during the 1970s was the undisputed highlight of the opening two-night Democratic debate. It was a gripping performance.
But it was also absurd. Is anyone — including Harris herself — in favor of reviving busing as a federal policy? Is there any evidence that such a policy is less polarizing in 2019 than it was in the mid-1970s, when it helped to conjure out of thin air that historically decisive electoral demographic known as the Reagan Democrat? The answer to both questions is no. Most astonishingly, we know that Harris isn't proposing to revive federally mandated busing because she's since clarified that her own position on the issue is … the same as Biden's (allowing local communities to use busing for desegregation while opposing a federal requirement that they do so).
But then why on Earth did she pick a fight with Biden over the issue? The most likely answer is that she suspected, rightly, that doing so would make the 70-something white male frontrunner squirm, appear defensive, and stumble around on the debate stage. In that she was correct: Mission accomplished. But what about the Republican attack ads that can now be crafted using her own words to make it sound like she favors federally mandated busing? Those ads will nicely compliment the other attack ads that will use Harris' own hand gesture on the debate stage to show that she favors abolishing private health insurance for tens of millions of Americans (which is broadly unpopular). The fact that on this, too, Harris has flip-flopped looks ridiculous — not least because she went through precisely the same flip-flop six months ago.
This is bad.
But so is Biden's own prevarication — not on busing per se, but on his wistful comments about the bygone days of his own deal-making with segregationist senators. Instead of clarifying his meaning — explaining that his point was that grandstanding displays of moral purity are less important than getting the people's business done in the nation's capital, that this happened more frequently in the past, and that he's well positioned to revive the best of the old ways — he let himself be battered in the press for two weeks and then backtracked and apologized. Just as he did a few weeks before that with his four-decade-long support for restrictions on federal funding for abortions (the Hyde Amendment). At this rate, Biden will have repudiated and apologized for his entire career by Christmas.
The problems afflicting Sens. Elizabeth Warren and Bernie Sanders are different. Some of their ideas are very smart, and no one doubts what they believe in or where they come down on controversial questions of policy. Yet both candidates display a very old defect of the left: an unwillingness to acknowledge limits or constraints of any kind. Warren, in particular, has received a lot of justified praise for her multitude of plans, and I admire some of them. But she makes no effort at all to prioritize them, to rank them in order of importance. She wants to impose a (constitutionally questionable) wealth tax, but will the revenues it raises pay for free college and debt relief for student loans or universal child care? And what about the cost of Medicare-for-all? And her ambitious climate plan? And her "economic patriotism" agenda? And many other ideas — plans that, all told, would cost tens of trillions of dollars to implement?
Each idea on its own is ambitious, impressive, stirring — and expensive. But all together it looks like the policy agenda of a fairy tale America with infinite resources and revenue — or else a laundry list that would bankrupt the country. Either way, that list will make for a very effective GOP argument in favor of keeping the Republicans in control of the Senate to assure that not even one of the items gets enacted in the event of a Democratic win against Donald Trump.
Then there's the leftward lurch on immigration that has everyone from South Bend mayor Pete Buttigieg to former Texas congressman Beto O'Rourke and Sen. Cory Booker of New Jersey repudiating the positions of the last two Democratic presidents and embracing policies that sound an awful lot like the open-borders position the Trump campaign is dying to pin on the party. And the gratuitous expressions of wokeness that, like Julián Castro's nonsensical vow to protect abortion rights for "transgender women," seem designed to placate only a tiny number of Twitter-based radical activists.
None of it is the behavior of serious contenders for the presidency.

Continue reading for free
We hope you're enjoying The Week's refreshingly open-minded journalism.
Subscribed to The Week? Register your account with the same email as your subscription.