Democrats are failing the country by letting Trump off the hook
Their nonresponse to the Epstein story is gross political malpractice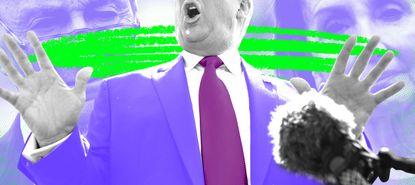 (Image credit: Illustrated | Chip Somodevilla/Getty Images, Benjamin_Lion/iStock, -slav-/iStock)
Sign up to our 10 Things You Need to Know Today newsletter
A free daily digest of the biggest news stories of the day - and the best features from our website
Thank you for signing up to TheWeek. You will receive a verification email shortly.
There was a problem. Please refresh the page and try again.
The political media has been glued to the Jeffrey Epstein scandal of late. Federal officials arrested him in New Jersey Monday, and raided his New York home where they found a veritable cornucopia of incriminating evidence, allegedly including lots of child porn. Then on Wednesday another accuser came forward, saying that Epstein had raped her when she was 15 years old.
The Trump administration, naturally, is up to its elbows in the Epstein story. Trump himself was friends with the guy for years, but Secretary of Labor Alexander Acosta personally arranged an outrageous sweetheart plea bargain with Epstein in 2008 when Acosta was a U.S. Attorney in Florida.
So what is the opposition party going to do about it? Nothing of substance. Speaker of the House Nancy Pelosi called for Acosta to resign, but also immediately ruled out impeaching him. "It's up to the president, it's his cabinet. We have a great deal of work to do here for the good of the American people and we have to focus on that," she said. (Trump, of course, will do no such thing.) Senate Democrats who voted for Acosta and are still in office didn't even call for him to step down.
Subscribe to The Week
Escape your echo chamber. Get the facts behind the news, plus analysis from multiple perspectives.
SUBSCRIBE & SAVE
Sign up for The Week's Free Newsletters
From our morning news briefing to a weekly Good News Newsletter, get the best of The Week delivered directly to your inbox.
From our morning news briefing to a weekly Good News Newsletter, get the best of The Week delivered directly to your inbox.
This failure to use their power to confront Trump and his administration is making Democrats an accessory to his crimes.
Acosta claimed that this new prosecution was based on "new evidence," but that is utterly preposterous. Epstein was known for decades as a notorious creep who had a thing for young girls. Trump himself said about him in 2002: "It is even said that he likes beautiful women as much as I do, and many of them are on the younger side." Miami Herald reporter Julie Brown, who has been doggedly reporting this story for years, says they have identified about 60 victims — including several willing to speak with reporters on the record, which is quite rare for a sex crime story involving a powerful billionaire. In terms of evidence, this would have been an open-and-shut case putting Epstein away for decades.
Yet Acosta let him off with 13 months in low-security prison (plus registering as a sex offender) with work release during the day, stopped the FBI investigation into additional victims, kept the names of Epstein's alleged co-conspirators out of public view and immunized them from prosecution, and even kept the plea bargain itself secret. This last part turned out to illegal; a federal judged ruled in February that Acosta and others had violated the victims' rights by keeping the deal a secret.
Let us not be children about why this happened. Epstein is (inexplicably) very rich, and personally close with dozens of powerful elites. Bill Clinton, Alan Dershowitz, Trump, Prince Andrew of the U.K., and dozens of other celebrities and politicians rode on his private jet that was reportedly nicknamed the "Lolita Express." And insofar as this latest investigation found new evidence, it was all but sitting in plain sight. Epstein kept it right there in his own house. He plainly believed he was immune from real prosecution, because until this week he was, thanks to Alex Acosta and others (like Manhattan District Attorney Cy Vance), rigging the system for him. Rich and powerful people are like that in this corrupt basket case of a country.
It may be necessary to spell this out for top Democrats, but all this is incredibly bad. To repeat, a child rapist was chums with Trump for decades. His secretary of labor arranged the mildest of wrist slaps for this man when he was finally caught — a plainly corrupt deal and a violent miscarriage of justice for the victims.
Nothing about being a political moderate or serving in a conservative-leaning state or district logically translates to looking the other way over one of the most gruesome scandals imaginable. Child rape is broadly unpopular, even in conservative states! It is morally hideous and astounding political malpractice not to be hammering Trump on this every minute of every day. This kind of thing is tailor-made for televised hearings that would generate easy news clips. Who knows what other atrocities might be uncovered?
But instead, Democrats are themselves following in Acosta's footsteps. His job was to protect the American people from criminals like Epstein. Instead he protected Epstein from the law. By refusing to conduct real oversight of Trump, Democrats are doing the same thing with him and his corrupt administration. After all, if Acosta deserves to be impeached over his role in covering up sex crimes, doesn't Trump himself deserve the same for actually committing them? Pelosi and company have ruled that out, so they end up downplaying the veritable parade of other administration abuses that also deserve impeachment. That they're doing it out of some weird combination of fear, hypocrisy aversion, and/or a gigantic overestimation of the electorate's conservatism — instead of naked corruption — does not make the result any less horrible.
Top Democrats seem to think that the American people will rescue them from having to do anything to confront Trump by electing a Democrat in 2020. But this is no guarantee at all. For one thing, Trump might well win reelection. For another, even if he loses there will be three months where he is still president before the next one takes office. Who knows what he might try — facing possible prosecution after January 20, 2021 yet still able to drop a nuke anywhere on the globe whenever he wants.
Democrats have essentially been shouting, "Do whatever you want, Mr. Trump! We are terrified of our own shadow and will let you get away with anything!" Abject cowardice from the opposition is one way to get a coup d'etat.
Continue reading for free
We hope you're enjoying The Week's refreshingly open-minded journalism.
Subscribed to The Week? Register your account with the same email as your subscription.
Sign up to our 10 Things You Need to Know Today newsletter
A free daily digest of the biggest news stories of the day - and the best features from our website
Ryan Cooper is a national correspondent at TheWeek.com. His work has appeared in the Washington Monthly, The New Republic, and the Washington Post.