The dysfunction of 'love it or leave it'
Why President Trump's attack on four Democratic congresswomen makes no sense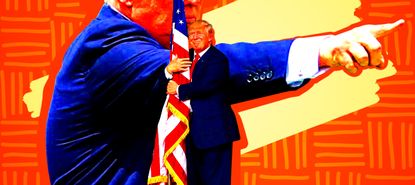 (Image credit: Illustrated | Joe Raedle/Getty Images, Chip Somodevilla/Getty Images, BlueLela/iStock, Happy_vector/iStock)
"America, love it or leave it."
President Trump did not use this exact phrase in his tweeted attack on four Democratic representatives — indeed, he arguably did not offer them a chance to "love it," only inviting them to leave — but his comments widely brought the phrase to mind. "It's America, ladies — love it or leave it," snapped a RedState post defending Trump's remarks. A Virginia church was thrown into turmoil by the pastor's posting of the expression on their building's sign. Fox News hosts debated its merits, while critics of the president explored the history of the phrase, centrally including its racist use by the likes of the Ku Klux Klan. And at the North Carolina rally where his crowd broke into a chant of "send her back," Trump himself integrated the phrase in his censure. "You know what, if they don't love it," he said of the congresswomen, "tell 'em to leave it."
How Trump's expression of this sentiment was indeed racist is a matter others have addressed. What I want to look at, instead, is its more general dysfunction — a dysfunction I think is easily recognized in less political milieus.
Subscribe to The Week
Escape your echo chamber. Get the facts behind the news, plus analysis from multiple perspectives.
SUBSCRIBE & SAVE
Sign up for The Week's Free Newsletters
From our morning news briefing to a weekly Good News Newsletter, get the best of The Week delivered directly to your inbox.
From our morning news briefing to a weekly Good News Newsletter, get the best of The Week delivered directly to your inbox.
Suppose your house had a leak in its roof. It's not serious enough to put the structure in immediate jeopardy, but every time it rains the water spot on the living room ceiling grows. Above the drywall, you know there is a festering mess of wet wood and sodden insulation. Would you see this leak and say, "Well, love it or leave it, I guess. Honey, let's call the realtor"?
If that comparison seems too frivolous, try another. Suppose your sister or daughter or mother were addicted to opioids or alcohol. Suppose her habit were ruining her life, tearing up relationships and putting her in danger. Would you frame your response in the dualism of "love it or leave it"? Would you tell yourself you must accept your mom as she is or else cut her out of your life entirely? Of course not.
Perhaps eventually the problem would be serious enough to see the relationship severed, but that would hardly be your first choice. You would start with trying to fix it. Anyone counseling "love it or leave it" would strike you as unloving, for it would be wildly dysfunctional to jump straight to either acceptance of self-destruction or estrangement of your mother when she most needs help.
"Love it or leave it" is just as dysfunctional in politics. It does the country no service to deny it a steady diet of robust internal criticism.
"'My country, right or wrong,' is a thing that no patriot would think of saying except in a desperate case," G.K. Chesterton famously wrote in an essay on patriotism. "It is like saying, 'My mother, drunk or sober.'" The proper sort of love of country, he added, "will always esteem the most candid counselor the best. Love is drawn to truth by the unerring magnetism of agony; it gives no pleasure to the lover to see ten doctors dancing with vociferous optimism round a death-bed."
There are, admittedly, more practical reasons why those who are unhappy with the state of their country might not wish to leave. (It is not so simple as hopping the border to more amenable climes, despite what our election-year tradition of threatening to move to Canada may suggest.) But dissatisfaction with the present state of affairs is itself a reason to stay. Not loving the country as it is is a reason not to leave because you love it as it could be.
Defenders of Trump's use of "love it or leave it" have protested that they do not object to healthy criticism of America. After all, the president has been plenty critical himself. "Anybody who's running for office, right, left, or center, always points out where they think America can do better, where they think America needs to go," senior White House adviser Stephen Miller told Chris Wallace on Fox News Sunday. "But there's a fundamental distinction between people who think that we need to lean into and strengthen America's core values — whether it'd be our constitutional values, the rule of law, the principles of Western civilization — or people who think it would basically need to turn America into Venezuela."
It's fine to criticize America, the argument goes, but don't go too far or you'll cross a line from love to hate. Maybe just tell mom to have one less drink a day.
It's intended to sound reasonable, but there is an unfair subjectivity built into this demand. What is this imaginary threshold between a criticism of love and one of hate? What makes Miller — or any one person or party — the arbiter of where America's "core values" end and something else begins? Where is this mysterious line which puts you out of "love it" and into "leave it"?
Miller described it by various turns as transforming "America into Venezuela," "tearing down the structure of our country," "want[ing] to destroy America with open borders," "attack[ing] border agents the way that [Rep. Alexandria] Ocasio-Cortez has," and holding "a view that says America should never come first." In other words, he described it as disagreeing with his own views on immigration and economic policy.
But someone on the left might argue that conservative calls to overturn Roe v. Wade or privatize Social Security are plans for equally dramatic transformations of the country — after all, Roe has stood for nearly 50 years, and Social Security is approaching the century mark and affects nearly every citizen.
In our more honest and generous moments, we can all admit that the degree of political change someone advocates is no reflection of their patriotism or lack thereof. And the corollary to that is an admission that "love it or leave it" is inherently dysfunctional, a flippant and subjective way to dismiss ideas we don't like instead of debating them on their merits.
Though we may end up rejecting her assessment, a mature love of country will have us always esteeming the most candid counselor the best.

Continue reading for free
We hope you're enjoying The Week's refreshingly open-minded journalism.
Subscribed to The Week? Register your account with the same email as your subscription.