Is Beto O'Rourke actually running for office?
Assessing the Texan's new campaign "strategy"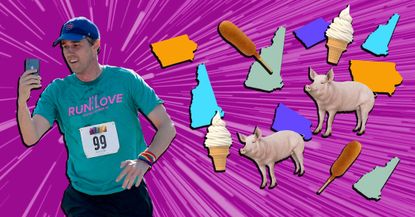 (Image credit: Illustrated | Scott Olson/Getty Images, PytyCzech/iStock, -ELIKA-/iStock, njnightsky/iStock, bazilfoto/iStock, M-image/iStock)
Is Robert Francis O'Rourke actually running for president? Don't misunderstand me. I am fully aware that he remains, nominally, one of the 400 different generic white guy moderates currently seeking the Democratic nomination. (Actually, make that 399: John Hickenlooper's graceful exit on Tuesday via YouTube has narrowed the field slightly.) What I am asking is whether he actually wants to win.
I am wondering because Beto recently announced that he will not be campaigning in Iowa or New Hampshire, the states in which the earliest of these things called "primary contests" are held. (You need to win those, you see, in order to become the your party's nominee.) He is not the first candidate to do this, as a few political junkies would probably remind me if I did not mention it: Ignoring the early-voting states was also Rudy Giuliani's 2008 strategy. It is widely considered one of the worst in the history of American politics.
Instead of subjecting himself to the endless state-fair meet and greets, the cookouts, the town halls, the Q&As during general sessions of the Iowa Pork Congress, Beto now says that he intends to follow his heart by traveling to parts of the country where he thinks President Trump has done the most damage and doing, well, something. He's going to Mississippi this week. After that? Who knows. The wind bloweth where it listeth.
Subscribe to The Week
Escape your echo chamber. Get the facts behind the news, plus analysis from multiple perspectives.
SUBSCRIBE & SAVE
Sign up for The Week's Free Newsletters
From our morning news briefing to a weekly Good News Newsletter, get the best of The Week delivered directly to your inbox.
From our morning news briefing to a weekly Good News Newsletter, get the best of The Week delivered directly to your inbox.
Some people are already asking why Beto doesn't just run for the Senate again. I think this is a silly question, and not just because John Cornyn, the incumbent Republican he would face in 2020, is a far more popular figure than Ted Cruz, who beat him even though he is arguably the most hated man in American politics. Beto isn't going to try for another Senate seat, not because he would have even less of a chance at winning in a presidential election year against a tougher opponent — though that is certainly true — but because, well, let him explain: "That would not be good enough for this community. That would not be good enough for El Paso. That would not be good enough for this country."
Yes, you read that right. Actually winning the job that he failed to get last year despite raising gazillions of dollars and holding rallies with various celebrities and livestreaming his dentist appointments and being the subject of some pretty cringey erotica would now be unworthy of his considerable political talents. It wouldn't just be some kind of letdown for him, personally — it would be unfair, not only to his city and his state but to the whole country and, no doubt, the planet, the solar system, and all the worlds that fall along the inner edge of the Orion Arm, if Beto ran for the Senate. He's got bigger and better things to do.
The question is what, exactly, these things are. I'm not sure running for president is one of them. At some level I suspect that Beto considers political office beneath him. Any boor can win a Senate seat or take the White House if he wants to, right? But only Beto can traverse the vast expanse of this great nation, healing wounds and righting wrongs, defending truth and refuting error, eating pizza, skateboarding, feeding women poop, publishing the 2019 equivalent of a LiveJournal and maybe pounding out some free verse.
But actually trying to put together a campaign in Iowa? Puh-leez. That's something only boring "unelectable" poll-jumping candidates with lots of expertise and relevant experience and detailed policy prescriptions, ones who have never released even a single post-hardcore EP on cassette, ones who are probably — whispers — female do. Total nerd crap.
Beto doesn't need those hangups in his life. As his mom and his teachers probably told him roughly 50 times a day when he was getting really into computers in middle school, he's special.

Continue reading for free
We hope you're enjoying The Week's refreshingly open-minded journalism.
Subscribed to The Week? Register your account with the same email as your subscription.