The coming reckoning for America's tripwire foreign policy
Rising powers are testing American resolve, brushing up against, and even tripping right over, American tripwires to see how we respond. They are calling our bluffs.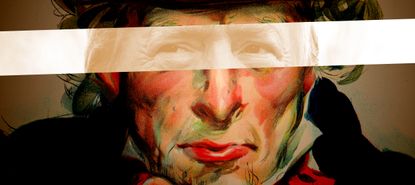 (Image credit: Illustrated | JIM WATSON/AFP via Getty Images, Wikimedia Commons, IMOGI/iStock)
For neoconservatives beside themselves about President Trump's foreign policy misadventures and the prospect that he might get a political boost from presiding over the military operation that took down Islamic State leader Abu Bakr al-Baghdadi last weekend, Tuesday night offered a rare and fleeting chance for good cheer. That's when former U.N. Ambassador Nikki Haley received the Irving Kristol award at the American Enterprise Institute in Washington, D.C., and delivered a rousing sermon filled with the usual bromides about America being an exceptional, indispensable nation whose global leadership is, or ought to be, welcomed by all people and countries of good will.
For a moment, it felt just like old times — and that was the problem.
Trump may be thoroughly unfit to be president, but he wasn't wrong to insist during his 2016 presidential campaign that the people who've run American foreign policy for the better part of the past two decades are long overdue for a reckoning. Americans love ringing rhetoric about strength and peace and leadership and the free world and defending the liberal international order. But where once speeches about these ideals adorned and embellished hard-nosed thinking among policymakers about American interests, trade-offs, priorities, and strategic aims around the world, now the self-flattering happy-talk is all there is.
Subscribe to The Week
Escape your echo chamber. Get the facts behind the news, plus analysis from multiple perspectives.
SUBSCRIBE & SAVE
Sign up for The Week's Free Newsletters
From our morning news briefing to a weekly Good News Newsletter, get the best of The Week delivered directly to your inbox.
From our morning news briefing to a weekly Good News Newsletter, get the best of The Week delivered directly to your inbox.
Just about everyone, from card-carrying members of the D.C. foreign policy establishment on down through elected officials of both parties, has come to believe in the reality of their own pious pronouncements. And that's a dangerous thing, because the world around us is changing, whether or not we choose to acknowledge and think about the consequences and their implications.
Consider just one dimension of how America has come to conduct itself in the world: the use of "tripwires" to threaten a military response against foreign powers.
At the conclusion of the Second World War, the Soviet Union refused to end its occupation of Central and Eastern Europe. Instead, it absorbed the latter into itself and turned the former into buffering satellite states given only nominal political independence. The U.S., fearing it could be forced to fight yet another war in Europe against a totalitarian state, decided to leave a large number of troops behind to serve as a deterrent. They would be a tripwire. The message to Stalin and his successors was clear: Launch an attack on Western Europe, and you will have launched an attack against the United States.
Something similar happened again a few years later and several thousand miles farther east, when the Korean War ground to a halt in 1953 with an armistice, the parties separated by a demilitarized zone, and thousands of American troops remaining as a tripwire in South Korea (adding to the tens of thousands of reinforcements stationed in nearby Japan). The message to North Korea and its Chinese sponsors, once again, was clear: Attack the South, and you will have launched an attack against the United States.
It happened yet again two years later, when the U.S. formed a mutual defense pact with the Republic of China (Taiwan). Ever since, America has been committed to defending Taiwan in the event that the People's Republic of China (the mainland) attempted to invade the island nation.
Arrangements and expectations changed somewhat with the end of the Cold War. On the one hand, it seemed silly to continue to think of American tripwires in Europe once the Soviet threat had vanished. On the other hand, the institutionalized source of those tripwires (NATO) persisted and expanded. And when Yugoslavia broke apart and fell into a bloody civil war, the U.S. and our European allies eventually intervened, ultimately brokering a peace deal backed up by the threat of American retaliation in the event of the restoration of hostilities.
And then, of course, there is Israel. Suffice it to say that the politics of the Middle East has been decisively shaped over the past several decades by the understanding that the United States would stand by Israel's side, and quite possibly fight by its side, in the event of an attack or invasion that posed an existential threat to the country.
This is the world the United States has made — one with multiple tripwires promising retaliation if states cross certain lines. When policymakers talk about the "liberal international order," this is really what they mean: a sphere of peace and stability purchased at the price of American promises and threats, and a defense budget large enough to make them seem credible.
But what happens when someone actually trips over one of those wires?
Bashar al-Assad did this in Syria when he disregarded the "red line" laid down by former President Barack Obama on the use of chemical weapons in the country's bloody civil war and faced no serious consequences. Russia's President Vladimir Putin crossed another line when he invaded eastern Ukraine and annexed the region of Crimea. Now, in formal terms, Putin hadn't crossed a tripwire because Ukraine isn't a member of NATO. Yet cross-border aggression is something Europe hadn't seen in quite a while, and it posed a clear threat to neighboring countries that are NATO members. Yet the consequences were relatively mild. Sanctions were imposed, but there was no military response. Years later, Crimea is still under Russian control.
And then there are recent events in the Middle East: first, Iran's apparent bombing of Saudi Arabian oil fields; second, Turkey's incursion into eastern Syria, an act that has allowed Russia to begin playing a greater role in attempting to broker an end the interminable civil war in Syria. In the first case, Trump has done little in response. (We've sent additional troops to Saudi Arabia, but we haven't launched any retaliatory air strikes against Iran.) As for the second case, Trump acceded to the wishes of Turkish President Recep Tayyip Erdogan without so much as a verbal fight.
Over and over again, we see the same scenario playing itself out: Rising powers are testing American resolve, brushing up against, and even tripping right over, American tripwires to see how we respond. They are calling our bluffs.
At this point a neocon or liberal internationalist is bound to say, "This is precisely the problem! We need to stand our ground when our enemies test our resolve! Otherwise they will be emboldened!" (That's usually when we start to hear references to Neville Chamberlain and Munich.)
But is this really a reasonable response? What vital American interests are at stake in the morass of the Syrian civil war? Why should Americans care if Russia plays a bigger role trying to clean up the mess? Three decades after the end of the Cold War, why is American military power necessary to guarantee peace in Europe, one of the wealthiest regions on the planet? And why do we continue to expand the NATO alliance farther and farther east, into Russia's near abroad, to countries with negligible power and importance? Why should Americans be willing to fight a war — or be willing to pretend they'll fight a war, until Russia calls our bluff — on behalf of North Macedonia or Georgia?
And what about Taiwan? If China invaded, should the United States be willing to go to war with the most populous nation in the world, on the other side of the planet, because it decides to impose its will on an island one hundred miles off its coast? How long until China tests our Taiwanese tripwire? How will we respond when — not if — they do?
And more importantly, how should we respond?
Sooner or later, that and many other similar scenarios are bound to unfold — because there are rising powers in the world, and the United States lacks the resources or the will to check them all. That needn't be a bad thing. But to handle it well, we need to acknowledge reality and start thinking about how best to respond to it. Instead, we prefer feel-good pep talks, moral posturing, and the laying down of ever-more tripwires that growing numbers of nations reasonably believe we won't act to enforce.
It's a recipe for foolish mistakes and a faster and rockier decline than necessary. It doesn't have to unfold this way. But unfortunately, there's no sign yet that we possess the wisdom, intelligence, or courage to prevent it.
Want more essential commentary and analysis like this delivered straight to your inbox? Sign up for The Week's "Today's best articles" newsletter here.

Continue reading for free
We hope you're enjoying The Week's refreshingly open-minded journalism.
Subscribed to The Week? Register your account with the same email as your subscription.