How the very act of tweeting makes your opinions worse
It's science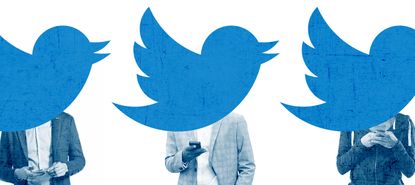 (Image credit: Illustrated | m-imagephotography/iStock, Halfpoint/iStock, panic_attack/iStock, Miodrag Kitanovic/iStock)
We commonly praise the virtue of open-mindedness and hate the vice of flip-flopping. This is not hypocrisy: To change one's mind after fair consideration of new arguments or better evidence is not the same thing as adopting a different stance for political expedience. But in practice, the distinction is muddled. It is all too easy to reflexively condemn or celebrate shifts of opinion based on who is involved or whether they end up agreeing with us rather than the ethics of the change.
Negotiating our own shifts can be even messier. Once accomplished, of course, we see how they were correct and necessary, even overdue. "How could I have been so stubborn, so narrow-minded, so naive?" But, on the whole, we would prefer not to have to change our minds in the first place. It is obviously better to be already right, perhaps a little embarrassing to have been wrong.
Never is that truer than when we are asked to change our minds in public: The choice to broadcast a perspective is an unwitting choice to solidify it. So what happens to politics when we are constantly invited to display each and every opinion to the world?
Subscribe to The Week
Escape your echo chamber. Get the facts behind the news, plus analysis from multiple perspectives.
SUBSCRIBE & SAVE
Sign up for The Week's Free Newsletters
From our morning news briefing to a weekly Good News Newsletter, get the best of The Week delivered directly to your inbox.
From our morning news briefing to a weekly Good News Newsletter, get the best of The Week delivered directly to your inbox.
In 1955, a report published in The Journal of Abnormal and Social Psychology described the results of a study of "social influences on individual judgment." A pair of social psychologists had college students develop an inconsequential opinion (they estimated the length of some lines). The students were divided into three groups. One group wrote down their opinions and showed them to the researchers. One group wrote their opinions but did not show them to anyone. The third group did not write their opinions at all, instead committing them to memory.
Then the students were presented with evidence that their estimations were wrong, and their willingness to accept that information and change their minds was strongly correlated with whether they'd written and publicized their first assessment. Those who'd displayed their initial guess were far more likely to be adamant it was correct, even though the question was of no real importance. Those who could quietly change their minds without contradicting even a privately written commitment found it easier to accept and adapt to the new information they received.
"Whenever one takes a stand that is visible to others, there arises a drive to maintain that stand in order to look like a consistent person," writes psychologist Robert Cialdini in a discussion of the 1955 experiment for a managerial psychology textbook. Personal consistency is considered a desirable trait — this is our distaste for flip-floppers — such that "someone without it could be judged as fickle, uncertain, pliant, scatterbrained, or unstable," Cialdini continues. "For appearances' sake, then, the more public a stand, the more reluctant we will be to change it."
This propensity can work to positive effect. It's part of ceremonies like baptism and marriage as they're understood in some Christian traditions: The public nature of one's chosen commitment to be part of the church or a marriage relationship helps strengthen that commitment. In a wedding we pledge ourselves "before God and these witnesses," as the liturgy often goes — and if we are inclined to break that pledge, the memory of who saw it may restrain us. Likewise, Cialdini quotes an interview in which a woman describes how telling other people she would stop smoking helped her quit. "There must have been a thousand times when I thought I had to have a smoke," she recalled. "But whenever that happened, I'd just picture how all of the people on my list ... would think less of me if I couldn't stick to my guns."
Yet many commitments we make do not deserve such dogged resolution, not least in politics, and the rise of social media has given us unprecedented opportunities to emit a steady flow of public, written commitments to our political perspectives.
Before around 2005, a mere 15 years and two presidents ago, these opportunities did not exist. Some few people were, like me, professionally engaged in airing their opinions, and a subset of those had taken to do doing so online in the developing blog ecosystem. Still, for most, there was simply no way to put our political views in writing and display them for our friends and family on any regular basis. Imagine doing the equivalent of the link sharing you do on Facebook or Twitter circa 2003 via a Xerox machine and the U.S. Postal Service. Your badgered recipients might have recommended psychiatric care.
Until very recently, we were exposed to and offered much less political opinion, and for many of us, that was a good thing. Now, social media "turns so much communication into a public performance," Jonathan Haidt and Tobias Rose-Stockwell have argued in The Atlantic, and data analysis shows posts with a tone of "indignant disagreement" get the most attention. Twitter is often a "positioning mechanism," as Vox's Jane Coaston tweeted this month, where the feedback of likes, replies, and follows encourages strong, oppositional political opinions.
Publicly displaying those opinions makes them that much more difficult to disavow, even when we're presented with good cause to do so. The very act of tweeting makes us more unreasonable. More bluntly, "saying something dumb makes you a bit dumber."
That effect is compounded, I suspect, by a concurrent move away from modernism's assumption of knowable, objective reality and toward postmodernism's prioritization of contextualized narratives. To be clear, recognizing context is a good thing, a needed corrective to the naive notion that any of us are disinterested, cultureless transmitters of plain fact. We are humans, fully capable of making life-altering decisions under the influence of indigestion and calling it deliberation. But this emphasis on personal viewpoint can be used to protect our own obstinacy: When we are being thus unreasonable, we can reassure ourselves that the entirely justified reason for our certainty is our own unique perspective.
This combination may inadvertently be the death of discussion, if we let it, by killing its issue, persuasion. If I imagine that those who disagree with me are wrong because by definition they cannot see things as I do, and if I allow that to excuse my refusal to consider changing my mind in response to whatever argument or evidence they offer — a refusal actually based in nothing more noble than the desire to look confident, reliable, and smart — I am unreachable by persuasion.
I don't have a good solution to this. Social media will evolve, but it doesn't seem likely to go away any time soon. I can propose, at best, harm reduction strategies: Maybe we should limit how many things we share each day or week to lower our total public commitments and leave space for real entertainment of new ideas. Perhaps it's wise to delete our social media posts or accounts with some regularity (there are third-party apps that mass delete tweets, at least) so we're freed from the felt obligation of those past performances.
Or maybe it's just a matter of reminding ourselves that it is not shameful to be persuaded of a new idea, that fewer people are paying attention to us than we imagine. Maybe we just need to remember that the objectionable thing about flip-flopping is not changing one's mind but the prizing of ease and admiration over goodness, charity, and truth.
Want more essential commentary and analysis like this delivered straight to your inbox? Sign up for The Week's "Today's best articles" newsletter here.

Continue reading for free
We hope you're enjoying The Week's refreshingly open-minded journalism.
Subscribed to The Week? Register your account with the same email as your subscription.