Trump's peace plan isn't a deal. It's an endorsement of reality.
Why Trump's 'deal of the century' changes almost nothing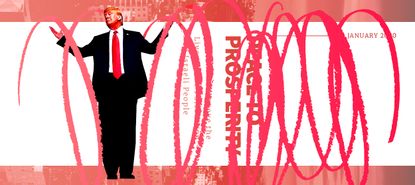 (Image credit: Illustrated | Win McNamee/Getty Images, asya_mix/iStock)
Sign up to our 10 Things You Need to Know Today newsletter
A free daily digest of the biggest news stories of the day - and the best features from our website
Thank you for signing up to TheWeek. You will receive a verification email shortly.
There was a problem. Please refresh the page and try again.
For years, President Trump has been claiming he and his son-in-law would broker "the deal of the century" to resolve the Israeli-Palestinian conflict. Now that we've finally seen it, it's clear that what he meant was: the deal of the century for Israel.
The plan effectively endorses Israel's maximalist negotiating position: not only control but annexation of the Jordan Valley, integration of all the settlement blocs of the West Bank, a united Jerusalem, and a commitment that any Palestinian state would be contingent on the disarmament of Hamas and Islamic Jihad and the institution of full liberal democracy. Moreover, any Palestinian state that did emerge would be demilitarized and dependent on Israel for both security and economic survival. Representatives of the Palestinian Authority weren't invited to the unveiling, which is unsurprising because they weren't even consulted on the plan.
That's the mainstream take on the proposal, and it's basically accurate. But I can't help asking in response: so what?
Subscribe to The Week
Escape your echo chamber. Get the facts behind the news, plus analysis from multiple perspectives.
SUBSCRIBE & SAVE
Sign up for The Week's Free Newsletters
From our morning news briefing to a weekly Good News Newsletter, get the best of The Week delivered directly to your inbox.
From our morning news briefing to a weekly Good News Newsletter, get the best of The Week delivered directly to your inbox.
The short-term consequences of the deal, domestic or international, could be surprisingly limited. Trump is already viewed as an absolutely reliable supporter of Israel's government; those who vote in the U.S. on such issues, primarily right-wing evangelical Christians but also a minority of right-leaning Jews, are already part of Trump's base. If the announcement is unlikely to help him much, it's unlikely to hurt him either. But the political benefit to Netanyahu could be limited as well, inasmuch as the major centrist opposition party endorsed annexation long before the deal was announced. Netanyahu may be counting on Israeli gratitude, but electorates have a habit of tossing out politicians when they're no longer needed, and what more can Netanyahu promise to achieve? Indeed, Netanyahu's biggest risk from agreeing to the plan comes from possible defections to further right-wing parties who oppose any possibility of a Palestinian state, however remote.
The immediate impact on the international scene is also likely to be muted. The days when major Arab states rallied to the Palestinian cause are long gone. The Palestinian people are less capable of mounting a violent response than was historically the case. So the costs could be minimal. On the other hand, any benefits to America's national interests are equally difficult to discern. Even those who believe it would be a waste of political capital to pressure Israel would be hard-pressed to demonstrate how America gains from endorsing Israel's positions and abandoning any pretense to being an honest broker. Yet that abandonment itself is less a consequence of this deal specifically, and more of America's relative decline, compounded by Trump's overall approach to diplomatic affairs.
Meanwhile, it's not like an actual peace deal was in the offing that has somehow been scuttled. There has been little or no political support in Israel for material concessions for the past 20 years, and the country has moved steadily rightward over that time. Since the failure of final status negotiations at the end of the Clinton administration, and the eruption of the second intifada, Israel's approach to the conflict has been characterized by unilateralism: a determination to place its own security first, and create conditions favorable to waiting the Palestinians out, with limited expectations for any agreement.
This approach began with the Sharon government's construction of a wall separating Israel and some of the major settlement blocs from the bulk of the West Bank and the withdrawal from Gaza without an agreement, and continued with the blockade of Gaza under Ehud Olmert's centrist government. The last time an Israeli prime minister seriously engaged in peace talks was in 2008, when Olmert — who was under investigation for corruption charges which, unlike the current prime minister, he stepped down in order to fight — made an offer similar to the one made by Ehud Barak in 2000. After that overture's failure, Olmert was succeeded by Benjamin Netanyahu, who has led Israel in increasingly right-wing coalition governments ever since.
One can decry this reality, and its consequences for the Palestinian people, or one can defend it as a rational response to Palestinian intransigence. But it is the reality. Much like moving the American embassy to Jerusalem, President Trump's "deal" is simply a recognition and endorsement of that reality. Israel has no faith in the idea of shepherding a viable, independent Palestinian state into existence, and the Palestinians have little if any ability to force them to do so. Israel already controls the territories promised to them, and it can and will unilaterally effect their annexation without waiting for a Palestinian response. As for the limits on settlement construction within the truncated territory promised to a future Palestinian state, Israeli compliance will likely be conditional on Palestinian agreement, which is unlikely to be forthcoming.
It's exactly the kind of deal Trump would be familiar with from his real estate days, when one side had all the leverage. There's only one problem: While the Palestinians have no leverage to force a better deal, neither Trump nor Netanyahu has the ability to foreclose on them if they don't accept this one.
The Palestinians, after all, can also wait, whether for a change in the global political winds or in Israeli society. Indeed, nothing has better characterized Palestinian politics than that willingness to wait, and the determination not to accept anything less than full recognition of their national rights. Israel has some reason for greater demographic confidence than its leadership had a generation ago, but in the most optimistic scenarios from an Israeli perspective, the choices will always be between two viable states and some kind of bi-nationalism.
Will maximally pressing a short-term advantage lead to a more favorable end-game for Israel? It's impossible to know for sure — but it's easy to see how it could foreclose a two-state end game entirely, if it has not already been entirely foreclosed. And the conviction that time is on the Israeli side plays very differently in a context where a two-state solution has dropped from the Palestinian agenda.
It's in that context that the deal isn't entirely meaningless. It's likely that Trump has boxed in subsequent American presidents diplomatically to accepting Israel's moves. Even a hypothetical Sanders administration would have a hard time reversing course, and withdrawing recognition of Israeli sovereignty over the Golan Heights, the Jordan Valley, or annexed settlement blocs, for fear of shredding what's left of America's international credibility. The locus of pressure for advocates of the Palestinian cause, then, will inevitably continue its shift toward a demand for equal rights within a single bi-national state, and for severing American support for Israel entirely if it does not accede to that demand.
Whether or when a future administration succumbs to that pressure is impossible to know. But those are the new battle lines, which, once again, the Trump deal has confirmed rather than created.
Want more essential commentary and analysis like this delivered straight to your inbox? Sign up for The Week's "Today's best articles" newsletter here.
Continue reading for free
We hope you're enjoying The Week's refreshingly open-minded journalism.
Subscribed to The Week? Register your account with the same email as your subscription.