Trump's impeachment defense is downright authoritarian
Alan Dershowitz's argument for acquitting Trump is just a get-out-of-jail-free card for a wannabe dictator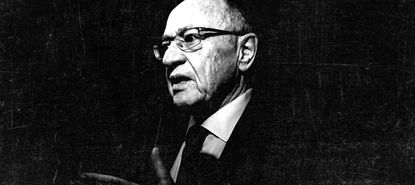 (Image credit: Illustrated | Mario Tama/Getty Images, iStock)
Sign up to our 10 Things You Need to Know Today newsletter
A free daily digest of the biggest news stories of the day - and the best features from our website
Thank you for signing up to TheWeek. You will receive a verification email shortly.
There was a problem. Please refresh the page and try again.
President Trump's hyperinflated ego has become an essential part of his impeachment defense.
Trump's ego is never far from the scene, of course. But in this case it was his attorney, Alan Dershowitz — who undoubtedly is headed for a very lonely summer in Martha's Vineyard this year — who made the case that Trump's self-regard is a key reason he should be acquitted of impeachment charges in the Ukraine scandal.
Dershowitz's case: If Trump did abuse his power by establishing a quid pro quo — military aid to Ukraine in exchange for an investigation into former Vice President Joe Biden, in order to undermine Biden's presidential campaign — well, it's OK because Trump believes it is best for the United States if he, and not Biden, wins the 2020 election.
Subscribe to The Week
Escape your echo chamber. Get the facts behind the news, plus analysis from multiple perspectives.
SUBSCRIBE & SAVE
Sign up for The Week's Free Newsletters
From our morning news briefing to a weekly Good News Newsletter, get the best of The Week delivered directly to your inbox.
From our morning news briefing to a weekly Good News Newsletter, get the best of The Week delivered directly to your inbox.
"Every public official that I know believes his election is in the public interest," Dershowitz told the Senate. "And mostly you're right — your election is in the public interest. And if a president does something which he believes will help him get elected in the public interest, that cannot be the kind of quid pro quo that results in impeachment."
It was, as several commentators noted, an impeachment defense fit for a king — King George, perhaps, or King Louis XIV maybe.
But the notion of royalty is often mixed up with notions of noblesse oblige, which is far too flattering to Trump to fit reality. So let's call Dershowitz's assertion what it really is: an argument for authoritarianism, a get-out-of-jail-free card for a wannabe dictator who has spent years cultivating a cult of personality and who believes his own "I alone can fix it" rhetoric and hype.
This is something different, and slightly more pernicious, than Richard Nixon's oft-quoted maxim that "when the president does it, that means it is not illegal." That, at least, was a straightforward argument about the nature of power. Dershowitz's reasoning on behalf of Trump takes that argument and adds a layer of paternalism and narcissism — telling Americans that his client can try to cheat the 2020 election because he honestly believes he is the indispensable man, that he knows what is best for us, that it's not illegal if the president does it because he is possessed of endless reserves of irrational self-confidence.
Nixon's belief, at least, was shattered by his forced resignation from the White House. Unless something startling happens, though, the United States Senate will vote to acquit Trump — and thus validate the Dershowitz argument. The results will not be good for American democracy.
Dershowitz's argument is troubling enough on its own; it becomes alarming in light of the Republican establishment's other moves toward authoritarianism — highlighted this week by the revelation that John Bolton, Trump's former national security adviser, could emerge as a witness for the impeachment prosecution.
Bolton has served Republican presidents for decades, making himself a lightning rod for controversy. He even ran for the GOP presidential nomination once. That isn't good enough to establish his conservative bona fides anymore, though. Lou Dobbs, the commentator on Fox Business, has now dubbed Bolton a "tool of the left." That is relatively kind compared to the treatment Sean Hannity served up for Sen. Mitt Romney (R-Utah) — another former GOP presidential aspirant — who has suggested the Senate should hear Bolton's testimony. "All I see, with all due respect Mitt Romney, is your personal hatred for Donald Trump," Hannity seethed Tuesday night.
Taken together, Dobbs and Hannity's anger — carried out on Fox's airwaves — should be seen as an attempt by the GOP establishment to purge itself of any last bits of disloyalty to Trump. This kind of thing happens in authoritarian regimes all the time; former apparatchiks in good standing suddenly find themselves expelled from the ruling party unless they show complete fealty to the leader. It is never the kind of event that augurs a new era of democratic good feeling.
It is tough not to give in to despair.
The argument for Trump's acquittal is an argument for authoritarianism. The effort to intimidate a witness — and a senator who wants to hear that witness testify — resembles some of authoritarianism's greatest hits. We're deep into "looks like a duck, quacks like a duck, walks like a duck" territory now. Impeachment is intended to preserve our democracy from those who would abuse it for their own purposes. Right now, though, democracy is losing.
Want more essential commentary and analysis like this delivered straight to your inbox? Sign up for The Week's "Today's best articles" newsletter here.
Continue reading for free
We hope you're enjoying The Week's refreshingly open-minded journalism.
Subscribed to The Week? Register your account with the same email as your subscription.
Sign up to our 10 Things You Need to Know Today newsletter
A free daily digest of the biggest news stories of the day - and the best features from our website
Joel Mathis is a freelance writer who lives in Lawrence, Kansas with his wife and son. He spent nine years as a syndicated columnist, co-writing the RedBlueAmerica column as the liberal half of a point-counterpoint duo. His honors include awards for best online commentary from the Online News Association and (twice) from the City and Regional Magazine Association.