Iowa suggests Bernie Sanders has no special turnout magic
Bernie Sanders can win the presidency. But so far it's not a revolution.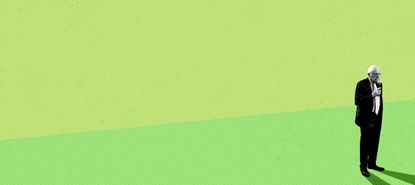 (Image credit: Illustrated | Stephen Maturen/Getty Images, Aerial3/iStock)
The Iowa Democratic Party's disastrous delay in reporting the results of the state's 2020 presidential caucuses has made analysis difficult, but there are a few things that can be gleaned from the partial results and entrance polling released so far. For Bernie Sanders, the data is a mixed bag.
First, it's clear that turnout was not unusual or high. Officials say it was about the same as 2016 and well below 2008 levels when Barack Obama defeated Hillary Clinton. First time caucus-goers made up only 35 percent of the vote this year according to the entrance polling, compared to 44 percent in 2016.
These facts are a real blow to Bernie Sanders' theory of electability. The campaign has stressed Sanders' supposedly unique ability to appeal to new voters, third-party voters, and infrequent voters. If that was true, we should have seen a big increase in the low-turnout caucuses, where even a small increase in total numbers would make a big difference. Sanders' campaign had months to hyper focus his volunteer army on the state of Iowa so supporters could directly make the campaign's unique appeal to these groups, yet these gains seemingly failed to materialize.
Subscribe to The Week
Escape your echo chamber. Get the facts behind the news, plus analysis from multiple perspectives.
SUBSCRIBE & SAVE
Sign up for The Week's Free Newsletters
From our morning news briefing to a weekly Good News Newsletter, get the best of The Week delivered directly to your inbox.
From our morning news briefing to a weekly Good News Newsletter, get the best of The Week delivered directly to your inbox.
As expected, given the generational divide in ideology among Democrats, Sanders did very well with young caucus-goers, handily winning in several college-town precincts. But again, youth turnout seems to have been only slightly higher than previous cycles.
The good news for Sanders is that, while turnout was not especially impressive, the partial results indicate he likely won the popular vote in Iowa. More importantly, Joe Biden performed terribly. Biden is going to end up taking 4th or even 5th place. Biden's base is older people who are the most reliable voters, yet even in a normal turnout race that was not enough to save him. This is a very bad sign that could significantly undermine confidence in the national polling frontrunner.
There's clearly still a path for Bernie Sanders to become the nominee and to win the general election. But it appears to be the path of a normal Democratic candidate. It doesn't seem that Sanders is expanding or reshaping the electorate. Instead, he has done what most every nominee before him has done; he built a coalition of traditionally Democratic voters — union members, Latinos, and liberals. This coalition makes up a large share of the traditional Democratic primary electorate and can give Sanders a plurality, particularly if his main rival fades and votes fracture among several candidates. Sanders is not changing who is joining the party, but he does have a message which fits where many in the party are already.
If Sanders does win the nomination, polling shows him doing reasonably well in the general election. He could very well beat an unpopular President Trump, but the Iowa results suggest he will beat him in the same way almost any Democratic nominee would. Not with a unique ability to turn out voters but by riding the general anti-Trump wave we saw in 2018 to win just enough swing states.
Of course, this is just one race of many, so we will need to see more data before we know for sure if the Sanders revolution is for real. But if there was any place where one would expect a ground game focused on infrequent voters to make a big difference, it would be Iowa.
Want more essential commentary and analysis like this delivered straight to your inbox? Sign up for The Week's "Today's best articles" newsletter here.

Continue reading for free
We hope you're enjoying The Week's refreshingly open-minded journalism.
Subscribed to The Week? Register your account with the same email as your subscription.