We can't trust Trump to handle the coronavirus crisis
The president says everything is under control. How can we possibly believe him?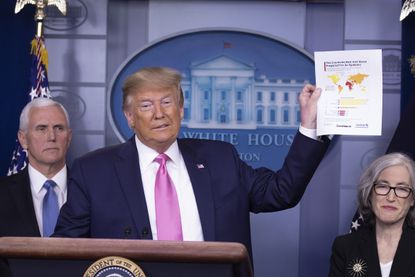 (Image credit: Tasos Katopodis/Getty Images)
President Trump went before the nation on Wednesday with the ostensible purpose of informing and reassuring the public about his administration's handling of the global coronavirus outbreak. Instead, Trump gave the American public what he always does: a mix of hyperbole, ignorance, and score-settling.
His administration's response to the outbreak has been "tremendous," Trump boasted. House Speaker Nancy Pelosi (D-Calif.) is "incompetent," he moaned. This week's stock market slide was the fault of Democratic presidential candidates, he claimed. Trump took shots at the Federal Reserve, former President Obama, and The New York Times. Every now and again, he seemed to have to remind himself to get back on track.
"We're here to talk about the virus," he said after one digression.
Subscribe to The Week
Escape your echo chamber. Get the facts behind the news, plus analysis from multiple perspectives.
SUBSCRIBE & SAVE
Sign up for The Week's Free Newsletters
From our morning news briefing to a weekly Good News Newsletter, get the best of The Week delivered directly to your inbox.
From our morning news briefing to a weekly Good News Newsletter, get the best of The Week delivered directly to your inbox.
There was just one grace note — a preliminary moment to acknowledge a mass shooting at the Molson Coors brewery in Wisconsin. Otherwise, Trump was Trump: listless when he had to stick more or less to the facts, energetic when given an opportunity to boast of his accomplishments or tear down his rivals.
"Because of all we've done, the risk to the American people remains very low," he said.
The proclamation wasn't reassuring. At almost the same time as Trump spoke, the Centers for Disease Control revealed a new case of the virus in Northern California — the first case of domestic infection in which the patient had not traveled to the countries where the virus is circulating, or knowingly interacted with someone who was infected.
"That would suggest there are other undetected cases out there," an infectious diseases specialist told The New York Times.
The outbreak couldn't come during a worse presidency. Even if Trump hadn't gutted the federal government's ability to respond to pandemics, and even if his administration wasn't rabidly anti-science, it remains the case that our president is both a prolific liar and an egregious narcissist who betrays no understanding of or ability to act in pursuit of the public good. This means the public — which needs to trust what leaders say in moments like these — has little reason to believe what comes out of his mouth. In other words, Trump has an extreme credibility problem. That's never a good thing, but it might be particularly dangerous during a public health emergency.
We know now that when emergencies arise, the most important thing to Trump is how those developments affect him. He seizes credit, casts blame, and never backs down from a fight, even when a fight is the last thing anyone needs. After Hurricane Maria, he spent more energy fighting with Puerto Rico officials than in ensuring the island got the federal aid it needed. During Hurricane Dorian, he distracted the entire government with a false claim that the storm was targeting Alabama, even scrawling across a storm map with a Sharpie to affirm his incorrect statement.
The coronavirus outbreak has featured more of the same self-centered behavior from the president. The Washington Post reported this week that Trump is "furious" at the stock market's virus-fueled slide, apparently worried that health warnings from government officials might slow the economy and make his re-election more difficult. With the lives of Americans in the balance, Trump's own standing is foremost in his mind. Worse, his mindset has been enabled by allies like Sen. Tom Cotton (R-Ark.) and radio host Rush Limbaugh, both of whom have pushed conspiracy theories about the origins and spread of the coronavirus.
Recent weeks have brought a lot of discussion about whether pandemics flourish in undemocratic settings. My colleague Ryan Cooper this week noted that "authoritarian political systems are lousy at dealing with disease pandemics," and added that "one primary reason the Chinese government failed to contain the outbreak is because corruption and incompetence are inherent features of tyrannical rule." Iran, which is emerging as another hotbed for the virus, has a similar problem.
And as Cooper acknowledged, the United States under this administration has this problem, as well. Maybe the coronavirus won't be a big threat here. Maybe there is no reason to panic. And maybe the stock market will return to its former glorious highs. But Trump has long since forfeited the credibility needed to assure Americans that when he plays down the virus' threat, he does so in their interest and not his own. Because of that, we are all just a little less safe.
Want more essential commentary and analysis like this delivered straight to your inbox? Sign up for The Week's "Today's best articles" newsletter here.

Continue reading for free
We hope you're enjoying The Week's refreshingly open-minded journalism.
Subscribed to The Week? Register your account with the same email as your subscription.