Do moderate Democrats have an agenda?
They blame the left for everything instead of talking about their own ideas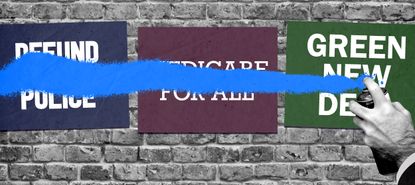 (Image credit: Illustrated | iStock)
In November, Democrats won the presidency and the House of Representatives but fell short of expectations. To be able to control the Senate with the vote of Vice President Kamala Harris, they need to sweep both upcoming runoff elections in Georgia. In response, moderates from House backbenchers to Barack Obama have argued that the left is tanking the Democratic brand with their unrealistic or radical demands on issues like health care, climate change, and police brutality. Recently House Majority Whip Jim Clyburn asserted that if "we are going to run on Medicare for All, defund the police, socialized medicine, we're not going to win" in Georgia.
This argument is counterproductive and distracting. Moderate Democrats should worry less about whether they are being dragged down by their most loyal voters and more about advocating and advancing their own policy agenda.
Let me explore this through the question of police reform, since that has gotten the most attention of late. In the first place, in this election Democrats had both a moderate presidential candidate and moderate leaders of the House and Senate who did not at any time endorse "defunding the police" — on the contrary, Biden ran on giving the police more money. If Republican messaging successfully convinces voters that moderate Democrats support the exact opposite of their expressed beliefs, that would seem to be a problem with moderate campaigning and messaging.
Subscribe to The Week
Escape your echo chamber. Get the facts behind the news, plus analysis from multiple perspectives.
SUBSCRIBE & SAVE
Sign up for The Week's Free Newsletters
From our morning news briefing to a weekly Good News Newsletter, get the best of The Week delivered directly to your inbox.
From our morning news briefing to a weekly Good News Newsletter, get the best of The Week delivered directly to your inbox.
In reality, as I have argued before, 2020 was simply too peculiar to be able to draw major conclusions about why Democrats came up somewhat short. The campaign featured a once-in-a-century global pandemic, an unprecedented economic crisis, the most generous (albeit brief) economic aid package in history, the weirdest presidential incumbent in history, and the highest turnout in 120 years. It simply is not clear at all which of those things — in particular, the presence of Trump on the ballot — may have been decisive.
The subsequent police reform discussion is really about scapegoating, which can be seen most clearly by comparison to the postmortem of the 2018 midterms. As Osita Nwanevu points out at The New Republic, a similar slogan rose to prominence on the radical left during that cycle about abolishing the Immigration and Customs Enforcement agency over its refugee concentration camps. Trump whipped up a racist frenzy over the largely-imaginary immigrant "caravan," and moderates were as usual wringing their hands about how the left was tarnishing the Democratic brand. Only that time, Democrats won a smashing victory, there wasn't any blame to allocate, and so "abolish ICE" was not needed as a scapegoat — which it unquestionably would have been had they lost. As I have written before, the signature characteristic of moderate politicians in this country is doing as little as possible save trying to blame others when bad things happen.
But the moderate backlash to "defund the police" is already creating concrete policy damage. Since the Ferguson protests in 2014, there was wide agreement among Democrats that something needed to be done about America's Soviet gulag-level of mass incarceration and epidemic of police brutality. Even some Republicans were on board — motivated as much by desire to close expensive prisons as concern for prisoners, but still holding out a prospect of a genuine bipartisan agreement. Now, as Akela Lacy reports at The Intercept, a small-bore bill to merely restrict "qualified immunity" (which makes it nearly impossible to sue abusive cops for civil damages) is in trouble thanks to moderate Democrats getting cold feet over police reform of any kind.
Let me grant for sake of argument that leftists are wrong about how to solve the problems afflicting this country. As David Roberts argues at Vox, one political lesson that Trump has driven home is that there is only so much attention to go around. You can avoid a lot of scrutiny by simply doing a lot all at once. Hundreds of judicial nominees, deregulation decisions, crackpot lawsuits, and so on have flown largely under the radar because so many of them are happening all the time (and because Trump produces a constant obscuring fog of political insanity, to be fair). That's even true of legitimately helpful things his administration has done — how many people outside of those directly affected noticed that Trump paused interest payments on federally-owned student loans back in March? (It's only now that the left is demanding student debt forgiveness that moderates blacked in and started getting mad.)
Conversely, starting regular pissing matches with the left draws media attention to Democratic infighting, and also to the very radical slogans party leaders are purportedly trying to downplay — and thereby associating the two in the public mind. Meanwhile, that same attention is not being paid to any moderate agenda or slogans. (Which, again, are what exactly? — Medicare for Some? A Taupe New Deal?) In any case, it's not like Black Lives Matter folks are going to listen to half-baked centrist arguments that they are harming the Democratic brand. Radicals are not going to stop protesting police shootings to help the election prospects of Joe "not enough prison cells" Biden.
It follows that moderate Democrats could deflate attention to "defund the police" by figuring out an actual police reform agenda, and — stay with me here — doing that.
Moderates of various stripes make up the overwhelming majority of the Democratic caucus, and one will soon be president. If they figured out some achievable policies they want, using executive action or new laws if the Georgia runoffs are won, passed them quickly, and then moved on to new action, at a minimum Democrats would enjoy substantially less squabbling, and almost certainly much better media coverage.
However, if the Democratic leadership is mostly concerned with finding excuses to avoid action and ways to scapegoat others for failure and defeat, then I would expect the squabbling with the left to continue indefinitely. We'll see which it is over the coming years.

Continue reading for free
We hope you're enjoying The Week's refreshingly open-minded journalism.
Subscribed to The Week? Register your account with the same email as your subscription.