Republicans' deadly pandemic impatience
Greg Abbott gave up on containment just months before the end of the pandemic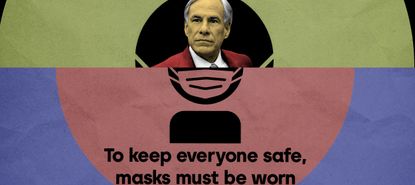 (Image credit: Illustrated | Getty Images, iStock)
I was wrong: The United States' coronavirus vaccine rollout is going much better than I thought it would. First, multiple excellent vaccines were developed and approved much faster than any in history, and now they are being delivered at speed. The number of vaccinations administered per day has gradually accelerated past two million, and with a great deal more supply coming soon, within the next couple months it ought to be available to everyone in most states. (My own parents recently got their second doses, which was a profound relief.)
That makes it all the more maddening that some conservative states are jumping the gun on returning to normal. If all Americans just hung tight for another couple months — or better still, clamped down even more to squelch the ongoing spread — we could save tens of thousands of lives. But some Republican politicians are apparently determined to get as many of their own constituents killed as possible.
Texas got the ball rolling this week, when Governor Greg Abbott abruptly announced that he was completely removing all pandemic control measures — allowing all businesses to open up without any restrictions or requirements, and even repealing the statewide mask mandate. Mississippi Governor Tate Reeves did the same thing days later.
Subscribe to The Week
Escape your echo chamber. Get the facts behind the news, plus analysis from multiple perspectives.
SUBSCRIBE & SAVE
Sign up for The Week's Free Newsletters
From our morning news briefing to a weekly Good News Newsletter, get the best of The Week delivered directly to your inbox.
From our morning news briefing to a weekly Good News Newsletter, get the best of The Week delivered directly to your inbox.
The background here is that progress in slowing the third wave of coronavirus cases has stalled out around 65,000 cases per day, or roughly at the peak of the summer 2020 wave. That naturally obscures a lot of variation: Cases are still falling in South Carolina, for instance, but they are stalled at a high level in New York. Worse, cases appear to be spiking in both Mississippi and Texas, and both states are among the worst laggards at getting shots into arms.
People have become numb to it, but an average of about 2,000 people a day have been dying from COVID-19 since mid-February, which is as bad as it got during the first wave of the virus. These deaths are all the more tragic since we are so close to being able to vaccinate everyone — and once people have gotten any of the vaccines, their risk of death drops nearly to zero, and people can thus see other vaccinated folks in person and indoors as much as they want. A very serious containment effort could have halted the spread, and therefore every single death since the vaccines were proved to work has been completely gratuitous. Yet if Abbott's action sparks competitive idiot posturing from other Republicans, or even Democrats like New York Gov. Andrew Cuomo, another at least regional wave of cases is highly likely. (To be fair, Governor Jim Justice of West Virginia and Ohio Governor Mike DeWine have so far gone the opposite direction.)
Now if that does happen, such a wave will surely be considerably less deadly than previous ones. Roughly half of the over-65 population has been vaccinated already, and perhaps a third of the population as a whole has already been infected. That means infections will spread somewhat slower, and the people that do come down with COVID-19 will be much less likely to become seriously ill or die.
That said, the virus is not to be trifled with. Nearly a fifth of American COVID-19 deaths have occurred in people under 65 years old, and untold numbers of people who didn't die are suffering severe chronic side effects. Meanwhile, Israel has vaccinated over half of its population, and over 90 percent of people over 50 years old — but even there it is still struggling with outbreaks, thanks to pockets of vaccine resistance and the virus's extreme contagiousness. The government may delay relaxing containment measures until the spread is slowed.
It's hard to know just what thoughts are going through the minds of people like Abbott. There is the classic American politician thing of wanting to avoid leadership and action at any cost, so that when bad things happen they can pretend it is someone else's fault. Then there's how the pandemic has been sucked into the conservative grievance industrial complex, leading to the idea that mask requirements are totalitarian and that "freedom" means a person should be able to infect others with a deadly disease at will. Abbott may be putting on a political performance for this crowd, claiming the crown of being the first state governor to stuff his constituents into the COVID-19 meatgrinder to own the libs. We surely shouldn't rule out sheer bloody-minded stupidity.
Whatever the reason, the effect will be obvious: more avoidable sickness and death.

Continue reading for free
We hope you're enjoying The Week's refreshingly open-minded journalism.
Subscribed to The Week? Register your account with the same email as your subscription.