'A novel to end all novels': James Joyce's Ulysses turns 100
The centenary of one of the great monuments of Irish culture is being marked around the world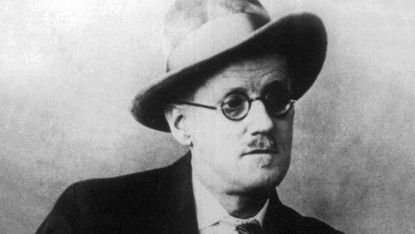 (Image credit: Pictorial Press Ltd / Alamy Stock Photo)
Sign up to our 10 Things You Need to Know Today newsletter
A free daily digest of the biggest news stories of the day - and the best features from our website
Thank you for signing up to TheWeek. You will receive a verification email shortly.
There was a problem. Please refresh the page and try again.
Ulysses, the pre-eminent modernist novel in English and one of the great monuments of Irish culture, was first published in full on 2 February 1922, James Joyce's 40th birthday.
It was published in Paris, where Joyce was then living, to avoid prosecution for obscenity in Dublin, London or New York. At the time, it was praised by the cognoscenti, but greeted with revulsion by many, and for decades it was treated with suspicion by the young Irish state.
Now, though, the centenary year is being celebrated with anniversary editions, exhibitions, essay collections, academic conferences, Twitter flurries, newspaper features, TV and radio broadcasts, and events at Irish embassies round the world.
Subscribe to The Week
Escape your echo chamber. Get the facts behind the news, plus analysis from multiple perspectives.
SUBSCRIBE & SAVE
Sign up for The Week's Free Newsletters
From our morning news briefing to a weekly Good News Newsletter, get the best of The Week delivered directly to your inbox.
From our morning news briefing to a weekly Good News Newsletter, get the best of The Week delivered directly to your inbox.
What is the novel about?
It details the events of a single day in Dublin, Thursday 16 June 1904 (historically, the day of Joyce's first date with Nora Barnacle, his future wife, on which, he said, she "made him a man").
The first three chapters follow Stephen Dedalus, Joyce's fictional alter ego, who featured in his novel A Portrait of the Artist as a Young Man (1916). But most of the 18 chapters put the reader inside the head of Leopold Bloom, a Jewish advertising salesman who serves as a sort of everyman.
Bloom eats breakfast, goes to a funeral, wanders around town, eyes up women and visits various pubs, while brooding on his wife Molly's affair with the caddish Blazes Boylan. At the end of the evening, Bloom rescues Stephen from a drunken fight with an English soldier, then sobers him up with a cup of cocoa. The novel ends with Molly's sleepy thoughts.
So why is it called Ulysses?
Among other things, the book is a based on Homer's Odyssey. Joyce preferred Odysseus's Latin name, having admired the character since reading Charles Lamb's The Adventures of Ulysses as a child. (Joyce reportedly pronounced the name "Oolisays", and Dedalus as "Dead-alus", not "Deed-alus".)
Bloom is a modern Odysseus who travels around Dublin rather than the Mediterranean. Stephen is a version of Telemachus, Odysseus's son, while Molly is Odysseus's wife, faithful Penelope. Each chapter has a more or less playful parallel with an episode in The Odyssey. Instead of blinding a one-eyed giant with a sharpened stick, for example, Bloom brandishes a cigar while arguing with a narrow-minded man in a pub.
What's so shocking about that?
Joyce's focus on everyday activities encompasses belching, nose-picking, farting, urinating, defecating, menstruating, and having sexual fantasies.
When a magazine printed the "Nausicaa" chapter, in which Bloom masturbates while ogling a girl on a beach, the resulting court case made Ulysses unpublishable in the US until 1934; it was banned in Britain for 14 years. "Glaring obscenity and filth," wrote Sir Archibald Bodkin, the Director of Public Prosecutions.
In addition to running the full gamut of rude words, the book begins with a character making fun of the Catholic Mass. Irish nationalism and British imperialism are treated with a similar lack of reverence. (When Joyce died in Zürich aged 58, in 1941, the Irish government declined to send a representative to his funeral.)
What did the critics say?
Ezra Pound and T.S. Eliot – whose poem The Waste Land was also published in 1922 – lined up to heap praise on Ulysses. Eliot called it a "book to which we are all indebted, and from which none of us can escape" (though Virginia Woolf complained that it was "illiterate" and "underbred").
Joyce's use of interior monologue–especially the telegraphic, associative language of Bloom's thoughts – offered fiction a new level of poetic compression and psychological depth. Some critics thought it had transformed the novel in the way Picasso had transformed painting.
Others, though, deemed it bewildering and frustrating. The Quarterly Review described it as "literary Bolshevism... antiChristian, chaotic, totally unmoral".
How is its reputation today?
All but unassailable. It is regarded as "a novel to end all novels", in the critic Harry Levin's words. Academics spend their whole working lives unpicking its schemes and symbols. ("I've put in so many enigmas and puzzles that it will keep the professors busy for centuries arguing over what I meant," Joyce boasted.)
It is now a well-established feature of Ireland's culture industry. Dublin has a Ulysses trail, so fans can trace Bloom's steps around the city. The book has become a touchstone for Ireland's cosmopolitan and relaxed modern identity. Unlike Eliot, Woolf and Pound, Joyce wasn't drawn to anti-Semitism, snobbery or fascism; he made his hero an ordinary man, and a Jewish pacifist.
On the downside, it still has a fearsome reputation for difficulty; arguably it launched a whole tradition of vast, unreadable novels aimed largely at male graduate students. Ulysses, said John Carey, is a novel celebrating the life of an ordinary man that few ordinary men could read.
How hard is it to read?
The early pages aren't particularly tough, once you've got used to the rapid jumping in and out of the characters' thoughts. But the third chapter – which begins with the words "Ineluctable modality of the visible" – is a bit of a speed bump, and, as the book goes on, Joyce throws increasingly elaborate schemes at the reader.
One chapter parodies the complete history of English prose. Another – one of the best–is written in question-and-answer format. It's useful to have a copy of the text with notes, or a guidebook to hand. There may be, as Woolf noted, "long lapses of intense boredom".
But there are also many good jokes, memorable characters and some of the most moving and beautiful passages in the language. A much-praised 30-hour-long Irish radio adaptation from 1982 is available for free on the RTÉ website.
Continue reading for free
We hope you're enjoying The Week's refreshingly open-minded journalism.
Subscribed to The Week? Register your account with the same email as your subscription.
Sign up to our 10 Things You Need to Know Today newsletter
A free daily digest of the biggest news stories of the day - and the best features from our website