HUMO London review: a 'quite extraordinary' wood-fired dinner and show
If this restaurant isn't starred by this time next year then 'I'll eat my hat'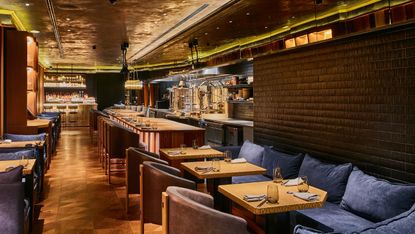 (Image credit: HUMO)
Man's fascination with fire has been well documented through history. Cave paintings. Dante. The Crazy World of Arthur Brown. Er, King Louie from The Jungle Book. And, more recently, on these very pages, Niklas Ekstedt.
Then there's HUMO. And frankly, every word that's going to be written between now – a few short weeks since HUMO opened – and next year when, if it maintains this standard and precision, it will get its first Michelin star. It's a compliment I've thrown around here before (correctly in the case of Restaurant St Barts, thank-you-very-much) but, in culinary terms, I don't think I've ever been so convinced. This was a quite extraordinary meal.
Let's throw in a caveat. Some people have found the explanations and the stories a little too much to bear – chef Miller Prada and team really like to explain the ingredients, the influences, the detail – and no, HUMO is probably not the place to go for a first date or business lunch. But for those with the merest interest in cooking… what a ride you have in store.
Subscribe to The Week
Escape your echo chamber. Get the facts behind the news, plus analysis from multiple perspectives.
SUBSCRIBE & SAVE
Sign up for The Week's Free Newsletters
From our morning news briefing to a weekly Good News Newsletter, get the best of The Week delivered directly to your inbox.
From our morning news briefing to a weekly Good News Newsletter, get the best of The Week delivered directly to your inbox.
If you didn't know HUMO's USP before you arrive, you'll pick it up soon enough: the restaurant is built around a four metre-long grill. There's no electricity. There's no gas. There are, however, glowing coals, flickering flames, and billowing smoke from different parts of this impressive focal point, as the chefs utilise every different aspect to prepare and cook some genuinely remarkable dishes. The different techniques and different woods create different textures and imparting subtle hints and flavours to the (impeccably sourced) ingredients.
The food
The menu is broken down into four stages of fire: Ignite, Smoke, Flame, and Embers, which give a little hint at the level of interaction of flame involved. Before any of that, however, there's a chicken wing, albeit one that's unlike any chicken wing you've had before: boned, dusted with sancho pepper, and glazed in New Forest honey. I want another the second it's finished.
"Ignite", the "official" start of the meal, "the spark that causes combustion" is, for the most part, raw although not necessarily conventionally so. Yellowtail has been aged five days and comes dressed in an utterly delightful sauce of citrus and Castillo coffee, the latter from the chef's family farm in Colombia. Aged fish, coffee and citrus are not ingredients you'd consider at home; it's a terrific dish but not the best thing we try at this point.
That accolade belongs to "Trout & Caviar". That begins with the sort of interaction mentioned above: you're not only shown the trout that's about to come your way – Ike-Jime Hampshire trout that's spent 12 days in the ageing cupboard visible among the wine fridges downstairs – but also the caviar that's been aged for three months in konbu kelp, and that's about to be lightly smoked before being served atop the trout, now gently seared over oak. Would I be able to differentiate this from another wood, another smoked fish, a differently aged caviar? No. Not a chance. Did I enjoy it? Oh... you have no idea. Do I believe Miller could tell the difference between woodsmokes and alternative fish eggs? Abso-blooming-lutely.
From "Smoke" – vegetables from the grill – we opt for "salsify", which comes with Jerusalem artichoke, saffron and hazelnut emulsion, and Ayrshire Blackthorn salt. Again, it's a winning combination of textures, flavours and sensations – and demonstrates that HUMO isn't just for the carnivorous or pescetarian, although the following "Flame" courses – scallop and native lobster – make a strong case for the alternative.
The scallop – hand-dived, from Orkney – is grilled on a stave of old whisky barrel, served with a Speyside sabayon, and white konbu. Again bemusing, again dazzling. Native lobster – Scottish, 24-month oak aged Jura chardonnay, HUMO 09 spice mix – is perhaps even better, although that could be the visual element of the flambadou. Before it's served, you get to watch it lightly seared with melted Kagoshima beef fat because, as you can imagine, with several types of fire front and centre, there's considerable theatre here. And if you can watch lobster being gently seared in dripped beef fat and not think "er, yes, and one of those" we will never be friends.
From "Embers" comes lamb. It's Cornish, it's been aged 30 days, and it's served with beetroot sauce, cedro (me neither but it's a big citrus fruit, thank you Google) and castelfranco. Inevitably it's utterly bloody divine.
The drinks and desserts
Wines… I haven't mentioned the wines. The list is an intriguing one, arranged by variety rather than region, which perhaps opens the casual wine drinker up to new versions of old favourites. Although the sommelier Merlin Ramos – insert own obvious wizard gag here – and his team will also point you to some utter gems, by the bottle or the glass, such as the American Recordings Oregon Pinot Noir that's has hints of rhubarb and strawberry. The sort of gem that might, you know, leave you Googling bottles between courses and perhaps ordering half a case. Possibly. Cough.
And then it's almost over… except for the "Cinders", the final stage and HUMO's dessert menu. Amalfi lemon – a tart with an almond base, oak "burnt" Italian meringue, fresh yuzu and Sake lees ice-cream – is wonderful. Better though is La Andina. Inspired by "Crema Catalana", it's made from grandilla, a Colombian fruit that you're shown before the preparation, and the finished version comes with a tiny spoonful of the fresh fruit.
The verdict
Then it is over. And I really wish it wasn't. It's been dinner and a show – the central counter seat is the best seat in the house – from a team that's as assured as any in London right now. If HUMO isn't starred by this time next year I'll eat my hat. Just have it lightly smoked, topped with caviar, and dressed with lemon and coffee…
Neil Davey was a guest of HUMO. 12 St George Street, London, W1S 2FB; humolondon.com

Continue reading for free
We hope you're enjoying The Week's refreshingly open-minded journalism.
Subscribed to The Week? Register your account with the same email as your subscription.