Jeremy Clarkson: all we know about his new Amazon show
New motoring show will reportedly begin screening some time in autumn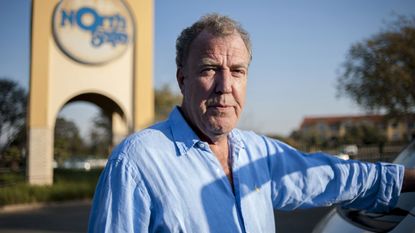 (Image credit: Stefan Heunis/AFP/Getty Images)
Sign up to our 10 Things You Need to Know Today newsletter
A free daily digest of the biggest news stories of the day - and the best features from our website
Thank you for signing up to TheWeek. You will receive a verification email shortly.
There was a problem. Please refresh the page and try again.
Rumours continue to circulate about Jeremy Clarkson's new show for Amazon Prime, with questions being asked about where it will film, what it will be like and whether it will see the return of some of Top Gear's most popular features such as the "star in a reasonably priced car" competition and the masked racing driver known as The Stig.
Clarkson has yet to confirm whether there will be recurring characters and segments in the show, which will reportedly begin screening some time in autumn. But with the rumour mill in overdrive and churning out hints, leaks and spy photos, here is what is definitely known so far:
The presenters will be the same
Clarkson, James May and Richard Hammond will provide their signature banter as a trio for the new show after May and Hammond also left the BBC. Hammond announced on his Twitter account: "The band is back together and it feels brilliant."
Subscribe to The Week
Escape your echo chamber. Get the facts behind the news, plus analysis from multiple perspectives.
SUBSCRIBE & SAVE
Sign up for The Week's Free Newsletters
From our morning news briefing to a weekly Good News Newsletter, get the best of The Week delivered directly to your inbox.
From our morning news briefing to a weekly Good News Newsletter, get the best of The Week delivered directly to your inbox.
There will be plenty of banter
Having spent the early part of last year travelling the world together performing their motoring-themed stadium live show, the former Top Gear trio could be forgiven if they had seen quite enough of one another.
From their Twitter banter during their tour however, it appeared the presenters were in fine form – ribbing each another at every opportunity.
Clarkson, Hammond and May have also moved into their new offices in London and even though their desks appear to be incredibly close, the team seem still to be enjoying working together.
Just after they moved in May complained that he had never had a beer named after him, even though Richard Hammond had. The complaint was accompanied by a picture of a beer called Dorset Knob.
In another exchange, Clarkson wrote on Twitter "A doctor is about to laser my face. I shall probably end up looking like Kate Moss."
Hammond replied: "must be one hell of a laser. I mean improve your face, yes, but I could do that with a bat."
The show will be available outside the US and UK
Some Clarkson fans have complained they will not be able to watch his new show, due to Amazon Prime Instant Video only being available in certain countries – a concern the presenter sought to play down with a single-word reply to one follower.
When a fan tweeted Clarkson to express his disappointment that the programme would not be available to anyone outside the UK and US, the presenter simply wrote back: "wrong."
However, Clarkson has yet to confirm precisely where his show will be available and according to a source at Amazon Prime, the release could be quite limited, only being available in the US, UK, Germany and Austria at launch.
However, international fans may be able to catch a glimpse of the stars in action as they film segments and possibly even studio spots in locations around the world.
According to a report last year in the Daily Mirror, Clarkson "is planning to broadcast the show from different venues around the world – rather than a set studio base in one location".
The newspaper says this "would give fans across the globe a chance to get involved and see the show being made close up".
A "source" told the Mail: "What better way to showcase the show on a flexible viewing platform than by being flexible about its filming… People will be able to view the show on the move, so why not make it on the move too?"
Clarkson's Top Gear legal dispute settled
Clarkson was dropped by the BBC after punching producer Oisin Tymon in a dispute over hot food while filming for Top Gear last year. The presenter admitted the incident and apologised, but it wasn't enough to save his job and after a long period of consultation, the BBC decided not to renew his contract.
Tymon later filed a lawsuit against Clarkson and the BBC for racial discrimination and personal injury. His claim was settled for a sum said to be in excess of £100,000 earlier this year.
In an apology issued through law firm Slater & Gordon, Clarkson said: "I would like to say sorry, once again, to Oisin Tymon for the incident and its regrettable aftermath. I want to reiterate that none of this was in any way his fault.
"I would also like to make it clear that the abuse he has suffered since the incident is unwarranted and I am sorry, too, that he has had to go through that.
"I am pleased that this matter is now resolved. Oisin was always a creatively exciting part of Top Gear and I wish him every success with his future projects."
Moving to Amazon was about gaining independence
After Clarkson was dropped by the BBC, new deals were reportedly offered by a number of terrestrial and web broadcasters including Sky, ITV, Netflix and Hulu. After months of behind-the-scenes negotiations, the trio – alongside former Top Gear producer Andy Wilman – eventually announced that they had signed with Amazon Prime.
"It was very parochial the way this whole thing started," Wilman said of the Amazon deal recently. "It's not our forte doing deals. We're all crap at business."
According to The Independent, the team only decided to sign a contract with the streaming service "after ITV wouldn't let them make the show they wanted and Netflix reportedly weren't that interested".
Wilman said that one of the main things the trio of presenters craved was the ability to work independently.
"We love the people down at ITV, but we couldn't do it," Wilman said, then added of Amazon: "Everyone we have talked to has told us: 'They leave you alone to make your show'. That's a big one for us – we don't like interference, we don't need to be policed."
It will come out in autumn
In a Reddit AMA (Ask Me Anything) session, May said he had been sworn to secrecy over the exact date of the series premiere but that it would be "the autumn, or fall if you're in the US. That's as specific as I can be."
As to whether the trio would have more freedom at the new show than on Top Gear, he replied: "We were always pretty free to do what we liked, to be honest" – an answer that seemingly flies in the face of Clarkson's assertion that he was pleased to be getting away from BBC bureaucracy.
May did not, however, have any comment to make on a suggestion that the new show might be called Gear Knobz.
Clarkson, meanwhile, has remained tight-lipped about the show's air date, but his recent tweets seem to suggest we could be seeing the gang on screen pretty shortly.
He even had time to make a joke at his co-presenter's expense.
There is already a petition to remove him
Clarkson's Amazon motoring programme may still be in its early stages – but there is already a petition to remove him - before the show has even been aired.
Clarkson sparked outrage earlier this year with his comments about transsexual people, suggesting that young people who want to change gender are "poisoned" by "lunatic" parents. The petition, on Change.com, reads: "We are outraged about Jeremy Clarkson's inexcusable behaviour and are curious if Amazon wants such a man to damage their hard earned reputation and position in the marketplace. Jeremy Clarkson goes to great lengths to make a point that he lives without concern for others rendering him basically irredeemable. We implore Amazon to fire Jeremy Clarkson."
The petition was signed by 4,500 people and teenage transgender campaigner Zoe Pierce added her voice to the plea, saying Clarkson should be axed and demanding an apology.
Zoe, 15, told the Daily Star she "always knew" she was a girl and that Clarkson's "appalling" remarks had "hurt her heart".
She added: "If I had the opportunity to meet Jeremy Clarkson, I would show him how normal my life is - I go to school, I study, I make YouTube videos to educate people."
The show will be in 4K
Clarkson confirmed on Twitter earlier this month that the new show will be made in '4K', the latest standard for ultra-high-definition video.
The team have filmed in Portugal
Clarkson and co-presenters Richard Hammond and James May visited the Algarve International Circuit in Portimao last October to race three of the world's most expensive supercars. A photograph of the team at the track revealed they were testing a Ferrari LaFerrari, a McLaren P1 and a Porsche 918 Spyder.
More recently, the trio descended on Barbados for two weeks of filming, during which time they were spotted snorkelling, scuba diving and jetboarding – as well as plunging a car into the sea.
One onlooker told the Daily Mirror: "It looks more like the world's wildest stag party than a TV show.
"They've got a huge budget and they are obviously enjoying themselves spending it. The whole thing was pretty bonkers. They had cars being pulled out of the water, hoverboards, jet skis - the works.
"It was like a lads' holiday. They're obviously enjoying every minute of it."
Not all the cars that feature in the show will make it out alive
There have already been a few mishaps on the set, with Clarkson last week tweeting a photo of a wrecked car with the understated caption: "Had a bit of an accident while filming today."
In Barbados, Hammond and May were spotted lowering car parts into the sea, which some speculated was an attempt to build a new reef.
The three presenters were also spotted driving around Cobham, Surrey, in a Mercedes sporting enormous off-road wheels. It is unlikely to be the last car the team butchers in the line of duty.
The total budget is £160m
Clarkson's deal with Amazon Prime has not been made public – but the Financial Times said last month it was worth £160m. The FT said it was "one of the largest ever agreed by a digital streaming group", more than double the amount Netflix paid for two seasons of House of Cards.
Clarkson is making it himself
The 55-year-old presenter has set up his own production company, although he admitted in a Sunday Times column last week that he has a lot to learn about business. He has said that all of the previous features, such as the Stig, the Star in a Reasonably Priced Car and the Cool Wall, belonged to the BBC, so they are having to start from scratch. "It's going to be all new," he said.
New name
The name Top Gear will also stay with the BBC, meaning Clarkson and co will have to create a new one. Reporters have been keeping a close eye on trademark applications by Clarkson's lawyers, prompting speculation that the name might be "Gear Knobs". However, last month Clarkson tweeted: "I see that many people think our new show is called Gear Knobs. Well you heard it here first. It isn't."
It will cost you £79 to watch the show
The new show will only be available in the UK to subscribers to Amazon Prime, the online retailer's premium service, which costs £79 a year.
There will be 36 episodes…
Former Top Gear producer Andy Wilman, who is still working with Clarkson, told Broadcast magazine there will be three series of 12 episodes.
…which will not be released together
Unlike many series made for online broadcasters, such as Netflix, the new motoring show will be released once a week, episode by episode.
The show will not have ad breaks
Clarkson wrote in his Sun column that he is delighted the show will have no commercial breaks and "no editorial pressure from on high".
Continue reading for free
We hope you're enjoying The Week's refreshingly open-minded journalism.
Subscribed to The Week? Register your account with the same email as your subscription.
Sign up to our 10 Things You Need to Know Today newsletter
A free daily digest of the biggest news stories of the day - and the best features from our website