'Not LA, not the Bay': SLO CAL is California's new foodie hotspot
Get a taste of the cuisine and wine in San Luis Obispo County on California's central coast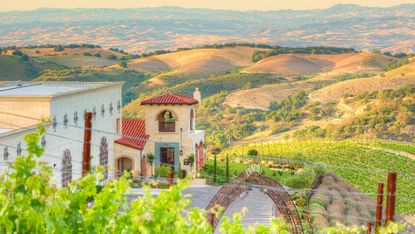 You can almost picture the glee when the good folk of San Luis Obispo County realised their initials spell SLO. As marketing slogans for this oh so chilled part of California's Central Coast goes, it's pretty damned good. And then they added a "CAL", made it an even cooler nickname and had a pun that covered their devotion to their own region's food and producers. Chapeau, SLO CAL. Chapeau…
The Central Coast runs roughly from just north of Los Angeles to just south of San Francisco – and, more specifically, from Santa Cruz/Monterey down to Point Mugu. That geography inspired the other slogan you'll spot around the region, on everything from T-shirts to surfboards, "Not LA, Not The Bay", and, again, it's pretty blooming perfect.
SLO is more or less the central point of the Central Coast and, well, while it shares a certain Californian vibe with LA and SF, it's less manic, considerably friendlier and probably more scenic too. The sense of space, the rolling hills, the achingly pretty vineyards and THAT coastline make any visit exceptionally relaxed and utterly jaw-dropping.
Subscribe to The Week
Escape your echo chamber. Get the facts behind the news, plus analysis from multiple perspectives.
SUBSCRIBE & SAVE
Sign up for The Week's Free Newsletters
From our morning news briefing to a weekly Good News Newsletter, get the best of The Week delivered directly to your inbox.
From our morning news briefing to a weekly Good News Newsletter, get the best of The Week delivered directly to your inbox.
The 'buzz' of art and wine
The artificial beauty is rather impressive, too. At Sensorio Field of Light, just outside the charming town (and ever-improving wine region) of Paso Robles, artist Bruce Monro has "planted" some 100,000 fibre-optic lights across 15 acres. As you wander through these fields and hills, these stems sway gently and change colour in overlapping blocks, from blue to purple to green to red, to yellow, to orange. It sounds a little freaky and, well, yes it is, but the effect is mesmerising, a wonderful and, yes, vaguely pointless folly of an art project that clearly captivates across the generations. Given the legality of certain substances in the region, one can only imagine the combined effect that Field of Light would have although there are plenty, I'm sure, who don't have to imagine. Assuming they can remember it…
For most visitors, any "buzz" they experienced is generally going to be generated by wine and they're not short of options. At Cass Winery they can even stay on site. Its "hotel", the Geneseo Inn, is an award-winning collection of highly individual, stylish rooms built from industrial shipping containers. It sounds somewhat barking, and it probably is, but the effect is as stunning as the views across the winery.
As well as all mod cons, and an excellent chef on site to make sure you (and visitors to the restaurant) don't starve, Cass can entertain you in myriad ways from yoga classes to horse riding. With due consideration to the horses, I declined that offer and, instead, opted to do a more traditional winery-based entertainment, and sampled their (mostly excellent) range.
A red with the soul of a lion
Remarkably, Cass wasn't even the most beautiful winery visited in this all-too-brief tour of SLO CAL. A sommelier friend had raved about the quality of the wine from Daou Vineyards and he wasn't wrong. The Daou family's history is a fascinating one. They came to California via Beirut, France, and the two sons who built a multimillion pound technology business in California sold it to follow a passion for winemaking.
Some 25 years later, the results are spectacular, with a vineyard that feels like they've several hundred acres of Tuscany into the hills of California, a kitchen that's serving food to rival much of Beirut, and a range of wines that nod to both France and the powerful, spicy, fruit forward wines of Lebanon. It's no coincidence, frankly, that its signature red (a blend of Cabernet Sauvignon, Cabernet Franc and Petit Verdot) is called "Soul of a Lion". If that all sounds a little macho and testosterone-y, rest assured there's a sense of balance (and a sense of humour), as a member of the team refers to their very drinkable rosé as "a real porch pounder" and my eye is drawn – inevitably – to a Petite Sirah/Zinfandel/Syrah blend called Pessimist…
S'mores, more wine and a remarkable farmers' market
While we're on the subject of the amusingly named, props too to Center of Effort – another beautiful and exceptionally sustainable winery we drop into for a further tasting and the California lunch, of excellent, perfectly cooked, free-range chicken that's heavy on roasted vegetables grown in their own gardens, and marinated in citrus picked the day before from their own trees. The name reflects the work they've put in to build the business and the thoughtful nature of their farming. The wines, too, are excellent, and a couple currently reside on my wine rack, to bring a little sunshine to a grey London day.
Lunch at Center of Effort is just one of several memorable food experiences in the region, although it's the simplest fare that truly stands out, probably appropriately for a region that celebrates the local. Indeed, legend has it that Burger King once opened in the region and rapidly closed down as locals shunned it in favour of their own homegrown burger business.
The meals enjoyed at restaurants such as the Ox & Anchor at Hotel San Luis Obispo and Ventana Grill are both highly decent – particularly the latter with its vast balconies overlooking that coastline and, if you time it right, an incredible sunset to enjoy with your fish tacos. But the best eating comes at San Luis Obispo's remarkable Thursday farmers' market, which sprawls several city blocks and celebrates the region's produce and s'mores made at a beach bonfire. At the former, local restaurants have street food stalls churning dishes to long queues, while others are selling snacks or offering samples of their produce, including the widely celebrated local strawberries, delicious dried fruit and, at one particularly lively stall, a wide range of freshly made nut butters. As for the s'mores… they're something I've had before and never particularly appreciated but, here, as the sun sets across Pismo Beach, they make perfect sense.
'Xtreme' driving on the dunes
The biggest irony, however, also takes place just up from Pismo Beach. This stretch of coastline is magnificent and vast and, further down the sand, Pismo Beach turns into Oceano Dunes State Vehicular Recreation Area. You may recognise the (nearly 20 miles of) undulating, enormous dunes from assorted movies and pop videos or, if you do it in the manner we did, you might not have time as you're thrown around the landscape in a military-grade Humvee. Yes, I know, it's somewhat contrary to the region's lovely ethics and conservationist ways to promote petrol-powered mayhem, but dear deity-of-your-choice it's fun.
A local company Xtreme Hummer Adventures will take you out for 30 minutes or so of, well, "xtreme" driving. As the Humvee took an almost vertical drop with ease and soared up the other equally almost-vertical side, the driver, Lutzy, winked at me and asked "reckon we can do this in reverse?" and did precisely that, before demonstrating just what these military vehicles can do. Which, basically, from the passenger seat, seemed to be everything it was asked up to (and very nearly including) defying gravity. You'll leave the car covered in sand – they supply goggles and you'll need them – and beaming from ear to ear, and I say that as someone who hates anything more extreme than the dodgems at the average fairground.
It's a unique experience but then SLO CAL is a unique place. It's not LA. It's not The Bay. But, in its own, highly appealing ways, SLO CAL rocks.
Neil Davey was a guest of the SLO CAL tourism board; slocal.com. Virgin Atlantic flies direct from the UK to Los Angeles and San Francisco; virginatlantic.com. Rates at The Piccolo in Paso Robles start from £317 (plus taxes and fees). Rates at Vespera Resort on Pismo Beach start from £235 (plus taxes and fees).

Continue reading for free
We hope you're enjoying The Week's refreshingly open-minded journalism.
Subscribed to The Week? Register your account with the same email as your subscription.