Three ways to get the most holiday money for your pound
Planning ahead could mean the difference of €100 on £500 worth of spending money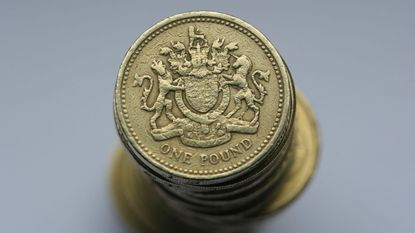 (Image credit: Matt Cardy/Getty Images)
This week the pound has hit a 31-year low as fears over Brexit cause the nation's currency to flounder.
If you need to buy foreign currency it is more important than ever that you find the best possible deal. Families preparing for a half-term trip abroad are in for a shock when they visit the foreign exchange desk: a year ago £500 bought you €675, today it will buy you as little as €440 at some Bureaux de Changes.
However, a little shopping around can get you a lot more euros for your money. The cardinal sin of holiday money shopping is to wait until you get to the airport, where those rock-bottom rates are being offered.
Subscribe to The Week
Escape your echo chamber. Get the facts behind the news, plus analysis from multiple perspectives.
SUBSCRIBE & SAVE
Sign up for The Week's Free Newsletters
From our morning news briefing to a weekly Good News Newsletter, get the best of The Week delivered directly to your inbox.
From our morning news briefing to a weekly Good News Newsletter, get the best of The Week delivered directly to your inbox.
The companies operating the currency stands at airports know you are a captive audience once you get there. You can't even shop around between the stands as many of them are owned by one firm – Moneycorp. At Southend Airport this week it was offering just €0.88 to the £1 - and the average across all airports was €0.99.
"Currency firms operating in airports are known to offer the worst exchange rates down to taking big profit margins," says Ian Strafford-Taylor, CEO of FairFX, told the BBC.
The good news is you don't have to be ripped off at the airport bureaux de change, with a little forward planning and shopping around you could get over €100 more for your £500.
The best ways to buy your currency
1. Halifax Clarity Card
This credit card charges you no extra fees when you use it abroad and it consistently offers the best exchange rate available - at present a euro exchange rate of €1.106. That means spending £500 on your card would translate into €553.
Just make sure you clear your balance in full at the end of the month otherwise you'll be charged interest at 18.9 per cent, APR which would quickly wipe out the benefits of the competitive exchange rate. Also, don't use your credit card to withdraw cash as you'll be charged interest from the moment the money leaves the ATM.
2. Online foreign exchange
If you plan ahead and have time for your foreign currency to be delivered then use an online currency exchange. BestForeignCurrency.com is currently offering one of the best exchange rates on euros at €1.09, which means £500 will get you €544.
3. The high street
If you have left it relatively last minute you can still get a good deal on the high street. You just need to shop around online first.
TravelMoneyMax.com will search your local Bureaux de Change to find you the best possible deal. A quick search of central London found that the Thomas Exchange UK in Oxford Circus was offering the best rates, with £500 buying €548.
Pound worth less than a euro at airports
11 October
Sterling's dramatic drop in the markets has been one of the key stories following the UK's vote for Brexit, with experts variously claiming it could either help or hinder the economy.
In terms of the effects that can already been seen, however, it is those travelling abroad who are being particularly hard hit with the pound getting less money abroad than it used to.
Earlier this week, sterling fell below $1.20, hitting a new 31-year low against the dollar and now the BBC reports it is worth less than the dollar – and the euro - at airports.
Wow, so the pound has gone below parity?
No – or at least, not generally. The report refers to the rates available at airport bureau de change when buying in person.
Specifically, and according to travel money firm FairFX, the average exchange rate to the euro across 17 UK airports yesterday morning was just 99 cents – while at Southampton airport's Moneycorp, it was merely 88 cents.
Travellers were generally still able to get more than one dollar to the pound, but not by much. The average rate was $1.08, but at ForExchange at Cardiff airport, a pound would only buy 97 cents.
What is the pound worth elsewhere?
Its market exchange rate was around €1.11 and $1.23 yesterday.
So why the big difference?
Currency exchange firms always offer less than market rate – that's how they make their money.
Airports "have always been the worst place to buy currency" and typically offer much less than others, says Guy Anker, of the consumer website MoneySavingExpert.
"In the past, the firms operating them have explained that they have high running costs - for instance, because of their very long opening hours," says the BBC.
So this is normal?
Not quite, says online currency exchange firm FairFX. In August, it claimed ICE at Luton was charging around ten per cent less than the market rate before the referendum, but that the discount had risen to 14 per cent.
So while the pound was always going to be worth a lot less – it's down 15 per cent against the euro since the referendum, after all – it's only below zero because firms are maintaining or boosting their margins.
What can I do to get the best rate?
Shop online and buy in advance. The best rate for a delivery next week is from BestForeignExchange.com, which will give you €1.094 to the pound, according to MoneySavingExpert's comparison tool.
You could also abandon changing cash and use a specialist travel credit card, which will give you the market rate. The Halifax Clarity card charges no fees and if repaid in full, only applies interest on ATM withdrawals.
Should we be worried about the pound's slump?
It's not good news if you want to travel abroad and the pound's plunge could yet drive up consumer prices more widely.
Nevertheless, some experts believe it's actually good news for the economy.
Essentially, they argue the pound was previously overvalued and that its slump will boost exporters and help reduce the dependence on debt and consumer spending for growth.
"It is desirable from every point of view," Ashoka Mody, the former deputy director for Europe at the International Monetary Fund, said, reports the Daily Telegraph.
Post-Brexit pound slump: Should you buy dollars or euros?
28 June
After the Brexit win at last week's EU referendum, the fate of sterling has taken centre stage.
Most markets commentators say that trading in the pound is the most direct sign of investor confidence in the UK economy – and so it has come to exemplify post-referendum anxiety.
But what does it mean for you and your finances? And should you shun sterling to buy dollars or euros?
How has the pound been affected?
It's been a pretty brutal sell-off so far. The pound fell close to ten per cent against the dollar on Friday, on what the Financial Times says was the most volatile day ever on currency markets. It then dropped another two per cent yesterday to hit another 30-year low.
What does that mean?
It's potentially very significant – and potentially not. It means traders have a weaker view on the UK and, along with falls on wider stock markets, suggests concern of a full-blown recession.
But traders are also betting on a cut in interest rates soon, which would imply a weaker pound. It's also true that investor sentiment was always likely to be skittish and so should be treated with caution.
Has the pound continued to fall?
No, a wider relief rally led it 1.2 per cent higher to close to $1.34 by around 3.30pm in London today. That's still some way below where it was before the vote, when it touched $1.50 at one point on Thursday.
Should I trade out of the pound?
Many people did so in the lead up to the vote – and those that backed Brexit with their wallet in this will almost certainly benefit handsomely.
Doing so now would mean betting that the pound still has a lot further to fall, otherwise you'd be moving the wrong end of the cycle.
Goldman Sachs predicted ahead of the referendum that a Leave win would eventually send it as low as $1.15. If you changed £10,000 now and changed it back when this bottom was reached, you'd make around £1,164 before fees or commission.
But there is doubt that the pound will go that low and it all depends on whether some political clarity can be provided in the coming days.
What about my holiday cash?
If you didn't change up before the vote, you're not going to get as much now. Based on £1,000 spending money, you'll be taking approximately $160 less to the US today than you would last Thursday.
But if you believe that the pound has not reached its nadir yet, then it might be worth changing up sooner rather than later if you have a holiday planned in the coming months.
EU referendum: What will happen to the pound if UK votes for Brexit?
01 April
Of all the consequences of the referendum for the UK's membership of the European Union, the fate of the pound on abstruse currency markets would not appear to rank highly.
With issues relating to immigration, sovereignty and jobs all seemingly at stake, do ordinary people really need to worry about exchange rates as well? In short, yes. Misjudging how the pound will be affected and when to change your holiday cash could leave you getting a significantly worse deal – and in any case the fluctuations in the pound could have a profound effect on the wider economy.
How is the debate affecting the pound?
Badly. When London Mayor Boris Johnson joined the Leave campaign in late February, the pound slumped two per cent to a multi-month low against the euro and to a seven-year low against the US dollar. It went on to record a trough against the greenback of $1.38, compared to a peak of $1.56 in September. It's currently holding at around $1.42.
The closeness of the polls is making investors nervous that Brexit could really happen – and the uncertainty is weighing on sterling. Just over a week ago the pound hit a two-year low against a basket of other global currencies. It has fallen from a rate of €1.42 against the euro late last year to just €1.25 now.
Will the pound keep falling until the vote?
Most seem to believe the referendum-related slide is mostly done so although that doesn't stop other factors influencing rates, it does mean the pound shouldn't plummet again.
"In the run up to the referendum, we expect a continued weakness of the pound but that doesn't mean further drops at the magnitude we have already seen," Nandini Ramakrishnan, the global market strategist at JP Morgan Asset Management, told the Daily Telegraph. "We expect rates around this level until June and then, when June comes, there's going to be a pretty distinct change."
What about after that?
It all depends. If the vote is to leave, expect the pound to go into freefall against the dollar – perhaps as low as $1.15, according to Goldman Sachs. Some predict it could also fall against the euro, to as low as parity.
However, some, including Bill O'Neill, the head of the UK investment office at UBS, reckon the UK's exit would bring pressure on the euro, too. In fact, Bank of America Merrill Lynch said in a client note reported by the Financial Times that the euro is currently overvalued and investors are under-pricing the hit to the single currency if the UK votes to leave – and that this could therefore see the big move lower if Brexit comes to pass.
Things are more clear cut if the vote is to stay in the EU: the pound should rise strongly against both of its key comparator currencies.
So what should I do with my money?
Assuming you're going on holiday after June, "in most instances you should wait until the referendum" as the pound is "too cheap at the moment", says O'Neill. If you believe the UK will vote to stay in, then it's almost certain sterling will be significantly against all currencies then compared to now and O'Neill believes it might not change much against the euro even with Brexit.
If you think leaving is likely, then definitely secure those dollars now, as the difference could be substantial. At the current $1.42 rate, £1,000 will buy you $1,420; at the worst case scenario of $1.15, it'd fetch just $1,150. You might also want to buy your euros sooner if you disagree with O'Neill and agree with other analysts that the pound will be hit much harder.
How likely is Brexit?
Polls are famously difficult to read, but most give a small but noticeable lead for the In camp. Bookmakers are currently putting the odds of a vote to leave at around 25 per cent, partly, no doubt, because of the general feeling that voters need a lot of convincing to opt for major upheaval.
But there are some big hitters in the Leave camp now and the migrant crisis and Brussels attacks are having a profound effect on public opinion, much of which is negative towards the EU. So things could yet change – and the polls are already noticeably narrowing.

Continue reading for free
We hope you're enjoying The Week's refreshingly open-minded journalism.
Subscribed to The Week? Register your account with the same email as your subscription.