10 things you need to know today: November 5, 2021
More than 40 countries agree to phase out coal power plants, key Steele dossier sub-source accused of lying to FBI, and more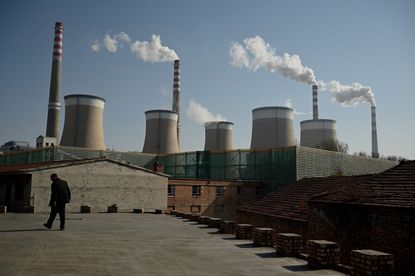 (Image credit: NOEL CELIS/AFP via Getty Images)
1. Dozens of countries vow to phase out coal-fueled power plants
More than 40 countries at the United Nations' COP26 climate summit pledged Thursday to phase out the use of power plants fueled by coal, the single biggest contributor to climate change. The countries signing onto the deal included major coal users, including Poland, Vietnam, and Chile. Some of the world's biggest consumers of coal, including China and the United States, did not join in. "The end of coal is in sight," said Kwasi Kwarteng, the U.K.'s business and energy secretary. A critic said the coal pledge was "not a game-changer." The U.S. signed a separate deal backed by 20 countries committing to end public financing of "unabated" fossil-fuel projects, which don't capture CO2 emissions, abroad by the end of 2022. Several major banks agreed to stop funding new coal plants.
2. Special Counsel John Durham accuses key Steele dossier source of lying to FBI
A Russian analyst who was a "primary sub-source" for British former intelligence agent Christopher Steele's Trump-Russia dossier was indicted in federal court Thursday on charges of lying to the FBI about his sources. The analyst, Igor Danchenko, signaled through his lawyer he would plead not guilty. The indictment came out of special counsel John Durham's investigation into the origins of the FBI's inquiry of contacts between former President Donald Trump's 2016 campaign and Russia as Moscow tried to influence that year's election. The FBI interviewed Danchenko in 2017 to track down information in the dossier. The FBI cited the dossier to get warrants to wiretap a former Trump campaign adviser, Carter Page, in October 2016, but it was not a factor in Special Counsel Robert Mueller's report.
Subscribe to The Week
Escape your echo chamber. Get the facts behind the news, plus analysis from multiple perspectives.
SUBSCRIBE & SAVE
Sign up for The Week's Free Newsletters
From our morning news briefing to a weekly Good News Newsletter, get the best of The Week delivered directly to your inbox.
From our morning news briefing to a weekly Good News Newsletter, get the best of The Week delivered directly to your inbox.
The Associated Press The Wall Street Journal
3. U.K. becomes 1st country to approve Merck's COVID pill
The United Kingdom on Thursday approved a promising pill developed by Merck and Ridgeback Biotherapeutics to treat COVID-19. In trials, it reduced the chances of hospitalization and death by almost half. The recommendation by the U.K.'s Medicines and Healthcare products Regulatory Agency made Britain the first country to sign off on using the antiviral medicine, molnupiravir, to treat people with moderate COVID-19 and at least one risk factor for developing a severe case. Those preexisting conditions include obesity, heart disease, and older age diabetes. The regulator said molnupiravir should be given to patients as soon as possible after they test positive, and within five days of their first symptoms. U.S. experts are meeting later this month to consider whether to recommend use of the drug there.
4. Big companies have until Jan. 4 to impose Biden vaccine mandate
The Biden administration said on Thursday that large companies will have until Jan. 4 to comply with President Biden's coronavirus vaccine requirement for their workers. Biden told the Labor Department in September to invoke its workplace-safety emergency powers to require companies with 100 or more employees to make vaccinations mandatory for their workers. Those who refuse to get the shots will have to submit to weekly testing. Many major corporations, including Tyson Foods and United Airlines, have already announced they were imposing mandates for their workers. Others have held off, waiting for final rules from the federal government. A Mercer poll of 1,088 companies found that as of Oct. 4, 13 percent of respondents were requiring vaccinations company-wide, and 11 percent were only doing it for those coming to the office.
5. Toll in Nigeria high-rise collapse rises to 36
The death toll from the collapse of a 21-story apartment building in Nigeria rose to 36 on Thursday, Ibrahim Farinloye of the West African nation's National Emergency Management Agency told The Associated Press. Fifteen bodies were recovered between Wednesday afternoon and late Thursday in the fourth day of the search and rescue effort. Dozens of families and residents lined the entrance to the property, asking for news and a chance to help rescuers. Armed soldiers kept them away. "They couldn't allow me to check whether my son is alive or dead," said Abel Godwin, who traveled more than 400 miles to Lagos from the capital city of Abuja. Nobody has pulled from the rubble alive since Tuesday. Lagos' governor has given an independent panel 30 days to investigate the cause of the disaster.
6. Weekly jobless claims fall to fresh pandemic-era low
The number of Americans applying for unemployment benefits fell by 14,000 to 269,000 last week, marking another low since the start of the coronavirus pandemic. Weekly new jobless claims have fallen steadily since January, when the figure was above 900,000. A total of 2.1 million people in the United States were collecting jobless benefits last week, down from 7.1 million a year earlier. The improving employment numbers, now approaching pre-pandemic levels of about 220,000 per week, added to signs that the economy was recovering from the damage of widespread business shutdowns that started in March 2020 and resulted in cuts of more than 22 million jobs. "Claims are headed in the right direction, showing the labor market recovery continues, albeit slowly," Contingent Macro Research economists wrote Thursday.
7. Gunmen kill 69 in volatile southwestern Niger region
Gunmen ambushed the mayor of the city of Banibangou and members of his delegation as they traveled through a rural area in Niger near the border with Mali, killing 69 people, Interior Minister Alkache Alhada said Thursday. About 15 people survived, and the government is searching for them. The attack occurred Tuesday in a region where militants, many affiliated with the Islamic State, are active. Armed groups are fighting for control of the impoverished borderlands of Niger, Mali, and Burkina Faso, and trying to drive out local and international military forces. The Armed Conflict Location & Event Data Project, which tracks violence in the region, found that before the attack more than 530 civilians had been killed in remote parts of southwestern Niger so far in 2021.
8. Juror in Kyle Rittenhouse trial dismissed after telling joke about Jacob Blake
A male juror in Kyle Rittenhouse's homicide trial in Kenosha, Wisconsin, was removed from the case on Thursday for making a joke about the shooting of Jacob Blake, who is Black, by a white police officer. The juror reportedly made the joke to a deputy earlier in the week while being escorted to his car. The juror declined to repeat the joke on Thursday, but prosecutor Thomas Binger said it was something to the effect of, "Why did the Kenosha police shoot Jacob Blake seven times? Because they ran out of bullets." Rittenhouse has pleaded not guilty to homicide charges after fatally shooting two people and injuring a third during a protest sparked by the police shooting of Blake. Rittenhouse, who is from across the state line in Illinois, traveled to Kenosha during the protests and carried a semiautomatic rifle in the streets, joining others saying they were protecting property. Rittenhouse's legal team has argued he acted in self-defense.
9. Activists challenge Tennessee ban on transgender athletes in schools
Civil rights groups on Thursday filed a lawsuit challenging a Tennessee law barring transgender students from participating in public middle and high school sports based on their gender identity rather than the sex listed on their original birth certificates. Lambda Legal, the American Civil Liberties Union, and the ACLU of Tennessee argued that the policy was discriminatory and unconstitutional. The law's supporters said it was necessary to ensure fairness because transgender athletes listed as males at birth would have a physical advantage on female teams. The lawsuit was filed on behalf of a transgender student seeking to play on the boys' golf team at his school. The lawsuit said the Tennessee law "was passed not to protect female athletes but to marginalize transgender people."
10. DOJ challenges Texas voting restrictions
The Justice Department on Thursday challenged Texas' new voting law, arguing that the measure passed by the Republican-led Texas Legislature violates the Voting Rights Act by preventing some Texans who do not speak English, older voters, and people with disabilities from voting. The Texas law, which Gov. Greg Abbott (R) signed in September, bars election officials from sending out unsolicited absentee ballot applications or promoting mail-in voting. It also limits the use of ballot drop boxes and expands poll watchers' authority. Kristen Clarke, head of the DOJ civil rights division, called Texas' restrictions on how poll workers can help voters and absentee ballot rules "unlawful and indefensible." Abbott tweeted: "Bring it. The Texas election integrity law is legal."

Continue reading for free
We hope you're enjoying The Week's refreshingly open-minded journalism.
Subscribed to The Week? Register your account with the same email as your subscription.