10 things you need to know today: November 10, 2021
Jan. 6 panel subpoenas Miller and McEnany, watchdog says 13 Trump aides violated Hatch Act, and more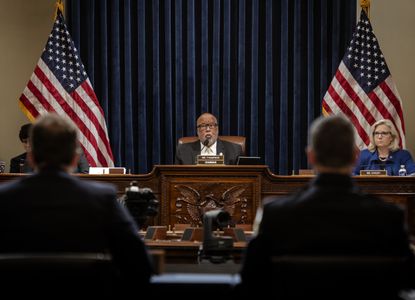 (Image credit: Bill O'Leary - Pool/Getty Images)
1. Jan. 6 committee subpoenas Miller, McEnany
The House select committee investigating the Jan. 6 Capitol attack on Tuesday issued another round of subpoenas to top aides of former President Donald Trump. The 10 people targeted included some of Trump's highest-ranking White House staff members, including adviser Stephen Miller, senior counselor Kellyanne Conway, and former Press Secretary Kayleigh McEnany. McEnany's subpoena focused on her statements pushing Trump's baseless voter fraud claims, which the committee said "individuals who attacked the U.S. Capitol echoed on Jan. 6." The committee demanded testimony from another six Trump allies on Monday. "We need to know precisely what role the former president and his aides played in efforts to stop the counting of the electoral votes," said Rep. Bennie Thompson (D-Miss.).
2. Watchdog finds 13 Trump aides violated Hatch Act
Thirteen of former President Donald Trump's top aides illegally campaigned for him in violation of a law prohibiting federal workers from abusing their positions to help candidates, the Office of Special Counsel Henry Kerner said in a report released Tuesday. Kerner said Trump's advisers, including his son-in-law Jared Kushner and chief of staff Mark Meadows, committed "myriad" violations in "willful disregard for the law" known as the Hatch Act, in some cases up to days before the November 2020 election. "Senior Trump administration officials chose to use their official authority not for the legitimate functions of the government, but to promote the re-election of President Trump in violation of the law," the report found. Trump representatives did not immediately comment.
Subscribe to The Week
Escape your echo chamber. Get the facts behind the news, plus analysis from multiple perspectives.
SUBSCRIBE & SAVE
Sign up for The Week's Free Newsletters
From our morning news briefing to a weekly Good News Newsletter, get the best of The Week delivered directly to your inbox.
From our morning news briefing to a weekly Good News Newsletter, get the best of The Week delivered directly to your inbox.
3. U.N. researchers warn temperature rise set to exceed target
Global temperatures are on a path to rise to 2.5 degrees Celsius (4.5 degrees Fahrenheit) above preindustrial levels, United Nations scientists warned Tuesday at the COP26 climate summit in Glasgow, Scotland. That much of an increase in average global temperatures exceeds the world's shared target by a full degree Celsius, and could result in catastrophic damage from climate change, scientists say. In their preliminary analysis, the U.N. researchers determined there is a huge divide between countries' vows to reach net zero carbon emissions around 2050 and their more immediate plans for concrete actions to cut greenhouse-gas pollution. The Earth already is 1.1 degrees Celsius warmer than it was before the Industrial Revolution.
4. E.U. close to imposing tougher sanctions against Belarus
The European Union plans to tighten sanctions against Belarus, which it accused of "inhuman, gangster-style" actions on the country's border with Poland. The E.U. said the government of Belarusian President Alexander Lukashenko made false promises to Middle Eastern refugees of an easy migration path into Western Europe across Belarus' border into Poland. The Polish government accused Belarus of weaponizing migrants to destabilize Poland, and released videos on Tuesday showing migrants trying to knock down makeshift fences along the border, where thousands have gathered seeking to illegally cross into Poland. The State Department said the U.S. stands with NATO allies Poland, Lithuania, and Latvia as they faced "unacceptable actions" by Belarus.
5. Judge rules House Jan. 6 panel can get Trump records
U.S. District Judge Tanya Chutkan in Washington, D.C., ruled late Tuesday that hundreds of pages of former President Donald Trump's White House records can be handed over to the House select committee investigating the Jan. 6 Capitol attack by a mob of Trump's supporters. The House panel and the Justice Department argued that finding "the causes underlying the January 6 attack is a matter of unsurpassed public importance because such information relates to our core democratic institutions," Chutkan wrote. "The court agrees." Trump, whom the panel suspects of fomenting the insurrection, objects to the release of the documents, claiming executive privilege. His lawyers immediately appealed Chutkan's ruling, seeking to prevent the National Archives from handing over the documents pending a ruling by a federal appeals court.
6. Oklahoma high court tosses $465 million J&J opioid ruling
The Supreme Court of Oklahoma on Tuesday threw out a landmark 2019 ruling that called for Johnson & Johnson to pay the state $465 million to help it address the opioid epidemic. The 5-to-1 decision found that Johnson & Johnson can't be held liable for its role in the crisis. The ruling came less than two weeks after a California judge invalidated another decision seeking to hold the pharmaceutical industry accountable for the aggressive marketing of highly addictive opioids. Oklahoma had argued that J&J violated "public nuisance" laws by exaggerating the benefits of its prescription opioid painkillers and downplaying the risks. The state's high court said the laws weren't meant to apply to such a big public crisis.
7. Pelosi calls for McCarthy to condemn Gosar over video
House Speaker Nancy Pelosi (D-Calif.) on Tuesday called for House Minority Leader Kevin McCarthy (R-Calif.) to condemn Rep. Paul Gosar (R-Ariz.) for tweeting an animated video depicting himself killing Rep. Alexandria Ocasio-Cortez (D-N.Y.) and attacking President Biden. Twitter has since flagged the post as a violation of the platform's "hateful conduct" rules. "Threats of violence against Members of Congress and the President of the United States must not be tolerated," Pelosi wrote on Twitter, saying that McCarthy should "join in condemning this horrific video and call on the Ethics Committee and law enforcement to investigate." A group of other Democratic lawmakers issued a joint statement asking McCarthy to take action against Gosar.
8. Prosecution rests, defense calls 1st witness in Rittenhouse trial
Prosecutors rested their case in the murder trial of teenager Kyle Rittenhouse, who fatally shot two people and wounded another when he clashed with people protesting the police shooting and wounding of a Black man, Jacob Blake. Rittenhouse, now 18, killed Joseph Rosenbaum, 36, and Anthony Huber, 26, and wounded Gaige Grosskreutz, 27, after going to Kenosha, Wisconsin, from his home in Illinois and wandering the streets with an assault-style semiautomatic rifle, ostensibly to protect property from protesters. Rittenhouse says he acted in self-defense. The defense team's first witness was with Rittenhouse and other armed men who said they were protecting a car dealership.
9. Pfizer asks FDA to approve its booster for all adults
Pfizer and BioNTech on Tuesday asked the Food and Drug Administration to expand authorization of their coronavirus booster shot to cover all adults. If approved, the change could significantly broaden the pool of fully vaccinated people eligible to get another dose to increase protection against COVID-19, which is shown to wane months after vaccination. Because the federal government has backed mixing and matching vaccines made by different companies, all adults who got the vaccines made by Pfizer-BioNTech, Moderna, or Johnson & Johnson could get a Pfizer booster. An advisory board of outside experts recommended that the FDA limit emergency authorization of Pfizer's booster to those 65 and older or at high risk of COVID-19 due to medical conditions or jobs, covering 60 percent of the population.
10. Former Sen. Max Cleland dies at 79
Former Sen. Max Cleland, who lost three limbs as an Army captain in the Vietnam War, died of heart failure on Tuesday at his Atlanta home. He was 79. Cleland, a Democrat, led the Veterans Administration under former President Jimmy Carter and served as Georgia's secretary of state before being elected to the Senate in 1996. In the Senate, he focused on advocacy for veterans and their families through counseling and services for those with post-traumatic stress disorder. President Biden, who served with Cleland in the Senate, mourned the former Georgia senator as a great leader, and called him "a lifelong champion of the dignity and rights of working people and America's wounded veterans."

Continue reading for free
We hope you're enjoying The Week's refreshingly open-minded journalism.
Subscribed to The Week? Register your account with the same email as your subscription.