The week's best parenting advice: November 23, 2021
Talking to children about death, pot use during pregnancy, and more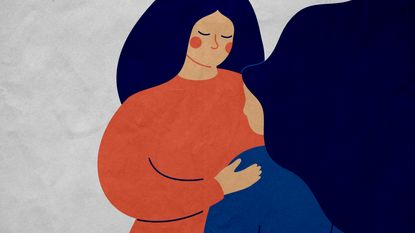 (Image credit: Illustrated | iStock)
1. Talking to children about death
Death is a difficult topic to broach with children, but sometimes it can't and shouldn't be avoided, writes Sarah Ayoub in The Guardian. If someone the child knows has died, parents should resist the temptation not to tell them. Even in more difficult circumstances — say the sudden death of a close relative — leaning on euphemisms or metaphors ("went to sleep" or "passed away") can create confusion. Instead, parents should keep explanations "brief but honest," said pediatric psychologist Deirdre Brandner. Then parents should observe their child's reaction and "follow their lead," answering any questions that come up in the following weeks. Rituals such as creating memory books to remember the person, or planting their favorite flower, can aid the grieving process. Beyond that, Brandner says it's best to stick to the child's regular routine, as grieving children "need reassurance that their life will go on no matter what happens."
2. Should pregnant women smoke pot?
A new study suggests that cannabis use among pregnant women may cause behavioral problems in their children down the road, writes Melinda Wenner Moyer in The New York Times. Observing the children of 322 healthy mothers who gave birth between 2011 and 2015, the researchers found that those whose mothers used marijuana while pregnant were more than twice as likely to be anxious, aggressive, or hyperactive by the time they were 3 to 6 years old. The study adds to a growing body of research raising concerns about prenatal cannabis exposure, which has been linked to low birth weight, reduced IQ, autism, delusional thoughts, and attention problems. More research is needed to sort out exactly how marijuana affects fetal development, but at this point, Dr. Darine El-Chaâr, a maternal-fetal medicine physician who studies this issue, says "there's no known safe amount."
Subscribe to The Week
Escape your echo chamber. Get the facts behind the news, plus analysis from multiple perspectives.
SUBSCRIBE & SAVE
Sign up for The Week's Free Newsletters
From our morning news briefing to a weekly Good News Newsletter, get the best of The Week delivered directly to your inbox.
From our morning news briefing to a weekly Good News Newsletter, get the best of The Week delivered directly to your inbox.
3. How to ease post-lockdown separation anxiety
If your child is experiencing heightened separation anxiety post-lockdown, you're not alone, writes Michelle Hainer in The Washington Post. But according to psychologist Jerry Bubrick, parents whose children are struggling at school or soccer practice drop-off should avoid repeatedly reassuring them of when they'll be back. "The core feature of all anxiety disorders is difficulty in tolerating uncertainty," says Bubrick. "Our job as parents and doctors is not to provide the certainty, it's to help them tolerate the not knowing." Go over the pick-up plan once, and in case you do show up a little late, equip the child with tools to challenge panicked thoughts. If the child is inclined to assume you've gotten into a horrible accident, for example, encourage them to think of two other possibilities — you could be stuck in traffic or held up on a work call — and then to ask themselves which scenario sounds most likely.
4. The truth about pacifiers
Sorting out research on pacifiers is tricky. Some evidence suggests they reduce a child's risk of sudden infant death syndrome (SIDS) — but so does breastfeeding. So if pacifiers make breastfeeding more difficult by causing nipple confusion, as some research seems to suggest, that might cancel out any beneficial effect on SIDS. But in a thorough rundown of current literature on the topic, Emily Oster argues that there's little evidence to support concerns about nipple confusion. "It's true that infants who use a pacifier are less likely to breastfeed; those things are correlated. However, the relationship does not seem to be causal: in randomized trials, discouraging pacifier use has no impact on breastfeeding," Oster writes. And the "soothing" value of pacifiers is well-established. "So they are worth trying!"
5. How to ask relatives for fewer Christmas gifts
If you're hoping to bypass a blizzard of toys from relatives this Christmas, now is the time to say something, writes Sarah Showfety at Lifehacker. It's probably best not to assume someone will go overboard on gifts unless they've done so before, in which case, starting from a position of gratitude — "He loves the game you got him last year!" — is a smart choice. From there, clearly state that you are hoping to minimize the number of toys coming into your home over the holidays. If you'd like to avoid singling anyone out, send out a family email along with some alternative gift ideas, such as a museum membership or a concert ticket. And in the event that a relative ignores your request, Showfety advises thanking them anyway. "Then consider asking if the toy can remain at the gift-giver's house to be used whenever your child visits."

Continue reading for free
We hope you're enjoying The Week's refreshingly open-minded journalism.
Subscribed to The Week? Register your account with the same email as your subscription.