How to save money on gas and electricity bills
Energy expert issues 'dire news' ahead of Ofgem's price cap announcement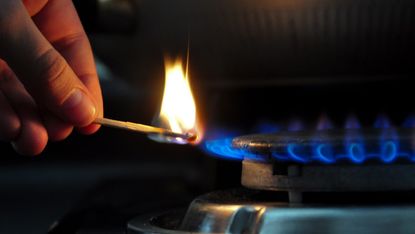 (Image credit: AFP/Getty Images)
Experts are predicting that annual household energy bills could exceed previous estimations and rise to a staggering £5,300 next year.
Energy consultancy Cornwall Insight provided the "dire news", as Sky News described it, in its final forecast before Ofgem confirms October's price cap on Friday. The energy regulator's announcement "is set to pile more financial misery on tens of millions of Brits the week after inflation hit 10.1%", said Yahoo News.
Wholesale energy prices rose by 15% last week, which "changed the outlook" for next year, said Sky. Cornwall Insight forecast that from October, annual bills will reach £3,553, but this is likely to rise again when the price cap is next reviewed in January.
Subscribe to The Week
Escape your echo chamber. Get the facts behind the news, plus analysis from multiple perspectives.
SUBSCRIBE & SAVE
Sign up for The Week's Free Newsletters
From our morning news briefing to a weekly Good News Newsletter, get the best of The Week delivered directly to your inbox.
From our morning news briefing to a weekly Good News Newsletter, get the best of The Week delivered directly to your inbox.
Last week the firm predicted average yearly bills would reach £4,266 at the start of 2023, but that figure has now risen by almost £400 to just under £4,650 – and could rise again to more than £5,341 a year by April. "It is all a far cry from the £1,277 per year price cap seen in October 2021," said Sky.
Labour and the Liberal Democrats have said that bills should be frozen at the current level to prevent households from shouldering the burden of the additional costs. But Downing Street "will not do anything substantial" until a new prime minister takes office on 5 September, added the broadcaster.
The energy price cap was introduced in January 2019, but just three years later energy companies and analysts are asking "whether it has run its course", said the Financial Times (FT). "In the longer term many believe the next government must scrap the cap with the focus on ensuring the poorest households are better protected."
The government announced an energy bill support package in May worth at least £400 to all households, but "this will easily be eaten up by the increase in prices", said Sky.
Fuel poverty campaigners have said that a "social tariff" could replace the energy price cap to protect vulnerable people, and "could be funded either by the state or by a levy on the bills of other households", said the FT. But "few believe the new prime minister will prioritise scrapping the cap".
Regardless of government action, many consumers are trying to cut back on their energy usage to reduce their bills as much as possible. Here are some of the top tips from Money Saving Expert Martin Lewis and other analysts on saving on your gas and electric bills in the coming months.
Check for energy deals – and avoid the 'cons'
The cost-of-living crisis is "leaving many household budgets under strain", said Ruth Jackson-Kirby on MoneyWeek. "If you are in this position, there are frankly no easy answers, but it's important to look at anything you can do to offset rising bills."
One of the first things you should do is to check if you are paying too much for your electricity and gas, Jackson-Kirby added. The high prices of wholesale energy means it may not be possible to get a better deal by switching now, but it's still "worth checking in case you are on an exceptionally poor tariff".
Switching energy firms "used to be the top tip to save money", said The Sun. To make sure you're getting the best deal avoid these four "energy cons" as firms try to trick you into paying more: estimated usage, different names for standard tariffs, hiding variable tariffs, and fixed deals.
Some fixes are cheaper than the predicted October price cap, but the ones worth considering are "few and far between" with most deals for existing customers only, said Lewis on MoneySavingExpert.com. He added that there were no open market fixes worth switching to unless customers were willing to pay over the expected increase for "price certainty".
Lewis said that if you factor in future price predictions and more energy use over the winter, customers on average will be paying around 117% more over the next year for energy bills than they do now. If a customer is offered a fix at no more than 115% above your current price-capped tariff it could be "worth considering" if customers value "budgeting certainty".
But he warned that "some of this is crystal-ball gazing" and that energy prices remain uncertain, adding there was nothing wrong with "playing safe and sticking on the price cap" for most customers.
He advised those struggling to pay energy bills to contact their gas and electricity provider as soon as possible.
Energy saving tips at home
With a "big chunk" of family budgets being spent on energy bills, "it makes sense to look for ways to reduce the amount of gas and electricity you use", said Mehdi Punjwani on MoneySuperMarket. An average home of four occupants now uses 13 electronic appliances compared to just four in 1990. However, despite owning more appliances there's "still a lot you can do to reduce energy consumption – and save money". Punjwani's top ways to save energy at home include:
Turning off standby appliances
Install a smart thermostat to make heating more efficient
Turning down your thermostat
Buy efficient appliances
Install a new boiler
Wash clothes at a lower temperature
Be smarter about water
Invest in double glazing
Draught-proof your property
Insulate the roof
Monitor your usage
Cost-effective 'hacks'
Norton Finance has ranked six energy saving home improvements to reduce bills, the Daily Express reported. Mid-terrace households could save nearly £5,500 on fuel bills within five years if they use these cost-effective "hacks": draught-proofing, roof insulation, wall insulation, boiler upgrade, and double glazing.
One hack is to buy a £3 roll of self-adhesive draught-excluding tape to "block up unwanted gaps around windows, doors and chimneys that let cold air in and warm air out". Doing this could save around £370 after five years.
Rhiannon Philps, a financial writer for NerdWallet, also shared her top tips for saving energy and reducing fuel bills. "Now is the time to make those changes that could help to cut your gas and electricity bills," Philps said. "While you can't do anything to lower the cost of energy, you can reduce the amount you use in your home to save money and help the environment at the same time."
Included in her 42 top energy-saving tips are:
Don't charge your phone overnight
Boil the kettle once for the water you need
Consider using a pressure cooker
Only heat the rooms you're using
Use natural light
Get an energy-efficient external door

Continue reading for free
We hope you're enjoying The Week's refreshingly open-minded journalism.
Subscribed to The Week? Register your account with the same email as your subscription.