Hurricane Maria: is climate change to blame?
Third hurricane slams the Gulf of Mexico in a month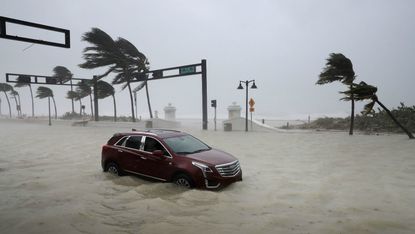 (Image credit: Photo by Chip Somodevilla/Getty Images)
Sign up to our 10 Things You Need to Know Today newsletter
A free daily digest of the biggest news stories of the day - and the best features from our website
Thank you for signing up to TheWeek. You will receive a verification email shortly.
There was a problem. Please refresh the page and try again.
The record-smashing 2017 Atlantic hurricane season has witnessed some of the most powerful storms ever formed in the Atlantic basin, raising questions about the impact of climate change on our planet.
In the past month, Gulf of Mexico countries have withstood Hurricane Harvey, the wettest hurricane to ever make landfall in the US; Hurricane Irma, the strongest storm in the Atlantic in more than ten years; and Hurricane Maria, which has already devastated the Caribbean island of Dominica, and is expected to make landfall in Puerto Rico by Wednesday.
The surge in the intensity and frequency of deadly cyclones has sparked debate about whether climate change caused by humans is to blame, or whether it is merely coincidence.
Subscribe to The Week
Escape your echo chamber. Get the facts behind the news, plus analysis from multiple perspectives.
SUBSCRIBE & SAVE
Sign up for The Week's Free Newsletters
From our morning news briefing to a weekly Good News Newsletter, get the best of The Week delivered directly to your inbox.
From our morning news briefing to a weekly Good News Newsletter, get the best of The Week delivered directly to your inbox.
What do the scientists say about Harvey and Irma?
We repeatedly read that there is a scientific consensus on climate change, but while an overwhelming majority of experts agree that it is real and it is happening, the causes, effects and future repercussions for Earth are still under dispute.
The mechanisms that power hurricanes are not fully understood, so suggesting that their interaction with the environment is solely altered by climate change would be, as America's Geophysical Fluid Dynamics Laboratory (GFDL) puts it, "premature".
However, a number of scientists have pointed out that the 2017 Atlantic hurricane season has been far more noteworthy for the intensity of its hurricanes than for their frequency.
"Changes in our planet's atmosphere did not cause Hurricanes Harvey or Irma," writes CNN reporter Wayne Drash. "But the consensus among scientists is that the effects of climate change, such as rising sea levels and warmer oceans, made those storms far more destructive than they would have been in previous decades."
How do storms form?
Tropical cyclones are "like giant engines that use warm, moist air as fuel", says Nasa. That's why they only form over warm ocean waters near the equator.
The warm, moist air above these waters rises upward from near the surface, causing an area of lower air pressure below. Air from surrounding areas with higher air pressure then swirls into the low pressure area, where it becomes warm and moist, before rising too.
"As the warmed, moist air rises and cools off, the water in the air forms clouds. The whole system of clouds and wind spins and grows, fed by the ocean's heat and water evaporating from the surface."
Statistics from the US Environmental Protection Agency show that, between 1901 and 2015, ocean surface temperatures rose at an average rate of 0.07°C per decade - meaning more warm water is available to fuel the intensity of hurricanes worldwide. Harvey broke the record for the highest level of rainfall recorded from a single hurricane in the US mainland, further highlighting the increasing levels of evaporation.
Thus the rainfall levels and wind speeds during tropical storms are increasing, says CNN's Wayne Drash, and a seven-inch rise in sea levels over the past century adds to the resulting flooding threat.
What's in a name?
"Tropical storms are given names when they display a rotating circulation pattern and wind speeds of 39mph," says Earth Sky. "A tropical storm develops into a hurricane when wind speeds reach 74mph."
According to a report on BBC Newsnight, between 1981 and 2010 the average Atlantic hurricane season produced six named storms, 2.6 of which then became hurricanes. By contrast, 13 named storms have already been recorded this year, seven of which have been classified as hurricanes.
However, experts at Germany's Max Planck institute say that the number of overall depressions and storms, named or unnamed, has remained fairly constant, and that "the model calculations do not exhibit any significant trend in the frequency of intense tropical storms" - indicating it is the intensity of storms that is rising, and not the overall number.
There are also issues with exactly how named storms have been measured over past years.
In a 2010 research paper titled Impact of duration thresholds on Atlantic tropical cyclone counts, Christopher W. Landsea, of the National Hurricane Centre in Florida, concludes that "the rising trend in severe Atlantic tropical storm counts is almost entirely due to increases in short-duration (less than two days) storms alone" and that "such short-lived storms were particularly likely to have been overlooked in the earlier parts of the record, as they would have had less opportunity for chance encounters with ship traffic".
Is there a counterargument?
Scientists are generally cautious about commenting on the impact climate change may have on hurricanes.
"The data on how our warming planet specifically impacted Harvey and Irma won't be known for quite some time," says CNN's Drash. "It can take months and even years to collect and analyse that information."
Some scientists argue that other factors unconnected to climate change may be behind changes in the severity of storms, with some going so far as to suggest that climate change may, in fact, decrease the power of hurricanes.
Professor Joanna Haigh, from the Grantham Institute for Climate Change and the Environment, in London, told BBC Newsnight that global warming could be viewed in a different light.
"There is a competing effect, which is that if we also see higher temperatures higher up in the atmosphere, that could actually weaken a hurricane."
However, she added, no theory has yet been proven.
From observations alone, "we will never be able to say, 'This event could only have happened due to climate change'", she said, but "we can say that the likelihood of certain events occurring has changed due to climate change, and that would be extreme rainfall".
Predicting the future
Most scientists are wary of jumping to conclusions about climate change and hurricane trends, but there does appear to be consensus about the future outlook.
The Atlantic reports that researchers using climate models "have high confidence that future storms will drop more rain, and medium confidence that they will have higher wind speeds". CNN reporter Drash adds that "most scientists say there won't necessarily be more hurricanes - just the potential for more hurricane-related flooding and destruction".
Experts at the US Geophysical Fluid Dynamics Laboratory issue a further warning. They estimate that "the effect of increasing category 4 to 5 storms" will lead to "a 30% increase in potential damage in the Atlantic basin by 2100". And that figure does not take into account the futher sea level rises predicted by Nasa.
Continue reading for free
We hope you're enjoying The Week's refreshingly open-minded journalism.
Subscribed to The Week? Register your account with the same email as your subscription.
Sign up to our 10 Things You Need to Know Today newsletter
A free daily digest of the biggest news stories of the day - and the best features from our website