What crypto's collapse means for effective altruism and long-termism
Demise of FTX a big blow to the charitable philosophy aiming to make the world a better place through the pursuit of wealth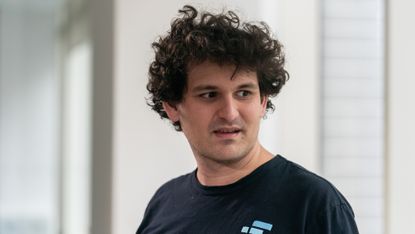 (Image credit: Jeenah Moon/Bloomberg via Getty Images)
The collapse of FTX, the Bahamas-based cryptocurrency exchange founded by Sam Bankman-Fried, has caused more than just misery for investors and the implosion of the crypto industry.
Perhaps most unexpectedly, the demise of the superstar financier and his company has led to the discrediting of two philosophical movements closely associated with Bankman-Fried – "effective altruism" and "long-termism". While the latter may sound esoteric, it has had real-world consequences leading to a crisis among charities founded on the principles.
What is effective altruism?
A decade ago, the Scottish philosopher William MacAskill, one of the world's foremost advocates of effective altruism (EA), went to Massachusetts Institute of Technology (MIT) to spread the word.
Subscribe to The Week
Escape your echo chamber. Get the facts behind the news, plus analysis from multiple perspectives.
SUBSCRIBE & SAVE
Sign up for The Week's Free Newsletters
From our morning news briefing to a weekly Good News Newsletter, get the best of The Week delivered directly to your inbox.
From our morning news briefing to a weekly Good News Newsletter, get the best of The Week delivered directly to your inbox.
MacAskill wanted to share his moral philosophy that argues that rather than applying for low-paying jobs at philanthropic and progressive non-profit organisations, bright graduates should instead try to make money, then donate a proportion of it to the organisations they most support.
At a high level, EA advocates for "using evidence and reason to figure out how to benefit others as much as possible".
At a practical level that means rather than qualified candidates applying for work at charitable groups that already attract more people than they could possibly employ, they should instead try to get rich and then donate. The philosophy is known as "earning to give".
The idea has already "helped to support a range of global bodies", said The Economist in an explainer. Effective altruists "give the bulk of their money to global health and development (think malaria nets) [and] to animal welfare (many are vegans)," it said.
What is long-termism?
Long-termism, meanwhile, takes EA "a step further", explained Edward Ongweso Jr in Vice, "by saying the greatest good you can do is allocating resources to maximize the potential happiness of trillions of humans in the far future that will only be born if we minimize the risk of humanity's extinction".
Long-termists "advocate causes ranging from boosting economic growth to minimising the risk to humanity posed by rogue artificial intelligence", The Economist said.
Both philosophies have become popular among some of Silicon Valley's most prominent names in recent years. Elon Musk has called long-termism a "close match" to his personal ideology.
How does Bankman-Fried fit into the story?
One of the promising young students who was inspired by MacAskill's ideas during his visit to MIT was Sam Bankman-Fried, who subsequently joined proprietary trading firm Jane Street Capital, before starting up his own hedge fund. He became a multi-billionaire by founding what was one of the world's leading cryptocurrency exchanges, FTX.
"As he prospered, EA-aligned philanthropies did too," explained Eric Levitz in New York magazine. But Bankman-Fried ended up making questionable business decisions and his house of cards collapsed.
This put "effective altruism in crisis" and "some of the movement's institutions [were] suddenly broke."
How has EA been impacted by the collapse of FTX?
What the FTX "debacle says about 'effective altruism' in principle and practice" is "nothing good", said Michael Hiltzik in the LA Times.
According to Hiltzik, FTX and effective altruism existed in "a sort of symbiotic relationship" and Bankman-Fried "posed as a world-beating philanthropist".
During an appearance in May before a US House of Representatives committee, Bankman-Fried even went so far as to say he was committed to "donating 99% of his wealth".
After FTX ran aground, however, the leaders of the EA movement started to melt away from their star donor. Earlier this month MacAskill himself tweeted that the precept of earning to give "in no way justifies fraud".
Philanthropic works and institutions, including the Ford and Rockefeller foundations, as well as the 1,800 Carnegie libraries across the US, have long been the "products of their creators' desire to wipe their slates clean for posterity," said Hiltzik. EA and long-termism are no different.
Derek Thompson in The Atlantic said that "effective altruists helping to distribute SBF's wealth built a big, powerful system whose central actor didn't do what they wanted and didn't seem to ultimately care what they wanted."
And unfortunately for them, Thompson added, "good intentions are worthless in the face of bad outcomes".

Continue reading for free
We hope you're enjoying The Week's refreshingly open-minded journalism.
Subscribed to The Week? Register your account with the same email as your subscription.