10 things you need to know today: October 2, 2023
Gaetz tries to oust McCarthy, Newsom picks Laphonza Butler to fill Dianne Feinstein's Senate seat, and more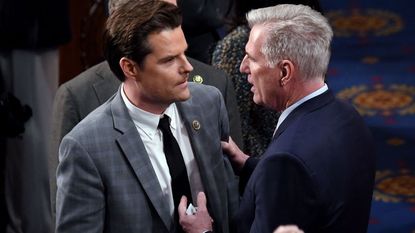 (Image credit: Olivier Douliery / AFP via Getty Images)
1. Gaetz trying to oust McCarthy as speaker over shutdown deal
Rep. Matt Gaetz (R-Fla.), one of the far-right Republicans who opposed the deal that averted a government shutdown over the weekend, said Sunday he would move this week to replace Speaker Kevin McCarthy (R-Calif.) for working with Democrats to pass the stopgap spending plan. "I think we need to rip off the Band-Aid," Gaetz said on CNN's "State of the Union." "I think we need to move on with new leadership that can be trustworthy." McCarthy predicted he would "survive" Gaetz's effort to oust him, saying Gaetz "wanted to push us into a shutdown" and took it personally when that didn't happen. "Bring it on," McCarthy said. "Let's get over with it and let's start governing." The New York Times, Reuters
2. Newsom picks Laphonza Butler to fill Feinstein's seat
California Gov. Gavin Newsom (D) on Sunday selected Democratic strategist Laphonza Butler to fill the seat of Sen. Dianne Feinstein (D-Calif.), who died Thursday at age 90. A formal announcement is expected Monday, which would clear the way for Butler to be sworn in on Wednesday. The speed of the appointment underscored the significance of every vote in the closely divided Senate. Butler is president of Emily's List, a national fundraising organization that focuses on electing Democratic women who support abortion rights, and has extensive experience in Democratic politics. She has served as is the president of a powerful labor union and as an adviser to Vice President Kamala Harris' 2020 presidential campaign. Los Angeles Times, Politico
3. Ukraine downplays aid removal from shutdown deal
President Biden said Sunday there was "not much time" to avoid interrupting aid to help Ukraine fight Russian invaders after Republicans removed money for Kyiv from the short-term spending deal passed Saturday to avert a government shutdown. Biden called on Congress to approve the aid, saying, "Stop playing games." Ukrainian officials shrugged off the fact that House Republicans blocked $20 billion for Kyiv from the legislation. "There is no threat to the supply of previously approved weapons and equipment," Ukraine's ambassador to the United States, Oksana Markarova, posted on Facebook over the weekend. Foreign Ministry spokesperson Oleg Nikolenko also said Sunday that Ukraine's support "remains intact" in the Biden administration and Congress. The Washington Post, The Associated Press
Subscribe to The Week
Escape your echo chamber. Get the facts behind the news, plus analysis from multiple perspectives.
SUBSCRIBE & SAVE
Sign up for The Week's Free Newsletters
From our morning news briefing to a weekly Good News Newsletter, get the best of The Week delivered directly to your inbox.
From our morning news briefing to a weekly Good News Newsletter, get the best of The Week delivered directly to your inbox.
4. Student loan payments resume
Student loan payments officially resumed Sunday for more than 28 million borrowers after a three-year pause that began as economic relief early in the coronavirus pandemic. A Life and My Finances survey in July found that half of borrowers said they couldn't afford to make payments, and only 22% said they had a plan for doing so. Some borrowers reportedly plan to refuse to make payments in a "student debt strike." President Biden, who has pushed for student debt relief, released an "on-ramp" repayment plan that will let borrowers miss payments with reduced consequences for the next year, although borrowers will start seeing interest add up and the skipped payments could hurt their credit scores. The Hill
5. Turkey targets Kurdish militants in Iraq
Turkey said Sunday its warplanes struck about 20 targets tied to the banned Kurdistan Workers' Party (PKK) in northern Iraq in response to a suicide bombing near the entrance of the Turkish interior ministry in Ankara. Two officers were injured in that attack, and police killed a second attacker in a shootout. A news agency with ties to the PKK said the group had claimed responsibility for the bombing. Turkey said it destroyed caves, shelters and depots used by the PKK and stepped up attacks on several of the organization's bases in Iraq. Turkey, the United States and the European Union have designated the PKK as a terrorist organization. Al Jazeera
6. Supreme Court to consider guns, government power in new term
The Supreme Court returns Monday for a new term in which the justices will revisit divisive issues, including gun rights, free speech and the power of presidential administrations to use regulations to protect consumers, workers and the environment without input from Congress. The high court will consider whether South Carolina lawmakers drew congressional maps that discriminated against Black voters, and whether Second Amendment gun rights extend to domestic abusers. The nine-month session comes as the increasingly conservative high court faces ongoing questions about ethics that have eroded public trust. A Gallup poll on Friday found that less than half the country has confidence in the Supreme Court. The Wall Street Journal, USA Today
7. Trump to make court appearance as civil fraud trial starts
Former President Donald Trump said Sunday he would make a rare voluntary stop in a New York courtroom on Monday for the start of a civil trial with his company's future on the line. "I'm going to court tomorrow morning to fight for my name and reputation," Trump wrote Sunday night on his Truth Social platform. New York Attorney General Letitia James is suing Trump, the Trump Organization and some of the company's top executives, including Trump's adult sons, accusing them of using fraudulent property valuations to get favorable loans from banks. Judge Arthur Engoron last week found that Trump routinely lied to banks and insurers, settling one of James' key allegations before the trial began. The Associated Press
8. Nigeria's president raises minimum wage in bid to avert strike
Nigerian President Bola Tinubu on Sunday announced a six-month minimum wage hike of $32 per month, bringing the monthly guaranteed salary to $70. The hike came as unions prepare a massive strike, demanding a $255 monthly minimum income to help workers keep up with living costs that have shot up since the African nation's government ended fuel subsidies in June, resulting in a tripling of fuel prices. Tinubu promised to accelerate the introduction of cheap gas-powered buses to help people hit hard by higher fuel prices. The Nigeria Labor Congress and the Trade Union Congress, the two leading trade unions, said they would go ahead Tuesday with plans for an indefinite strike. BBC News
9. Bear kills 2 in Canada's Banff National Park
A bear killed two people in Canada's Banff National Park over the weekend, Parks Canada announced. The agency received a GPS alert indicating a bear attack from a device in the Red Deer River valley. A rescue team trained in wildlife attacks rushed to the scene, but was delayed because bad weather prevented them from going by helicopter. The response team found two people dead at the scene. Parks Canada staff found an aggressive grizzly bear nearby and killed it for public safety. Alberta's Ministry of Forests and Parks said bears preparing for hibernation are less alert because they are focused on eating as much as possible, which can result in "extremely dangerous" surprise encounters. The Canadian Press
10. Jimmy Carter's hometown celebrates his 99th birthday
Former President Jimmy Carter turned 99 on Sunday. Residents of his hometown of Plains, Georgia, marked the occasion with a weekend celebration. Crowds sang "Happy Birthday" outside the high school that Carter and his wife, former first lady Rosalynn Carter, attended. Jill Stuckey, the superintendent of the Jimmy Carter National Historical Park, said well-wishers are sending a video of the gathering and a birthday banner signed and decorated by dozens of people to the Carters' home, where they celebrated the birthday with family. Jimmy Carter has been in hospice care at home since mid-February. The Atlanta Journal-Constitution

Continue reading for free
We hope you're enjoying The Week's refreshingly open-minded journalism.
Subscribed to The Week? Register your account with the same email as your subscription.