Tomo Koizumi interview: meet fashion's king of ruffles
The art of big frills according to the Japanese maximalist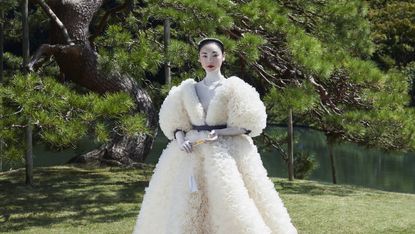 Ruffles have always been a sign of exuberance in fashion. In Elizabethan times, the decorative collar was a signifier of wealth and status: the larger your ruff, the bigger the statement you were making about your material possessions, power and authority. The "cartwheel ruff", for example, which was popular at the end of the 16th century, often comprised 600 pleats crafted from around six metres of luxurious lace.
But it wasn't just Tudor Britain that had a penchant for frilly fashion. Ruffles conjure up a rich visual repertoire that spans different eras and cultures. They exist in the tumbling material of a flamenco dress and in the swirling brushstrokes of Frida Kahlo's 1943 Self-portrait as a Tehuana, which shows the artist wearing a ruffled lace headdress traditionally worn by the women of Oaxaca, Mexico.
Ruffles can be silly and frivolous – think panto's Sugar Plum Fairy – but they can also exude a regal kind of elegance as seen in the billowing gowns of Christian Dior, designed in the early 1950s as a reaction to war-induced austerity. The ripple effect, in this case a literal one, crosses myriad codes of design, from the folkloric and aristocratic to the symbolic and joyfully artistic.
Subscribe to The Week
Escape your echo chamber. Get the facts behind the news, plus analysis from multiple perspectives.
SUBSCRIBE & SAVE
Sign up for The Week's Free Newsletters
From our morning news briefing to a weekly Good News Newsletter, get the best of The Week delivered directly to your inbox.
From our morning news briefing to a weekly Good News Newsletter, get the best of The Week delivered directly to your inbox.
Tomo Koizumi (Picture by Tim Walker)
Bringing avant-garde opulence, ingenuity and heaps of fun to the art of contemporary ruffle-making is Japanese designer Tomo Koizumi, whose frothy rainbow creations have been worn by the likes Lady Gaga, Sia and Katy Perry. For SS21, he has designed a capsule collection for Emilio Pucci, introducing a wonderfully spongy and spumescent slant to the Italian house's love of pattern and colour.
Koizumi, 32, describes himself as a self-taught fashion designer. He grew up in the rural prefecture of Chiba, east of Tokyo, and studied fine art at the National Chiba University where he first began to experiment with voluminous ruffles as an expression of sculptural form. Early on, when he was still a student, his designs caught the eye of J-pop sensation Perfume, the country's most popular girl band, who commissioned Koizumi to create a series of costumes for them. He pivoted his career towards theatrical costume design but rerouted it in the direction of fashion in 2016 when Lady Gaga wore one of his cloudlike designs during a visit to Tokyo. Although this celebrity endorsement brought him a great deal of success in Japan, international acclaim came two years later when he was championed by creative polymath Katie Grand who supported his New York Fashion Week debut at Marc Jacobs' boutique on Madison Avenue.
Tomo Koizumi SS21
The Tomo Koizumi AW19 show attracted a huge crowd of people, eager to catch a glimpse of his wacky and colourful collection. Some compared his giant tulle dresses to oversize origami sculptures, others to the plumage of puffed up exotic birds. And herein lies the beauty of Koizumi signature style: at once cartoonish and couture-like, it allows your imagination to run wild, which can only be a good thing, especially in these challenging times.
"I like to play with colour as if I am painting," says the designer over the phone from his studio in Tokyo. Like most of us, he hasn't travelled much since March but that hasn't stopped his nascent label from engaging audiences around the world. In October, Japan House in São Paulo launched an exhibition dedicated to the womenswear designer, featuring many of his famous first collection designs.
Koizumi's elaborate dresses can take anything from five days to two weeks to craft using up to 100m of Japanese organza. His most time-consuming creation to date was the spectacularly frou frou jumpsuit (complete sweeping ruffled train) that actress Gwendoline Christie (below) wore to close his first runway show in New York. "It had so many layers, so it was complicated," says the quietly spoken designer of this extraordinary creation, thick but soft like a great wave of kaleidoscopic sea foam.
Koizumi's most recent collection for SS21, along with his Pucci collaboration, showcase more wearable styles such as long shapely gowns and feminine mini dresses - though slightly more "tailored", they retain a strong sense of fantasy.
"Growing up, I really liked Japanese cartoons like Sailor Moon. Girls in cute costumes who fight with enemies or monsters. That was really cool to me," he explains, citing one of his early inspirations.
Traditional Japanese culture also plays a big part in his vision with some influences more noticeable in his designs than others. "The kimono is one of my biggest inspirations as well as Kabuki theatre [costumes]. Dolls too. There are a lot of traditional Japanese dolls that you can find in [special areas] of the countryside. I also like to go to [Shintō] shrines. The people who look after them wear really interesting clothes."
There's also the East meets West connection as evidenced by Koizumi's love of Rococo art and the great works of Georgia O'Keeffe and Mark Rothko. These references are hinted at by the painterly tones of his ruffles.
Bella Hadid in Tomo Koizumi AW19 at New York Fashion Week
"I like colour to be harmonised," he says. "A single colour has always looked too normal to me. I work with organza because there is so much choice, although to begin with, I started using this material because I had a limited budget."
In the early days, Koizumi would buy fabric off-cuts and roll ends in an assortment of colours because it was the cheapest way to create his rainbow confections. And despite his A-list following and the allure of big name suppliers, zero waste fashion remains a cornerstone of his brand: his entire SS21 collection is crafted from deadstock fabric. "That is why I started with the colour matching. I always worked with limitations, but those limitations made me more creative," he confides.
Tomo Koizumi SS21
And what about his own fashion style: does he like to cocoon himself in ruffles too? "One day when I was about 14, I found the book, John Galliano for Dior, in a shop in Tokyo. I remember how amazed I was because these designs were like nothing I had seen before. I fell in love with them and that's when I decided to be a designer. I wanted to make something as beautiful as that. But fashion is what I make, not what I wear. My clothes, they get damaged and torn when I am working, so 'easy' is always best."
So there you have it, the humble ruffle may look soft and light, but in Koizumi's hands at least, it owes its beauty to firm and forceful fabric manipulation. No wonder it has become an enduring emblem of strength, power and cultural optimism. And of course, Koizumi's cartoon girls will forever vanquish their monsters.

Continue reading for free
We hope you're enjoying The Week's refreshingly open-minded journalism.
Subscribed to The Week? Register your account with the same email as your subscription.