Shock at sexually 'depraved' penguins led to 100-year censorship
Study from 1915 of sexual habits of Adelie penguins described necrophilia and 'paedophilia'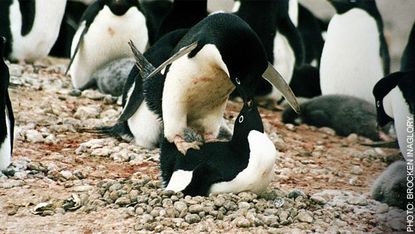 NECROPHILIA, homosexuality and 'paedophilia' in Adelie penguins shocked an Edwardian Antarctic explorer so much that he wrote down his observations in Greek to prevent anyone but educated gentlemen from reading them.
Observations of Adelie penguins' sexual habits recorded by George Murray Levick, a medical officer on the ill-fated Scott Antarctic expedition of 1910-13, have been published for the first time by the Natural History Museum after being suppressed 100 years ago because they were too explicit.
While Levick's paper, 'The sexual habits of the Adelie penguin', was excluded from the official Scott expedition reports in 1915, the then keeper of Zoology at the Natural History Museum had 100 copies printed for circulation among scientists. Only two of these are known to exist today.
Subscribe to The Week
Escape your echo chamber. Get the facts behind the news, plus analysis from multiple perspectives.
SUBSCRIBE & SAVE
Sign up for The Week's Free Newsletters
From our morning news briefing to a weekly Good News Newsletter, get the best of The Week delivered directly to your inbox.
From our morning news briefing to a weekly Good News Newsletter, get the best of The Week delivered directly to your inbox.
Edwardian social norms and prejudices stand out in Levick's interpretation of the Adelies' behaviour.
"There seems to be no crime too low for these penguins," he wrote, according to a Natural History Museum news release, which explains that Levick observed the frequency of Adelie penguin sexual activity, autoerotic habits, the behaviour of young unpaired males and females including necrophilia, sexual coercion, sexual and physical abuse of chicks, non-procreative sex and homosexual behaviour.
Levick puts much of the bad behaviour down to "little knots of hooligans" – non-breeding penguins that hang around the outskirts of the colony, terrorising any chicks that go astray - "half a dozen or more [of these] hang about the outskirts of the knolls, whose inhabitants they annoy by their constant acts of depravity", he wrote.
"The crimes which they commit are such as to find no place in this book," he continues, "but it is interesting indeed to note that, when nature intends them to find employment, these birds, like men, degenerate in idleness."
Despite Levick's quaint prudishness, his scientific observations are hugely important. Levick made his observations at Cape Adare, home to the largest Adelie penguin colony in the world. To this day, he is the only scientist to have spent an entire breeding cycle there – and his is the only study of this particular colony.
Douglas Russell, bird curator at the Natural History Museum's Tring outpost, where Levick's work was rediscovered, has, along with William Sladen of Johns Hopkins Medical Institutions in Virginia and penguin researcher David Ainley, published and reinterpreted Levick's work in the scientific journal Polar Record.
In the introduction to the paper, they write that while the paper was declined for publication in 1915, Levick's observations "were however accurate, valid and, with the benefit of hindsight, deserving of publication".
Since Levick's time, modern science has found explanations for some of the behaviour observed at Cape Adare. Russell told the Observer that the phenomenon of males having sex with female penguin corpses is down to inexperience. "Adelies gather at their colonies in October to start to breed. They have only a few weeks to do that and young adults simply have no experience of how to behave," Russell said. "Many respond to inappropriate cues. Hence the seeming depravity of their behaviour. For example, a dead penguin, lying with its eyes half-open, is very similar in appearance to a compliant female. The result is the so-called necrophilia that Levick witnessed and which so disgusted him."
Homosexual behaviour has also been documented in many other bird species, including mallards, European swallows, and sand martins.

Continue reading for free
We hope you're enjoying The Week's refreshingly open-minded journalism.
Subscribed to The Week? Register your account with the same email as your subscription.