The changing face of home schooling in the US
The movement is becoming more diverse beyond its conservative Christian roots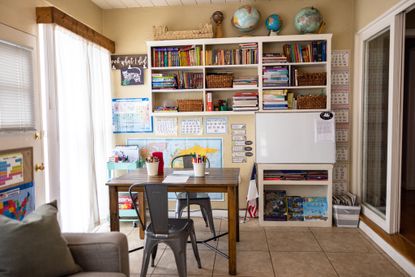 (Image credit: adamkaz / Getty Images)
Sign up to our 10 Things You Need to Know Today newsletter
A free daily digest of the biggest news stories of the day - and the best features from our website
Thank you for signing up to TheWeek. You will receive a verification email shortly.
There was a problem. Please refresh the page and try again.
Many families across the United States have made the permanent switch to home-schooling their children since the start of the Covid-19 pandemic. Although conservative Christians have traditionally been associated with the home-school movement, recent demographic changes suggest a move toward greater diversity.
U.S. Census data showed that the number of home-schooled children in nonwhite households increased, with Black households showing the most significant jump from 3.3.% at the start of the pandemic in 2020 to 16.1% by that fall. Families from different backgrounds may cite differing reasons for home-schooling their children, but at the root of most of their decisions is their right as parents to determine how to educate their children.
Bipartisan roots of home schooling
Early proponents of home schooling came from both ends of the political spectrum. In the 1970s, an earlier wave of the movement was "driven by left-leaning parents more aligned with the counterculture of the 1960s," Time stated. Educator John Holt used the term "unschooling" while advocating for parents to leave the rigidity of the public school system for more child-centered curriculums and less state testing.
Subscribe to The Week
Escape your echo chamber. Get the facts behind the news, plus analysis from multiple perspectives.
SUBSCRIBE & SAVE
Sign up for The Week's Free Newsletters
From our morning news briefing to a weekly Good News Newsletter, get the best of The Week delivered directly to your inbox.
From our morning news briefing to a weekly Good News Newsletter, get the best of The Week delivered directly to your inbox.
However, in the 1980s and 1990s, "home schooling became a more conservative movement, overlapping with conservative ideals about limited government, parental rights and religious freedom," Time added. Republican presidential hopefuls began to appeal to the home-school community for support. Then in 1983, the Christian nonprofit Home School Legal Defense Association was founded to lobby legislators and provide legal services for families fighting for the right to home-school their children.
For contemporary religious conservatives, the push for home schooling is "another salvo in the ongoing evangelical war against public schools," Anthea Butler wrote in an MSNBC op-ed. They have fought against public education since the era of desegregation, and pushing for home schooling is just one way they do that. She points to the promo for actor Kirk Cameron's 2022 documentary, "The Homeschool Awakening," in which he calls public education "public enemy number one." His film came "at a time of contentious debate about critical race theory, LGBTQ+ issues, transgender children and Florida's 'Don't Say Gay' law," Butler noted. These laws and the documentary are part of a larger campaign to "weaken already debilitated public school systems that are dealing with limited funding, staffing and violence issues," she opined.
Has home schooling always been legal?
Home schooling wasn't always legal, but over time, families won key state-level legal battles related to home schooling. By 1993, all 50 states passed legislation allowing parents to home-school their kids, though regulations vary from state to state. Oversight differs from state to state, with some requiring notice and assessments while others have less stringent requirements. HSLDA lists Massachusetts, New York, Pennsylvania, Rhode Island and Vermont as the states with the most restrictive home-school regulations. On the other end of the spectrum, Alaska, Connecticut, Idaho, Illinois, Iowa, Michigan, Missouri, New Jersey, Oklahoma and Texas don't require any official notification for home-schoolers.
The lack of uniform regulation is a cause of concern for experts who are leery of home schooling. Compared to how other countries regulate it, "the U.S. stands out as the anomaly," Elizabeth Bartholet, a professor and faculty director of the Child Advocacy Program at Harvard Law School, told the Harvard Gazette two years ago. Other countries also allow home schooling but have much stricter national requirements, such as home visits or mandating curriculums that match the rigor of public education. "In the U.S., there is essentially no effective regulation," Bartholet added. She warned that the lack of cohesive oversight could expose children to maltreatment. "There's no requirement that home-schooled children ever see anybody who's a mandated reporter of child abuse," she pointed out.
Is home schooling becoming more popular?
The number of families that reported that they home-schooled their children grew significantly since the onset of the pandemic sent kids home for online learning. In addition to the notable increase in Black home-schooled households, the census household pulse survey data also showed significant increases in Hispanic and Asian families who chose to home-school from the spring of 2020 to the following fall. The overall percentage of home-schooled children in the U.S. jumped from 2.8% in 2019 pre-pandemic to 5.4% in the 2020-2021 school year, per the U.S. Department of Education. However, some states don't require notice from home-schoolers, so the data might not represent a complete count.
Cheryl Fields-Smith, a professor in elementary education at the University of Georgia, told CNN that Black families are increasingly choosing home schooling for several reasons. The list included disproportionate discipline against their children, lack of access to gifted programs, bullying and safety concerns. Fields-Smith also noted that many families opt to join co-ops to educate and socialize their children.
"I conceptualize it as a form of resistance," Fields-Smith told CNN. "Instead of accepting the status quo, families are resisting what's happening in their schools."
Black families have also turned to home schooling because of laws and book-banning campaigns that seem to target Black history and the ongoing crusade against critical race theory in states like Florida. Andrea Thorpe, who runs the African American Homeschool Moms Facebook group, told NBC News the group is crucial, "especially in this day and time when there's a rewriting of history and books are being banned."
In addition to more racial diversity, the home-school demographic's political and religious makeup is also shifting. Home-school resource provider Outschool surveyed 622 home-schooling families and compared the results for their families who had signed up after the pandemic and those who had previously started home schooling. The survey found that 47% of their new subscribers self-identified as progressive or liberal, compared to 32% of pre-Covid subscribers. And while 27% of pre-Covid home-schoolers said they had conservative views, only 16% of new families said the same.
Regarding regional changes, some states saw significant boosts to the home-school population, while others saw very little difference, per the 2020-2021 school year census data. The states with a substantial uptick between spring 2020 to fall 2020 include places known for stricter regulation, such as Massachusetts, New York and Vermont, with a 10.6%, 9% and 12.8% increase, respectively. States with looser regulations, like Alaska and Oklahoma, also had marked increases, with the population increasing by 17.9% in the former and 12.4% in the latter.
How have home-schooling resources evolved?
Home-school resources have come a long way since the movement's inception. Parents can find help and communities in Facebook groups and other online home-school forums. Some families join the growing number of home-school co-ops where parents gather to teach their children, take field trips and run extracurricular activities. Parents can also rely on accredited K-12 virtual schools to supplement their curriculums.
For some families, the costs of choosing home schooling create a barrier that makes it difficult for them to sustain. Resources like the VELA Education Fund and Outschool work to make home schooling financially possible for all families, regardless of economic background. Some organizations help families navigate the legal nuances of home schooling, and some help them find curriculums.
"Financial barriers are, in a lot of ways, why Outschool exists — to give families the ability to at least afford the tools for their home-schooling journeys," Justin Dent, Outschool's executive director, told NBC.
Continue reading for free
We hope you're enjoying The Week's refreshingly open-minded journalism.
Subscribed to The Week? Register your account with the same email as your subscription.
Sign up to our 10 Things You Need to Know Today newsletter
A free daily digest of the biggest news stories of the day - and the best features from our website
Theara Coleman is a Staff Writer for The Week. A New York native, she previously served as a contributing writer and assistant editor for Honeysuckle Magazine, where she covered racial politics and cannabis industry news. Theara graduated from Howard University and New York University, receiving her BA and MA in English Literature, respectively. She has a background in education as a former High School English teacher. She brings her passion for reading, writing, and all things nerdy to her work as a journalist.