Instant Opinion: 'Whose party is this anyway? That's the question gripping Liberal Democrats'
Your guide to the best columns and commentary on Monday 16 September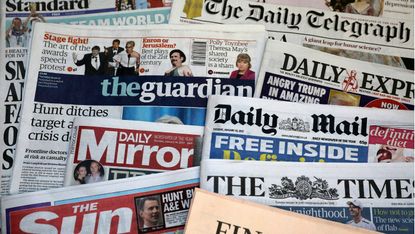 The Week's daily round-up highlights the five best opinion pieces from across the British and international media, with excerpts from each.
1. Stephen Bush in the New Statesman
on the Lib Dem identity crisis
Subscribe to The Week
Escape your echo chamber. Get the facts behind the news, plus analysis from multiple perspectives.
SUBSCRIBE & SAVE
Sign up for The Week's Free Newsletters
From our morning news briefing to a weekly Good News Newsletter, get the best of The Week delivered directly to your inbox.
From our morning news briefing to a weekly Good News Newsletter, get the best of The Week delivered directly to your inbox.
Whose party is this anyway? That's the question gripping Liberal Democrats
"The fear that a minority of Liberal Democrat members have is that the party is losing something of itself, both because of its openness to parliamentary defectors who do not share its values, and because its surging membership – up from around the 50,000 mark to over 120,000 – is turning it into what one activist described to me as "the electoral wing of FBPE", the social media movement of angry Remainers."
2. Robert Colville in The Times
on the Brexit revolution
David Cameron stood still as the world changed
"If these feel like revolutionary times, it is because a revolution has indeed taken place. In fact, it is arguable that it took place years ago, it was just that nobody in Westminster really noticed. This revolution is, as they usually are, one that casts our politicians as followers, rather than leaders — either adapting to the way that the public mood has shifted, or finding themselves, like David Cameron, marooned amid the floodwaters, wondering what on earth happened to the world they thought they knew."
3. John Rentoul in The Independent
on prime ministerial hubris
David Cameron failed because he stuck to what he believed in
"As with so many prime ministers before him, Cameron was brought down by hubris. He did the brave and right thing in allowing Alex Salmond to hold a referendum in Scotland, and won it, becoming over-confident. Just as Gordon Brown was done in by the business cycle he thought he had abolished – 'no more boom and bust', followed by a global financial crash – and Blair brought low by assuming genocidal tyranny could be defeated in Iraq as easily as it was in Kosovo."
4. Douglas Murray in The Daily Telegraph
on defining gender
Vacuous liberal 'wokeness' is now beyond parody
"The commissars of wokeness keep missing something. Which is that we have arrived at equality already. And what we are in now just feels like some horrible over-correction. There was a time when such points needed making. But today, all these efforts to fixate on race, sexuality and gender aren't bringing us all together. They just keep highlighting differences. Instead of escaping or superseding our characteristics we are being invited to define ourselves by them. Instead of differences being minimised they keep being highlighted. There are many things the next generation should be encouraged to be. Brilliant, exceptional, inventive, remarkable. All of this and more. But one way to stop that happening is by continuing to fragment the most tolerant societies on earth along group identity lines. And then invite people to spend their lives gazing at their navels. Or indeed at their pronouns."
5. Ross Douthat in the New York Times
on a split in the Catholic Church
The Slow Road to Catholic Schism
"The partway-liberalization of the Francis era has encouraged the church's progressives to push further, while many conservatives have been flung into intellectual crisis or a paranoia-flavored traditionalism. And the overlap of theological and national divisions means that national churches could evolve away from one another at a rapid pace. But having been alarmist in the past, now that everyone is talking schism I want to be more cautious. The pope has risked a great deal in his pontificate, but he has consistently avoided pushing conservatives into a theologically-untenable position, choosing ambiguity over a clarity that might cleave his church."

Continue reading for free
We hope you're enjoying The Week's refreshingly open-minded journalism.
Subscribed to The Week? Register your account with the same email as your subscription.