Instant Opinion: 'I hate Tories' won't put Labour in power
Your guide to the best columns and commentary on Tuesday 25 February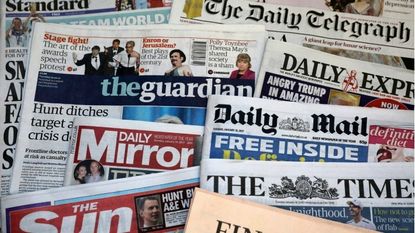 (Image credit: TOLGA AKMEN/AFP via Getty Images)
The Week's daily round-up highlights the five best opinion pieces from across the British and international media, with excerpts from each.
1. Rachel Sylvester in The Times
on the limits of the British left's tribal politics
Subscribe to The Week
Escape your echo chamber. Get the facts behind the news, plus analysis from multiple perspectives.
SUBSCRIBE & SAVE
Sign up for The Week's Free Newsletters
From our morning news briefing to a weekly Good News Newsletter, get the best of The Week delivered directly to your inbox.
From our morning news briefing to a weekly Good News Newsletter, get the best of The Week delivered directly to your inbox.
'I hate Tories' won't put Labour back in power
"Those who still insist that Jeremy Corbyn 'won the argument' at the last election, despite leading his party to its worst defeat since the 1930s, take a strange pride in turning inwards... Zarah Sultana, the new Labour MP for Coventry South, says she cannot see a Conservative in the House of Commons without thinking about 'the harm they've caused'. She is so hostile to her political opponents that, during the recent elections for Commons select committee chairs, she tweeted a video of herself putting flyers from Tory MPs into the bin — an entirely futile gesture because the committees are divided up between the parties, based on their representation in parliament. Her commitment to the left-wing cause is so total that she even lumps her own party's moderates in with the wicked Tories, calling in her maiden speech for the end of '40 years of Thatcherism' as if the Labour governments of Tony Blair and Gordon Brown had never existed. For this faction of the party, holding power is itself a betrayal."
2. Yuan Ren in The Guardian
on defiance in one of the most tightly regulated countries in the world
Amid the coronavirus lockdown, Chinese social media is full of laughter and anger
"There's strictly no congregating – or socialising – in this new world order. Many cities have banned public gatherings altogether, and official advice has been 'Stay in, don't go out unless necessary', resulting in many empty streets. Nationwide, cinemas are closed and performances at Beijing's top arts venues have been cancelled until April. Wuhan, a city of more than 11 million, remains in lockdown. As a result, online social activity and subcultures have bloomed, and state media has joined in too. To begin with, it was memes showing bats in soup, or people eating the animals whole, as health authorities announced that bats may have been the source of the viral outbreak. But as celebrations for new year slowed down, hashtags such as #whattodowhenstuckathome and #learnanewskill trended on Weibo, China's Twitter, giving life to a host of funny videos and entertainment."
3. The editorial board at The Los Angeles Times
on the impact of Harvey Weinstein's guilty verdict
The #MeToo movement let victims be heard. Weinstein verdict tells victims they can be believed
"Weinstein's conviction shows that rich and powerful people who abuse others can't always count on their clout and their bank accounts to keep them out of jail, which is where Weinstein was taken right after the verdict — apparently, much to his surprise. That's evidence of another (long overdue) cultural shift. The verdict offers a measure of vindication and hope not just for the anguished, outraged voices of the #MeToo movement but for all victims of sexual assault who put themselves through the ordeal of a court trial or, worse, never get to trial because a prosecutor deems the case too risky to win. The #MeToo movement let victims be heard. The verdict shows that sexual harassment — even by the rich and powerful — won't always be ignored or swept under the rug. What happened to these two women was not simply bad behavior, it was criminal behavior."
–––––––––––––––––––––––––––––––For a weekly round-up of the best articles and columns from the UK and abroad, try The Week magazine. Start your trial subscription today–––––––––––––––––––––––––––––––
4. Ibram X. Kendi in The Atlantic
on the need for Democratic Party centrists to accept defeat
When will moderates learn their lesson?
"Moderate Democrats lost presidential elections in 1980, 2000, 2004, and 2016. Since [George] McGovern, moderate Democrats have a losing record in presidential elections: six losses to the five wins by Jimmy Carter, Bill Clinton, and Barack Obama (who ran a more progressive primary campaign than Hillary Clinton in 2008). But this history is lost in discussions of electability. It is as if moderate nominees are undefeated. It is as if the last time a Democrat lost was when the party nominated McGovern in 1972. Moderate Democrats blame progressive candidates for losses, but they can't seem to blame moderate candidates for losses. Moderates can't seem to reflect on the historical electability of their candidates, as they implore progressives to reflect on the historical electability of their candidates. Moderates recognize how progressive candidates alienate certain voters, but they can't seem to recognize how moderate candidates alienate certain voters. Moderates implore progressives to give moderate candidates a chance, but they can't seem to give progressive candidates a chance."
5. Lorenzo Vidino on Foreign Policy
on the French president's growing concern about political Islamism
Emmanuel Macron's war on Islamism is Europe's future
"France's concerns about Islamism go well beyond terrorism. Critics argue that nonviolent Islamist groups, wh­ile largely operating within the boundaries of the law, propagate an interpretation of Islam that drives a wedge between Muslims and non-Muslims, contributing to polarization and harming integration. Europeans are concerned about the growing sway of Islamist groups that seek to push members of local Muslim communities to detach from mainstream society - mostly through preaching but also through various forms of social pressure, intimidation and, occasionally, violence - and resort to alternative legal, educational, and social systems... That Macron, a staunch foe of populism but, at the same time, a good reader of his nation's collective psyche, would highlight the negative impact of Islamism on French society is also indicative of a trend that can be observed throughout Europe. The debate on nonviolent Islamism has often taken a back seat to that on the violent manifestations of the ideology."

Continue reading for free
We hope you're enjoying The Week's refreshingly open-minded journalism.
Subscribed to The Week? Register your account with the same email as your subscription.