Instant Opinion: 'The battle for decency online'
Your guide to the best columns and commentary on Monday 16 March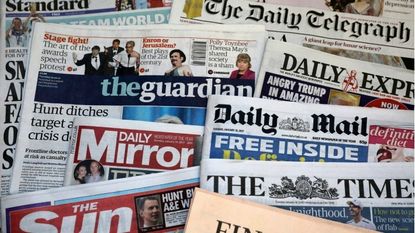 (Image credit: TOLGA AKMEN/AFP via Getty Images)
The Week's daily round-up highlights the five best opinion pieces from across the British and international media, with excerpts from each.
1. Libby Purves in The Times
on internet treachery
Subscribe to The Week
Escape your echo chamber. Get the facts behind the news, plus analysis from multiple perspectives.
SUBSCRIBE & SAVE
Sign up for The Week's Free Newsletters
From our morning news briefing to a weekly Good News Newsletter, get the best of The Week delivered directly to your inbox.
From our morning news briefing to a weekly Good News Newsletter, get the best of The Week delivered directly to your inbox.
Every click counts in battle for decency online
"The world wide web came into an imperfect world and was bound to turn out to be, at times, a warped child of its ancient misogyny. Twenty minutes on social media will make that clear, from mansplaining patronage to virtual MeToo. Well-connected professional women in the West, old enough to know how to bat off harassment ourselves, should not ignore the real malevolences which [web inventor Tim Berners-Lee] points out. How to rebalance it is up to campaigners like him, to governments, to vocal global women's rights movements and to the big tech players at last being challenged to clean up their sites. But it is also up to all of us who use it: every click counts, every misogyny needs challenging."
2. Payal Dhar in The Independent
on violence in India
The betrayal felt in the still-recovering areas hit by the Delhi riots makes coronavirus more of a threat
"In some of the worst-affected areas, survivors are trickling back. But the stench of burning still lingers in the lanes, and even those who have lived here for two decades don't yet feel safe enough to stay the night. During and in the aftermath of the violence – I believe pogrom is the right word, given that the police looked on as Muslims were attacked, and some even allegedly joined in the violence – an ad hoc and decentralised citizen-led relief network emerged, taking the lead in rescuing people in distress (a court order was needed to let ambulances through during the worst of the violence), providing immediate relief, and now helping survivors get back on their feet."
3. Tim Wu in The New York Times
on a quid pro quo
Don't feel sorry for the airlines
"The United States economy needs an airline industry to function. The industry is in that sense not a 'normal' industry, but rather what was once called a common carrier or a public utility: a critical infrastructure on which the rest of the economy relies. The major airlines know that unlike a local restaurant, they will never be allowed, collectively, to fail completely. In practice, the public has subsidized the industry by providing de facto insurance against hard times in the form of bailouts or merger approvals. And now here we go again. We cannot permit American and other airlines to use federal assistance, whether labeled a bailout or not, to weather the coronavirus crisis and then return to business as usual. Before providing any loan relief, tax breaks or cash transfers, we must demand that the airlines change how they treat their customers and employees and make basic changes in industry ownership structure."
–––––––––––––––––––––––––––––––For a weekly round-up of the best articles and columns from the UK and abroad, try The Week magazine. Start your trial subscription today –––––––––––––––––––––––––––––––
4. Nick Timothy in The Daily Telegraph
on life beyond the market
There is an alternative to broken Western liberalism
"Because oppressive discourses work to favour those at the top of exploitative hierarchies, we should not simply remove the hierarchy but penalise those who subjugate others. Equal political rights are therefore not enough: because historically power lay with white men, today whiteness and masculinity must be attacked. Because we do not understand how our social roles are constructed, we do not understand the meaning of even our own words. Those who hear us – particularly if they are members of marginalised groups – understand better than we do the true meaning of what we say. Because discourse is itself a form of violence, free speech is no longer sacrosanct, and it is legitimate to meet violent language with violent direct action."
5. Angelina Chapin in HuffPost
on literary revisionism
Would Lolita Have Said 'Me Too'?
"One of the most frustrating aspects of Vladimir Nabokov's novel 'Lolita' is that the reader never hears from the title character. The story is told entirely from the perspective of Humbert Humbert, a man in his late 30s who kidnaps and repeatedly rapes his 12-year-old stepdaughter. He's an unreliable narrator who sees himself as a slave to Lolita's seductive powers. Humbert describes Lolita, whose real name is Dolores Haze, as playful and flirtatious, but she also cries at night and eventually runs away from him. She's a complicated survivor, and we don't know what Lolita thinks of her abuser or to what extent she considers herself a victim."

Continue reading for free
We hope you're enjoying The Week's refreshingly open-minded journalism.
Subscribed to The Week? Register your account with the same email as your subscription.